October 4, 2021 by
Elizabeth Quinn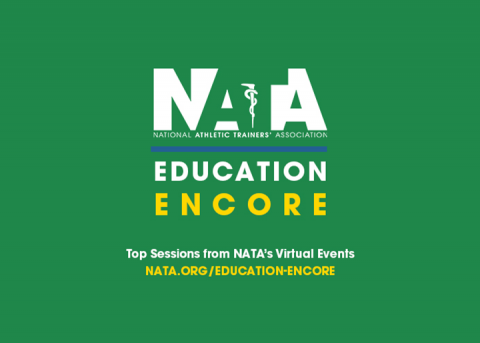 A new education opportunity is available to athletic trainers! The NATA Education Encore: Top Sessions from NATA's Virtual Events is an opportunity to earn CEUs from the most popular sessions from 2020 and 2021 NATA Virtual Clinical Symposia & AT Expo, Virtual Athletic Training Educators' Conference and NATA COPA Con 2021. Registration is available through Dec. 15 and is $175 for members, $475 for nonmembers. Attendees will have through 11:59 p.m. CST Dec. 31 to complete the courses.
2021 is a reporting year for athletic trainers, and NATA is here to help. Included in the NATA Education Encore package is 17 courses with a possibility to earn up to 16.5 CEUs, including 5 EBP CEUs.
The courses offered cover a variety of topics from mental wellness and emergency preparedness to diversity, equity, inclusion and access and leadership. These courses were chosen based on the feedback from attendees on which sessions they enjoyed and were interested in most. Find a full list of the sessions in the NATA Professional Development Center.
NATA has never offered an opportunity like this before. If you missed the deadline to attend any of the previous NATA virtual events, this is a great opportunity to take advantage of the professional development courses that were held over the past two years.
To purchase the complete NATA Education Encore package, visit the PDC. Attendees can complete as many courses as desire as the price will stay the same no matter how many CEUs are completed.
To avoid duplication and to accurately track your CEUs earned, check your transcripts to ensure you have not previously completed any of the courses offered through the NATA Education Encore. Contact knowledgeinitiatives@nata.org if you have questions about your transcripts.
For more information about the NATA Education Encore, visit the NATA Events webpage.