July 13, 2020 by
Elizabeth Quinn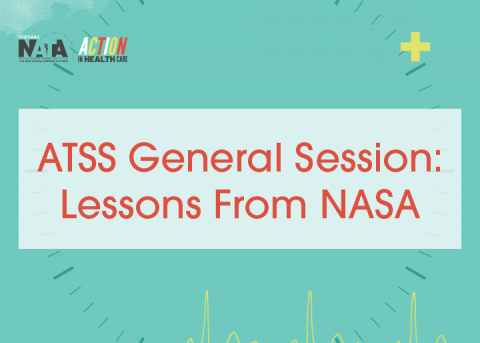 Feb. 1, 2003, marked a day in history that will not be forgotten. Seven astronauts aboard the space shuttle Columbia, crew STS-107, experienced difficulties just 16 minutes before the schedule touchdown at the end of their mission. All seven crew members died.
The Athletic Training Student Seminar General Session of the 2020 NATA Virtual Clinical Symposia & AT Expo was "Avoiding Complacency in the Profession of Athletic Training: What NASA's Loss of the Space Shuttle Can Teach Us." Mary K. Kirkland, MS, LAT, ATC, and Michael Ciannilli, Program Manager of NASA's Apollo Challenger Columbia Lessons Learned Program from the Kennedy Space Center, presented on what was learned from the Columbia disaster and how to avoid complacency. The session was broken down by four topics: communication, trust, diversity and bias and professional development.
Ciannilli kicked off the discussion about how in the current age we are communicating with each other more and more, thanks to social media, but that does not mean we are doing so effectively. Communicating nowadays is fast, but it is not the same as face-to-face, using body language and a tone to convey what you're saying, Kirkland said.
During the Columbia mission, different organizations weren't effectively sharing information resulting in some groups not knowing of significant issues that others did know about. Ciannilli said communication is one of the biggest, if not the top, leading causes of an accident.
"You have to be able to communicate beyond your sphere of influence so that what needs to be conveyed is conveyed to stakeholders and influencers involved," Kirkland said.
While the discussion was being led by Kirkland and Ciannilli, attendees were able to facilitate a conversation and ask questions in the chat below the video, with the presenters responding back.
The next part of avoiding complacency is about trust, Kirkland said. It's important to not only trust others and receive trust from others, but it is also imperative to trust yourself, she said.
"Trust yourself and your skill sets," Kirkland said. "You learn new information every single day. There is always something new coming in the door. You have to learn a new medical term or [whatever it may be], but trust your abilities and your ability to learn. That trust in yourself is conveyed to patients, faculty and the staff that you're working with."
The third part of the session was about diversity and bias. Ciannilli told the story of Apollo 13 in 1970 where the crew had multiple issues on their way to the moon.
"When that accident happened, a lot of issues influenced others," Ciannilli said. "They were losing oxygen, power capabilities, [unknown engine capabilities, temperature problems]. It's similar to an injury because it's not just one injury, but cascading events that affect each other.
"There were problems cleaning the oxygen environment, [which prevented it] from being turned into carbon dioxide, but there were limited resources and time. The crew had to come up with a plan. They had to catch the diagnosis correctly and not misdiagnosis, which could send in another problem. There was such a diversity of opinions on how to solve the problem. The crew was putting a square peg in a round hole to make it work, but they did it. Having diverse opinions to come up with unique ideas is critical."
The final component of the session was some advice to students on professional development. Kirkland discussed being adaptable in the athletic training profession, especially during the COVID-19 pandemic and the effect it has had on jobs. She said athletic training is a transferable profession, and she saw herself as a prime example. As an athletic trainer, she took a job with NASA.
"Don't hesitate to contact leadership with the AT Strategic Alliance, NATA, CAATE, district directors, state presidents, [etc.] to become a grassroots effort to maintain and create jobs and diversify what you can be doing in the profession," Kirkland said. "You are capable of working in so many areas."
Ciannilli also had some advice to share with students about professional development.
"When I go to talk to folks, I tell them to make sure you do what you love to do," Ciannilli said. "At the Kennedy Space Center and NASA, so many people love to do what they do. When you find that, there's nothing better than that. Find that passion. Don't be afraid to learn … never stop learning.
"Bring your 'A' game every single time because you never know when the moment might hit. Be ready to jump in that moment with all the tools, communication, trust, knowledge, 'A' game, not having any bias, respecting diversity, all these tools ready to go so when you're called for the moment, you can walk on the field or see a patient or, in our case, get people home from the space station, you can save the day."
For more information on VNATA 2020 or to find the schedule, visit the convention website.