August 13, 2020 by
Elizabeth Quinn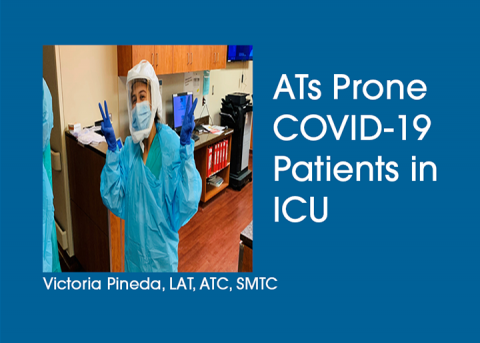 Athletic trainers have found themselves in unique positions during the COVID-19 pandemic. They have been able to work alongside other health care professionals assisting in a variety of capacities. Whether checking temperatures, testing possible coronavirus-positive people or integrating telehealth, ATs have proved their value.
For Victoria Pineda, LAT, ATC, SMTC, she and 14 other ATs worked from March to April doing various tasks in their Houston hospital. One of those tasks included what's been called a "promising treatment for coronavirus," according to Health.com. It is a process called proning, in which patients are in the prone position, or lying on their stomach.
"Our hospital decided that the athletic trainers and physical therapists would work alongside the nurses and respiratory therapists on proning teams," Pineda said. "A proning team consist of four to five people who turn the patient every 16 to 20 hours from supine [lying on their back] to prone, or vice versa. Every four to six hours, the proning team will reposition the arms and legs of the patient to prevent bed sores. The patient who is being cared for is in a medical coma when we reposition them. For the critical care COVID-19 patients, proning allows them to breathe easier, and it allows the fluid that builds in the lungs to pool to one area – this way it is easier for the respiratory therapist to suction it out."
The team was vital in assisting patients who were suffering from COVID-19. Pineda said proning is similar to other medical protocols ATs use in their everyday work life.
"Proning the patient is very similar to spine boarding, which is why health care professionals are relying on us during the time of repositioning," Pineda said. "The respiratory therapists hold the head, and the athletic trainers/physical therapists turn the body while trying to avoid pulling any of the lines."
Pineda and other ATs worked strictly with patients in the intensive care unit when proning. She said it was difficult not only emotionally, but physically. They were asked to lift patients that weighed up to 500 pounds, Pineda said.
"I relied on the support from my family, fiancé and closest friends in my times of doubt," she said. "On the days that I had off, I would go for runs in my neighborhood or binge watch shows to keep my mind off of working."
The experience Pineda gained while working alongside other health care professionals helped her see a different part of patient care.
"Although I was unsure of what to expect during the time in the ICU, it was an experience unlike any other," Pineda said. "I learned how hard the doctors, nurses and respiratory therapists work day in and day out for the patients who are suffering, some of whom work in life-or-death situations on a daily basis, and that takes a truly strong individual to do so.
"I'm thankful for my experience because I was able to care for patients who couldn't have their family by their side in the last moments of their life. I pray that the families of the patients who we cared for can rest easy in knowing that we give 110 percent."