December 6, 2019 by
Elizabeth Quinn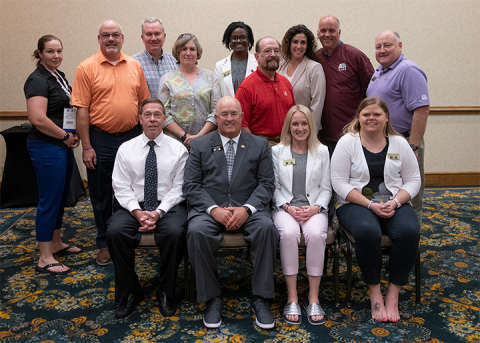 In November, the NATA Board of Directors approved the name change of the ATs Care Committee to the ATs Care Commission as a way to more accurately reflect the group's purpose and role of providing peer-to-peer support and critical incident stress management to other athletic trainers.
Being an AT means being involved in an athlete, student or patient's life for multiple hours a day, nearly every day and sometimes on the weekend. Athletic trainers are involved in the lives of athletes so much so that athletes can even become friends. So when there is an unfortunate incident where an athlete has a serious injury or, worse, passes away, it can make a huge difference to have fellow AT who speaks your language to talk to. That's why ATs Care Committee formed in 2016.
"[ATs Care team members] are available to support ATs and athletic training students for more than just their reactions to serious injuries or deaths," Middlemas said. "There are many other things that constitute a traumatic event of critical incident for an individual.  ATs Care has been there to support ATs and athletic training students after incidents ranging from athlete deaths to workplace stress to serious illnesses or deaths of family members and other staff, to critical incident stress from other causes that affect the AT."
The Beginning of It All
ATs Care Commission Chair David Middlemas, EdD, ATC, CCISM, inspired former NATA President Jim Thornton, MA, ATC, CES, to suggest starting the ATs Care Committee. During fall 2015, Thornton was working with a wrestler who had bilateral shoulder surgery. The athlete was coming in daily for therapy, and Thornton got close to him – close enough that he would have introduced him to his daughters, Thornton said.
On one fall day, the wrestler was on his way home from Pittsburg when he was killed in a car accident. With multiple sports still going on, such as soccer and basketball, Thornton felt he didn't have time to grieve.
"There were counselors for everyone but us," Thornton said about the athletic training team.
Thornton remembers not even thinking about the fact that ATs might need counselors until Middlemas called him.
"About a week after the funeral, I got a call from Dave Middlemas," Thornton said.
Middlemas had called to check in on Thornton and tell him how great a job he was doing, which Thornton said is an unusual thing as NATA president.
After a couple minutes of chatting, Middlemas asked how Thornton was doing. Thornton wasn't opening up too much, keeping it casual, then Middlemas said, "No, how are you doing." Middlemas knew how close Thornton was to the wrestling team and gave him an opportunity to vent on the phone.
"I felt better after [talking to Middlemas]," Thornton said.
That's when he found out that Middlemas was a certified in peer-to-peer intervention. Before Thornton's departure from presidency, he proposed creating a committee that worked with other ATs during critical incidents. There was only one person Thornton saw as the chair of such a committee: Middlemas.
More Than a Committee
Now in its fourth year, the ATs Care Commission has been vital in helping ATs during stressful times, whether professional or personal.
Being labeled as a committee didn't fully explain how much expertise was within the group. The members of the commission are trained professionals in critical incident stress management with experience within this field for multiple years. Commissions provide services to members and usually require a specific expertise to be eligible to join.
The ATs Care Commission is supported by the International Critical Incident Stress Foundation (ICISF), which provides training for Critical Incident Stress Management (CISM). CISM is a discipline that provides different intervention techniques and resources. The commission is also overseen by a mental health professional and cofounder of ICISF, George Everly, PhD.
To be eligible to sit on the NATA ATs Care Commission, ATs must be trained in Assisting Individuals in Crisis, trained in group crisis intervention, have five years of CISM experience and be recommended by a district director.
The commission is part of the larger initiative ATs Care Program, which has more than 500 ATs trained in CISM peer-support and has impacted more than 15,000 ATs and athletic training students.
Thornton said he would like to personally thank everyone on the commission for what they have done.
"[They] have done unbelievable work in their training and in their function and in the setting up of people in different states and districts," he said. "It's remarkable as to what they have accomplished already. This is just a group of people that took this thing by the horns, understood it was important and have been all in the entire time. I just can't say enough about how professional these people are and what a great contribution they have made to the profession overall."
ATs Care is a member resource and benefit. For more information or to find support, visit the ATs Care webpage.
If you or someone you know is going through a hard time, contact ATs Care Commission, the National Suicide Prevention Hotline, 800-273-8255, or text "HOME" to 741741 anytime in the U.S. and connect to a crisis counselor.