June 28, 2022 by
Claire Williams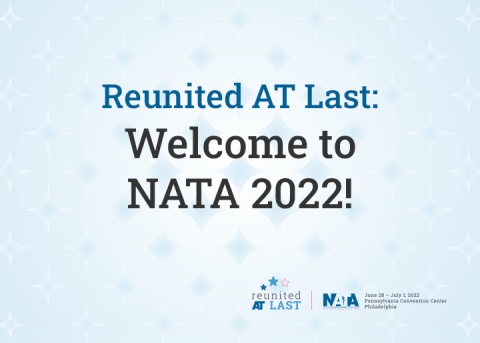 We are finally "Reunited AT Last" at the 73rd NATA Clinical Symposia & AT Expo! June 28 kicked off four days of the best athletic training educational programming and reconnecting for an in-person experience that isn't available to ATs anywhere else. 
After two years of virtual convention experiences, NATA 2022 is not only your chance to learn the latest in sports medicine, but it's your opportunity to connect with your fellow athletic trainers and athletic training advocates from around the world in Philadelphia.
"We are thrilled to be 'Reunited AT Last' in the City of Brotherly Love for the 73rd NATA Clinical Symposia & AT Expo!" NATA President Kathy Dieringer, EdD, LAT, ATC, said. "This week is all about celebrating you and the impact athletic trainers have on their patients and their communities. Please enjoy the exceptional educational programming, reconnect with old friends, make new ones and have a great time. Thank you for being here and let's continue to move Forward Together!"
At 8:40 a.m. June 29, join NATA leaders in the Terrace Ballroom in the Pennsylvania Convention Center for the welcome address and NATA 2022 Keynote: Lessons from Leadership. Panelists and NATA Past Presidents Julie Max, MEd, ATC, and Marje Albohm, MS, AT Ret., and current President Dieringer, EdD, LAT, ATC, will discuss challenges they've faced, reflect on their experiences in leadership and offer encouragement to all attendees looking ahead to the future. NATA Title IX Task Force Chair Cari Wood, LAT, ATC, will moderate.
Attendees will have more opportunities to hear from NATA leadership this week, as well, during the General Session June 29 and Face Time '22 event June 30, both featuring addresses from President Dieringer and other NATA leaders.
Educational programming is underway, and attendees can earn up to 20 CEUs at NATA 2022. Plan out your schedule in the NATA 2022 event app, and experience different learning formats and hear from hundreds of health care professionals and experts.
In addition to more than 140 educational sessions to choose from this week, attendees will experience the return of the AT Expo – the world's largest showcase of products and services for the athletic training profession. Exhibitors include all major manufacturers and hundreds of distributors and service providers, giving you the opportunity to discover innovative technologies and demo new products.
The AT Expo is open to attendees in Hall C, starting at 10 a.m. June 29.
All week, make sure you're following NATA on Facebook, Twitter and Instagram for the most up-to-date information and breaking news. Use the #NATA2022 hashtag to share your experience and connect with other attendees, too.
Download the NATA 2022 App
There is no printed convention guide this year, so the convention app is the best on-site tool to help you navigate the 73rd NATA Clinical Symposia & AT Expo. An email was sent to all in-person registrants June 27 with instructions on how to download the app. If you can't find the email, be sure you're checking the email account you used for registration and check your spam folder. Download and log into the app using the same credentials you used in the NATA 2022 virtual portal in order for your schedule to sync.