November 24, 2021 by
Claire Williams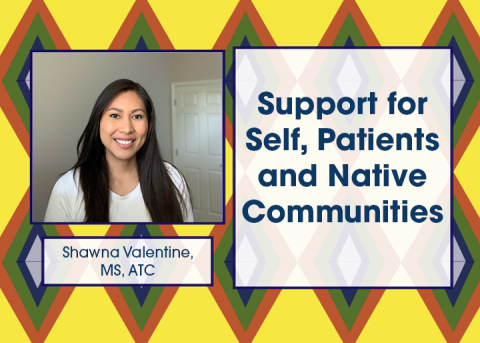 In honor of National Native American Heritage Month in November, the NATA Now blog will highlight some of NATA's Native/Indigenous American members and their impact on the athletic training profession.
Support plays a major role in an athletic trainer's life – they need support individually to then be able to support the patients they care for and their communities. This cycle of support for the self, patients and communities continues to strengthen as relationships grow.
For minority athletic trainers and patient populations, such as Native and Indigenous Americans, finding that support is even more important.
Shawna Valentine, MS, ATC, has often been the only Native athletic trainer among her colleagues, and she doesn't treat Native patients often as a collegiate athletic trainer in Colorado and California. An early professional, certified for three years, Valentine seeks the support that comes with an understanding of her own culture and feeling fulfilled to support her patients, as well.
Even though she's hundreds of miles from her homeland on the Navajo reservation in Rock Point, Arizona, Valentine has found comfort among other Native and Indigenous ATs, making virtual connections through the Native ATs group.
"It's a very comfortable environment for myself – I feel more at ease, just because of my background, where I come from, where I grew up; we just have this understanding," she said.
The support Valentine has found among fellow Native and Indigenous athletic trainers makes her a better AT, she said, and she can focus on helping her student athletes grow, not only physically, but mentally.
"I really like to be there, to be that person who cares for the athletes, whether that's mental health or physical, whether it's their personal life or their schooling," she said. "I want to be the person who helps get them through it."
Valentine said she believes treating student athletes' mental health is just as much a part of her role as athletic trainer as treating them physically. They're going through a lot, she said, and it might not be obvious, so "I really advocate for them, and I've seen that it really can make a difference within an athlete."
Growing up on the Navajo reservation in Rock Point, Valentine was active in sports throughout high school, and was injured often because of that. She didn't have access to an athletic trainer or the education and treatment they provide, which left her treating her own injuries.
"There was no one to look up to, and that was one of my motivations for getting into athletic training," she said.
Although she now works off of the reservation, she is still passionate about representing her Native culture.
"Representation means a lot to me – it's my culture, it's my heritage," she said, adding that she encourages educating colleagues and patients who aren't aware of Native and Indigenous cultures.
"The main important thing to me is just education on different backgrounds, and getting others to understand that."
Conversely, Valentine is also passionate about representing athletic training in the Navajo nation. In Rock Point currently, there are no athletic trainers serving the secondary schools, and Valentine is aware that it's not an easy transition to bringing ATs into the athletics program fold.
"Athletic training is so unknown to my community that it would be tough to incorporate AT treatment or education," she said.
From her experience, the Navajo community is hesitant to accept unfamiliar treatment or health care providers, so integrating that care will take work and time. But increasing awareness is still important, she said. Valentine is in touch with a former basketball coach in Rock Point, who is interested in hiring an athletic trainer but doesn't have the resources to make that happen yet. Even so, Valentine still encourages athletic trainers to advocate for athletic training coverage on Native and Indigenous reservations.
"Get out into the community and help them out as much as you can," she said. "Hopefully, educating them can start building the blocks needed to bring the athletic training profession home."
As awareness of athletic training continues to grow, so will support for bringing athletic trainers to Native and Indigenous communities, and Valentine's network of Native ATs will continue to grow.
Valentine's cycle of support, from supporting her Native community to being supported by the AT community to supporting the student athletes she treats, shows the impact athletic training can have not only on health care, but on representation, as well.