June 24, 2022 by
Claire Williams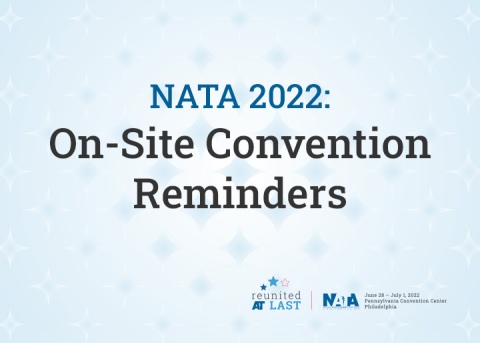 There's a lot happening at the 73rd NATA Clinical Symposia & AT Expo in Philadelphia – we want to make sure attendees have everything they need to make it a successful event. For easy and quick access to all NATA 2022 details, including schedules, maps and event and speaker information, make sure you have the  NATA 2022 event app downloaded to your phone.
Additionally, follow NATA on Facebook, Twitter and Instagram for the need-to-know updates and breaking news. Use the #NATA2022 hashtag to share your experience and connect with other attendees, too.
Enhance your experience: Download NATA 2022 event App
Download the NATA 2022 event app to your mobile device for access to the NATA 2022 event schedule, AT Expo exhibitor listing, important on-site announcements and more. You should have receieved an email with login credentials; just download the PheedLoop Go! app, type in your credentials and search for the NATA 2022 event. Please note: The session times listed in event app and the virtual portal are time zone-specific. So the event times display correctly, we recommend you do not use the NATA 2022 event app until you have arrived on-site in Philadelphia.
Question? Get an Answer at the NATA Info Counter
The NATA Info Counter is your go-to spot to connect with an NATA Office team member, who will be able answer – or get an answer – for any questions you have throughout the week.
Where: Level 2, outside of Hall A, Pennsylvania Convention Center (PCC)
When:
7 a.m. to 6:30 p.m. Tuesday, June 28
6:30 a.m. to 5:45 p.m. Wednesday, June 29
7:15 a.m. to 5 p.m. Thursday, June 30
7:15 a.m. to 1 p.m. Friday, July 1
Lost and Found
The Info Counter also serves as the lost and found for NATA 2022. Stop by to drop off something you've found or to see if your lost item has been turned in.
Grab Your Badge at Express Check-In
Upon arrival at NATA 2022, whenever that may be throughout the week for you, find the Registration Bridge to get your badge and other convention materials before attending any educational sessions or events. For your convenience, registration will be open daily Tuesday through Friday.
Where: Registration Bridge, Level 2, Pennsylvania Convention Center
When:
7 a.m. to 6:30 p.m. Tuesday, June 28
6:30 a.m. to 5:45 p.m. Wednesday, June 29
7:15 a.m. to 5 p.m. Thursday, June 30
7:15 a.m. to 1 p.m. Friday, July 1
NATA 2022 is A Cashless Event
On-site payment options for NATA 2022 are limited to credit/debit cards only. We accept American Express, Discover, MasterCard and Visa.
Need a Ride: Shuttle Schedule Available to Select Hotels
Limited shuttle service to and from the PCC is available for attendees staying at the Cambria Hotel Philadelphia Downtown City Center and Holiday Inn Express Philadelphia-Midtown. Curbside pick-up/drop-off is at the front entrance on S Broad at the Cambria Hotel.

Stock Up at the Ribbon Bar
After you pick up your registration materials, head to the NATA 2022 ribbon bar, also on the registration bridge, and add ribbons corresponding to your setting, professional interests, honors, volunteer service and more that will help you network with other attendees – and show off!
Wi-Fi Available to NATA 2022 Attendees
Wireless internet is provided complimentary for attendees on all concourses including the Grand Hall, Broad St. Atrium, Arch St. Bridge and Ballroom Foyers. Note: The complimentary wireless, PCCWELCOME, is an unmanaged service with shared 1.5Mb bandwidth.
Don't Miss the Career Center
Visit the on-site Career Center in Hall C, where athletic training professionals will be available to refine résumés at no charge. Come by the Career Center desk and drop off your résumé. A text will be sent when your résumé is ready to be picked up. The Career Center is in Hall C, a part of Connect at NATA 2022, and the hours are:
10 a.m. to 5 p.m. Wednesday, June 29
10 a.m. to 5 p.m. Thursday, June 30
10 a.m. to 1 p.m. Friday, July 1
Special Accommodations
All facilities being utilized for NATA 2022 meet ADA requirements. Wheelchair accessible seating and reserved seating for visually impaired attendees are available for those who need it.
Health and Safety Reminder
The health and safety of all NATA 2022 attendees is our top priority. For the most up-to-date health and safety guidelines for in-person attendees, visit the convention website and Health and Safety webpage and follow NATA on social media.
If You Need It: First Aid Care
If you're in need of any first aid supplies while on-site at the Pennsylvania Convention Center, there is a First Aid Office located outside Hall D on Level 2 available to address minor injuries, cuts, scrapes and bruises.
Nursing Stations
The Pennsylvania Convention Center offers two Mamava lactation suites for nursing mothers to breast feed infants or to use breast pumps in privacy. The units are self-contained, pods with comfortable benches, an electrical outlet and a door that can be locked for privacy. The 4-by-8-foot pod is meant for individual use, but can fit more than one person, including mothers with infants, breast pumps, or luggage. One pod is located on Level 200 between Halls A and B and a second unit is located on Level 100 in the Broad and Arch Concourse.