May 3, 2022 by
Claire Williams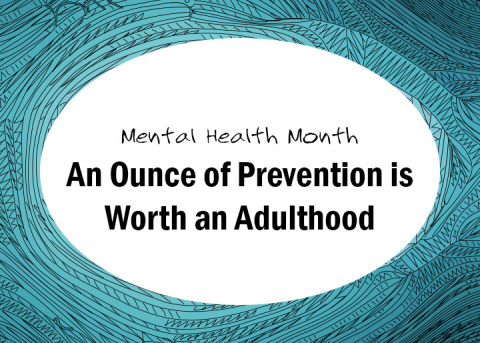 By Julie Young, PhD, ATC, and James Onate, PhD, ATC, FNATA
Mental well-being, as a state where someone can manage life stresses and be able to productively participate in society, is an important aspect of adolescent health. Mental illness is an umbrella term that covers a host of conditions, including eating disorders, substance abuse disorders and post-traumatic stress. Mental well-being and mental health can both be positive or negative. Mental illness is a diagnosable condition, but an adolescent can have poor mental well-being in the absence of a diagnosis. Likewise, those with a mental illness can have positive mental well-being when they are receiving appropriate treatment.
During adolescence, the emotional center (amygdala) grows rapidly. However, the prefrontal cortex, which helps the brain filter and logically think through situations, doesn't mature until several years later. These brain changes, along with substantial social and physical growth, make adolescence a vulnerable time for poor mental well-being.
This is an opportune time to help individuals develop strategies for optimal mental health solutions.  Adolescents alone can't handle this growth and development, thus it does take a village to raise a child and promote positive well-being. Athletic trainers can be part of the effort to promote positive well-being among their young patients.
Two of the most common mental health conditions in adolescents are depression and anxiety. Anxiety is a condition marked by excessive worry and can present as several types of anxiety, such as social anxiety or generalized anxiety disorder. Prior to COVID-19, rates of depression and anxiety doubled in adolescents compared to children. Overall, nearly one-third of adolescents will meet the diagnostic criteria for an anxiety disorder during adolescence, but 80% won't receive treatment. Depression is characterized by sadness and lack of interest and affects between 10% to 20% of teens. Only half of those with depression will be diagnosed before adulthood and only half of those diagnosed will receive appropriate treatment.
Unfortunately, suicide is now the second leading cause of death among 10 to 19 year olds. Even in the absence of a diagnosis, anxiety and depression symptoms can have a substantial, negative impact on function and shouldn't be dismissed. 
As with many health conditions, early recognition and treatment of mental health conditions can improve overall outcomes. Athletic trainers need to be able to recognize and respond to mental health conditions.
Sometimes it can be hard to tell if someone is struggling – how often do we ask, "How are you doing?" and the answer is always, "Fine"? Athletic trainers need to really listen when asking the question of "how are you" and probe when any red flags occur. 
Screening tools offer a quick and easy way to assess someone's symptoms and start a conversation. Implementing screening tools is a process and requires significant forethought and planning. NATA's position statement on screening in the secondary school setting gives some great information. Also, the NATA Secondary School Athletic Trainers' Association created a screening resource tool that can be used as a template. Briefly, some things to consider include:
Review needs and options: What is the goal of screening? Do you want to screen everyone who comes in with an injury or everyone annually? Do you want to identify those at risk for suicide or are you interested in identifying those with increased stress?
Build your team: A collaborative, interdisciplinary team will ensure improved chances for screening success. In a secondary school setting, the school administration in conjunction with the school counselors, psychologists, athletic trainer and team physician should help establish policies and protocols. The school counselor and psychologist can help with triaging adolescents who are in distress. All administrators, coaches and teachers need to be aware of the process and may play roles as well.
Decision rules and response policies: This step can be the most challenging. Where is the first line of triaging after someone screens positive? In what situations are parents contacted? How will procedures differ from situations that arise during school hours versus outside school hours? A mental health emergency action plan is critical to have in place. NATA's Mental Health EAP guideline is a great resource. Also of note, starting in July, a new national mental health line will go live across the country. For all mental health emergencies, call 988 to be directly connected to trained mental health crisis counselors.
Information sharing: Who will be told the results of screening? Who is in charge of disseminating that information and in what time frame?
Resources and referrals: Mental health clinicians have seen an unprecedented surge of referrals, in part due to the COVID-19 pandemic. If someone needs counseling or psychologic services, there may be a long wait to be seen. Partnering with some practices in the beginning can help expedite care. Think about the plan to assist adolescents who may have longer wait times. Is the school counselor able to help? Are there any group sessions in the school or community that can support someone until individual appointments are available? Can online resources be used?
Pilot: It can be overwhelming to implement a screening process. Starting small can help ensure that the developed system works as intended.
Assess and adapt: Don't create a system and forget about it. Plan to assess the strengths and weaknesses annually. It's possible that the goals of the system could change, which would require changes to the current system.
Screening offers the ability to start a conversation. Not everyone who screens positive actually has significant problems and not everyone who screens negative does not. The goal is to help adolescents who are struggling and connect them with appropriate resources.
Want To Learn More About Mental Health?
American Psychologic Association: Society for Sport, Exercise & Performance Psychology (Division 47)
American Medical Society for Sports Medicine consensus statement: Mental health issues and psychological factors in athletes: detection, management, effect on performance and prevention: American Medical Society for Sports Medicine Position Statement—Executive Summary | British Journal of Sports Medicine