June 29, 2022 by
Claire Williams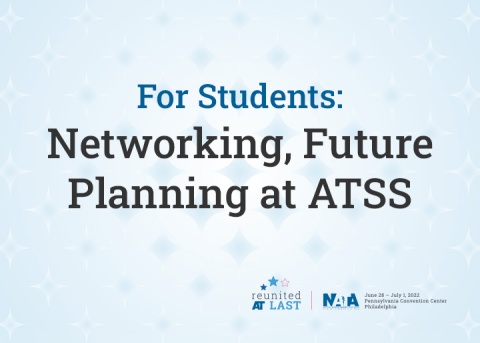 The Athletic Training Student Seminar (ATSS), organized by the NATA Student Leadership Committee, is designed to give students a more in-depth look at the profession and to start networking. ATSS at the 73rd NATA Clinical Symposia & AT Expo is no exception. 
The SLC Planning Subcommittee curated ATSS at NATA 2022 to focus on topics specific to athletic training students, such as job searching, transition to practice, work-life balance, nutrition, which are commonly referenced as areas of improvement. The subcommittee also wants the event to encourage networking for athletic training students.
"The theme throughout is 'the chapter that was left out,'" Sierra Moreno, SLC Planning Subcommittee chair, said. "We want coming to ATSS to give students a different perspective; one that is not typically covered in athletic training curriculum, but is still important for students to consider."
Taking place over two days in Philadelphia, June 30-July 1, ATSS sessions are exclusive to athletic training students attending NATA 2022 in-person
On June 30, attend the ATSS Otho Davis Keynote presentation presented by Katy Rogers, MS, LAT, ATC, assistant AT for the NFL's Carolina Panthers. Rogers' presentation, "Paving the Path to Your Dream Job," will allow students to hear from an early professional athletic trainer who took a non-traditional path to success.
"We thought Katy would be relatable to students, and a good role model to learn from," Moreno said. "We really liked her unique perspective on how she got to where she is."
Attendees can attend the ATSS Breakout Sessions, as well. Immediately following the keynote, Jeff Konin, PhD, ATC, FNATA, Kysha Harriell, PhD, LAT, ATC, Jason Bennett, DA, ATC, and Dana White, MS, RD, ATC, will be presenting on various topics relevant to students, including clinching a job offer and creating a healthy work-life balance.
Also on June 30, ATSS is hosting a musculoskeletal ultrasound workshop sponsored by the National Basketball Athletic Trainers' Association in the afternoon. While much of ATSS focuses on professional growth as ATs, the ultrasound workshop is an opportunity for hands-on experience with specialized techniques.
On July 1, attend the ATSS Non-Foundational Settings Career Panel for a conversation with athletic training professionals who are utilizing their athletic training skill sets in unique ways.
"[These sessions] look into the ability to do so much with an athletic training degree, which was not brought to my attention in undergrad," SLC Planning Subcommittee member Leah McNutt said. "So, to hear from people who are using their degree in such unique ways is great for students to hear, as well."
In addition to content curated just for athletic training students, ATSS provides an opportunity to network that Moreno is especially excited to offer.
"I really want to encourage students to come for networking – not only with their peers, but with professionals," she said.
"A huge part of this convention for students is the introduction to networking – due to COVID and the past two conventions being online, we're missed that ability to network and socialize," McNutt continued. ATSS at NATA 2022 will facilitate networking and improving communication skills for the athletic training students who attend.
For more information about ATSS, visit the ATSS webpage on the convention website and the PheedLoop Go app, which hosts NATA 2022 details, schedules and planning tools for attendees.
ATSS 2022 SCHEDULE
Thursday, June 30
8:30-10 a.m., Marriott, Grand H:  ATSS Otho Davis Keynote: Paving the Path to Your Dream Job 
Presented by Katy Rogers, MS, LAT, ATC. This event also includes the presentation of various SLC awards. 
10:15-11 a.m.: ATSS Breakouts – Round 1
Marriott, Grand H: Getting the Job, presented by Jeff Konin, PhD, ATC, FNATA
Marriott, Grand I: Transition to Practice: All Your Unanswered Questions, presented by Kysha Harriell, PhD, LAT, ATC
Marriott, Grand K: Promoting Work-Life Balance, presented by Jason Bennett, DA, ATC
Marriott, Grand B: Fad or Fit? Popular Nutrition Concepts ATs Should Be Aware Of, presented by Dana White, MS, RD, ATC
11:30 a.m.-12:15 p.m.:  ATSS Breakouts – Round 2
Marriott, Grand H: Getting the Job, presented by Jeff Konin, PhD, ATC, FNATA
Marriott, Grand I: Transition to Practice: All Your Unanswered Questions, presented by Kysha Harriell, PhD, LAT, ATC
Marriott, Grand K: Promoting Work-Life Balance, presented by Jason Bennett, DA, ATC
Marriott, Grand B: Fad or Fit? Popular Nutrition Concepts ATs Should Be Aware Of, presented by Dana White, MS, RD, ATC
12:45-2:45 p.m., Marriott, Grand H: NBATA Musculoskeletal Ultrasound Workshop
Friday, July 1
10:15-11:15 a.m., Marriott, Grand B: ATSS Non-Foundational Settings Career Panel