March 1, 2022 by
Claire Williams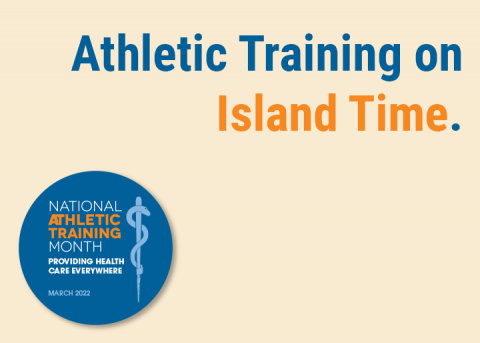 It's National Athletic Training Month! To showcase this year's theme, "Providing Health Care Everywhere," the NATA Now blog is highlighting the various places athletic training are found and what ATs are doing to increase understanding of the profession in those settings.
Providing health care everywhere – it's a tall order, but it's one that comes with major wins, strong relationships and community impact. The outskirts of "everywhere" extend beyond the East and West Coasts of the United States; everywhere includes the small island of American Samoa, where one athletic trainer cares for the island's nearly 2,000 student athletes.
That athletic trainer, Florence Wasko, ATC, is dedicated, passionate and personifies this year's National Athletic Training Month theme of providing health care everywhere.
On her home island of American Samoa, Wasko is employed by the American Samoa Department of Education to provide care across 10 private and public schools. She returned home after completing AT education in Hawaii in 2013 to take on this first-of-its-kind role for her community.
Wasko's love for her community even led to her turning down a role at the island's only hospital working in physical therapy. Although there she would treat some student athletes, she was drawn to the secondary schools specifically because of her own experience growing up as an athlete.
"The high school levels had no coverage at all so I chose to work there instead. … It was always my goal to return home and work because we have never had an athletic trainer working here."
Through continued treatment, rehabilitation, injury prevention and education among students, administrators and parents, Wasko said she has seen the awareness of athletic training increase. Advocating for the importance of concussion education and care on the island has been one of her biggest achievements to date.
"Since starting in 2013, there has definitely been more awareness as to my work and what it is I do," she said.
"Coaches have been so much better about reporting injuries and following up. The biggest improvement overall is the raised awareness of concussions that has even led to creation of concussion legislation. I have been heavily involved in writing legislation and defending that in front of our lawmakers."
The March NATA News features athletic trainers in rural communities in Indiana, Montana and Arizona, each one serving student athletes who wouldn't otherwise have easy access to health care. Similarly, Wasko's athletic training services have become a crucial part of health care availability.
"Working here is bridging a gap that would otherwise remain empty," she said about the health care she provides.
The island's hospital is limited in equipment – it doesn't have a magnetic resonance imaging machine; there is only one computed tomography and X-ray machine – so, Wasko's assessment and treatment abilities allow her to provide temporary relief and other solutions that might not be addressed for student athletes if she wasn't there. 
Although her daily to-do list is long and the challenges can be hard, Wasko sees the benefit of her care often.
"It's definitely one of the most challenging jobs I've ever had, but also the most rewarding," she said.
As part of her coverage, she collects all physicals and consent forms from each student athlete for each team and manually entering. She also keeps track of all coaches to make sure they have their coaching requirements as well, including first aid, CPR certification and concussion education.
Some of her favorite moments are watching student athletes succeed off the field after returning from an injury.
"There are not a lot of opportunity for our student athletes after high school here other than the military, and seeing our athletes receive a college scholarship for sports after injuries is incredible."
To continue increasing awareness of athletic training in American Samoa, Wasko recommends collaboration and working to strength relationships on and off the American Samoa. She emphasizes the connections made among her community, and encourages all ATs to do their best.
"Do your best with what you have.
"I have very minimal resources and equipment but the gratitude and relationships built with these athletes last a lifetime."
MORE NATM
The NATA National Athletic Training Month webpage offers a variety of resources to help raise awareness about the important work of athletic trainers, including a sample press release, media alert and press tip sheet.
You can also download the 2022 NATM poster with the "Providing Health Care Everywhere" theme. Additionally, download NATM logos and posters from years past.