August 7, 2020 by
Claire Williams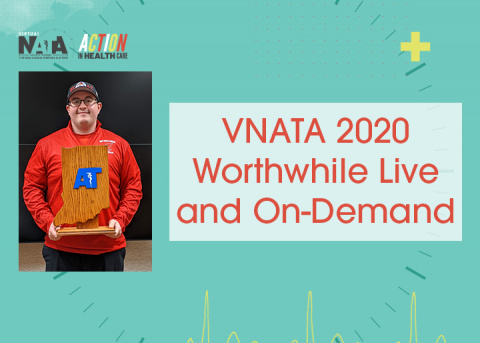 Editor's note: NATA reached out to athletic trainers who participated in the 2020 NATA Virtual Clinical Symposia & AT Expo to learn about their experiences for a blog series called My VNATA Experience. If you would like to share your thoughts on VNATA 2020 as well, email marketing@nata.org.
Thomas Barkoski, MS, LAT, ATC, a secondary school athletic trainer, logged onto the VNATA 2020 platform during the live portion for his fourth NATA symposia experience. He found the price was accessible and affordable, and said the content on compassionate care for all featured throughout the week during town halls was valuable beyond the price. He shared his thoughts on VNATA 2020 and if virtual is the way to go.
Learn more and register for VNATA 2020 through Sept. 10. The live portion of the event has ended, but on-demand content and access to the AT Expo is still available.
Why did you decide to attend the 2020 NATA Virtual Clinical Symposia & AT Expo?
I decided to attend the 2020 VNATA virtual clinical symposia for three main reasons. First, I need the CEUs. And for only $99, the VNATA was a no brainer. Second, the state, district and national conventions fire me up. My passion, drive and enthusiasm for the future is always at its highest after a convention. Third, I love learning. As a medical provider, I am aware of my strengths and my weaknesses. There is always something you can learn from attending the conventions.
What was your favorite part(s) of VNATA 2020?
My favorite part about VNATA 2020 is the on-demand section. Having all of the sessions located in one area and being able to access those sessions during any time of the day and every day of the week is amazing. During traditional in-person conventions, there's always that session you really wanted to see, but you missed. Either due to two sessions happening at the same time, or the session's room being filled or missing a session when you go to lunch or dinner.
What new knowledge/takeaway from VNATA 2020 will you use in your daily practice?
The major takeaways that I will use in my practice came from the Ethnic Diversity Advisory Committee and LGBTQ+ Advisory Committee Town Halls. Athletic trainers need to have a collaborative and holistic approach to patient-centered care – and it does not matter how complete your skill set is or how knowledgeable you are if your patients do not feel welcomed in your medical facility. We all need to evaluate or reevaluate how inclusive and welcoming our medical facilities are. We need to understand that different populations have different factors, different barriers and different determinants of health care. If we fail to recognize and address those factors/barriers/determinants, then we fail to deliver the best care as possible given our resources and skills.
Why would you recommend VNATA 2020 to your fellow ATs?
I would 100 percent recommend VNATA 2020 to the entire profession. And I hope that the NATA offers some type of virtual component for NATA 2021 (for the athletic trainers that cannot get time off to attend the convention, for the athletic trainers that cannot afford NATA and for the athletic trainers that attend the convention in-person).
I would like to thank and congratulate the NATA for the success of VNATA 2020. The EDAC and LGBTQ+AC Town Halls alone are worth the $99 price.