March 4, 2020 by
Claire Williams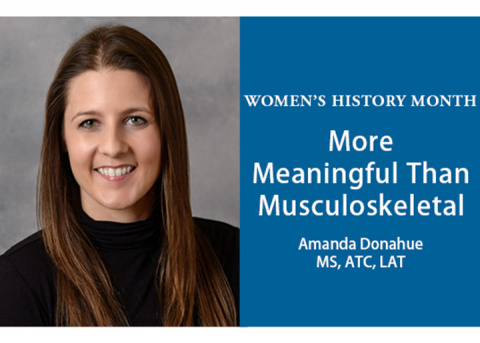 Editor's note: In honor of Women's History Month this March, NATA would like to celebrate all women athletic trainers making a difference in the profession and their patients' lives through a monthlong blog series.
Without support, we fall. It's that simple. Amanda Donahue, MS, ATC, LAT, hasn't fallen yet, and she doesn't plan on letting the performing arts students she works with, or her fellow athletic trainers, fall anytime soon either.
Support is the one constant that seems to thread through Donahue's life and career. From her own mentors always available to lean on and the support she now provides to performing arts students, to seeing how the college provides support for students, she understands women have to be supported to keep pushing forward in athletic training.
Donahue is an athletic trainer at the Palladino School of Dance and School of the Arts at Dean College in Massachusetts. She has spent most of her life and career in the performing arts. Growing up, Donahue roller skated competitively and danced ballet, but she didn't interact with an athletic trainer until tearing her posterior cruciate ligament as a teen. It was then that she found a connection between her love of anatomy and science and the performing arts world, which was, and often still is, an underserved population.
Through an internship during her undergraduate career with the Radio City Rockettes in New York City, Donahue connected with the head athletic trainer, who she considers to be one of her "strong female mentors."
It was that AT's support that pushed Donahue to continue her education and career in athletic training.
"We really talked about the field of athletic training and how it fits within the performing arts world, and athletic trainers are so strong in providing preventative care for athletes that it really made sense for me," she said.
"The other element of athletic training specifically that I enjoy … is that acute injury care that we provide for them. Being able to be there right when it happens, to catch them, to be able to have that conversation with a performer and say, 'We're going to get you through this,' I really doubt that would have happened should I have chosen a path of physical therapy."
In 2013, Donahue accepted the athletic trainer position for the Palladino School of Dance and quickly became a place of support for her patients. In addition to typical musculoskeletal injuries and foot and ankle injuries, Donahue is also at times her patients' first stop for mental health.
Dean College, Donahue said, provides on-campus counseling services for students, and she's grateful to able to refer students in crisis to an appropriate, familiar place.
"I think being able to talk openly about it with student athletes is something that is really vital for our field; it has to be," she said about mental health.
"Within our field, we're also seeing eating disorders and talking about mental health, as well, and how that impacts the healing process of performers who are recovering from musculoskeletal injuries."
More than she originally expected, Donahue encourages her patients, who are most often young women, to advocate for themselves, to learn and understand their bodies and how to take care of them.
Donahue collaborates regularly with the full-time dance faculty to host movement-based workshops within required technique classes to discuss biomechanics and anatomy behind their movement. With these workshops, Donahue is able to help her patients understand their bodies more, and understand how prevention and treatment affect them.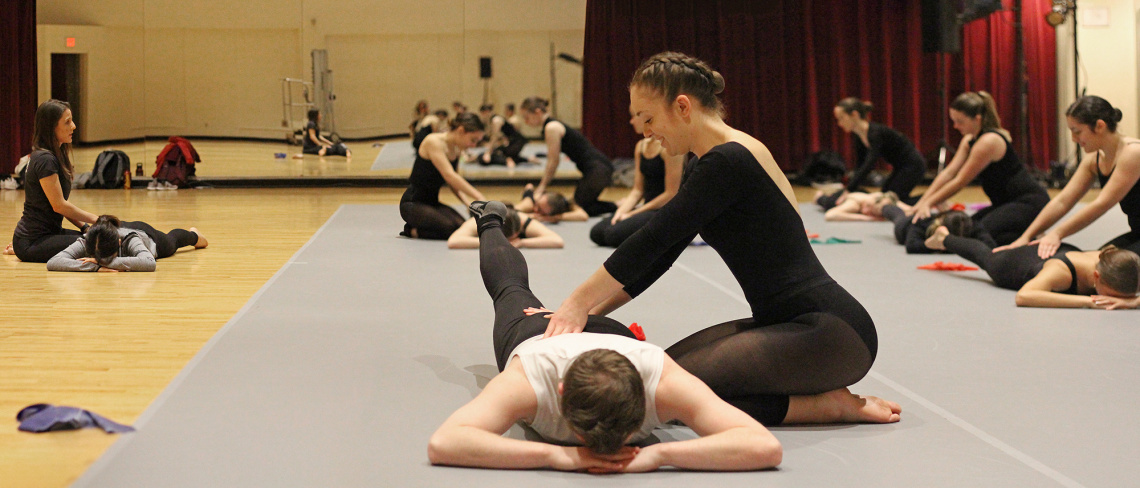 When Donahue is able to see the growth in her patients and her students, she said she knows that's why she became a preceptor.
Recently, Donahue said, she received a text message from a female clinical student who she saw "grow tremendously over the course of a semester." The student's institution had recognized "such an improvement in her confidence and her knowledge and how she carried herself."
"It almost brought me to tears because here is a woman who I saw come in as a student, who was really insecure of herself but was absolutely brilliant, and being able to hear that from her that she took what I gave her and ran with it, I think that's why I do what I do," Donahue said.
From another standpoint of working with students, Donahue recalled working with a patient who struggled with an eating disorder.
"Hearing her growth and her journey through it and knowing that I was able to be the person to connect her with resources that she needed to feel like she was worth it," she said.
"It's those moments – this is why I'm doing what I'm doing. The cases where it becomes more complex than straight musculoskeletal, those hold a special place in my heart."
For other women in the profession, support still matters – and will matter in the future – to see growth, Donahue said. As someone who leans on her mentors for support, she understands the impact it can have on one's career and personal growth.
"With women athletic trainers, we have to be supportive of each other to help us grow," she said. "To give us those opportunities when we see them, then to just be open minded and not be quick to judge one another without knowing what their past is."