March 19, 2020 by
Claire Williams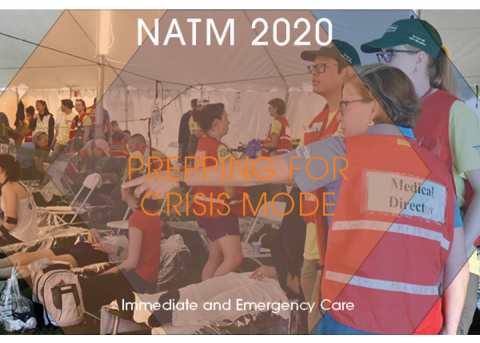 Editor's note: In honor of National Athletic Training Month, NATA is conducting a twice-weekly blog series throughout March that showcases how ATs use the five domains of athletic training to improve the health and well-being of their patients. This blog post highlights domain three, Immediate and Emergency Care, and how members are embodying this year's NATM theme, "ATs Impact Health Care Through Action."
Athletic trainers are equipped to handle nearly every medical situation, to treat any patient in any setting; but during times of crisis, ATs have to work counter to natural instincts to put an emergency response plan into action. When disaster strikes unexpectedly, such as an earthquake or tornado, or an active shooter is on the premises, it may be natural instinct to stop the threat or run toward it.
But what athletic trainers should be prepared to do is fight that urge and run toward injured victims to start providing immediate care.
Athletic trainers should also be prepared to educate the community around them, whether that is their school administration and staff or patients who work in a warehouse, on how to respond during a life-threatening crisis.
In secondary schools, for example, where ATs and school nurses are most often the health care providers on staff, athletic trainers could lead the charge on training administration, staff and students on immediate and emergency medical action.
Brian Driscoll, LAT, ATC, is currently working on just that at the Las Vegas high school where he teaches. He was the first athletic trainer in Nevada to add emergency medical kits by national organization Stop the Bleed to the high school in 2018, and has continued to advocate for other secondary school athletic trainers across the state to do the same through training and education. Driscoll is also working to increase Stop the Bleed training and kits in more community settings. 
Stacey Ritter, MS, ATC, formerly an athletic trainer in secondary schools, is focused on another aspect of preparation for crises, one often directly related to active shooter situations: identifying mental health risks in students.
Driscoll and Ritter presented "How to Prevent, Prepare and Perform in Times of Crisis" at the 70th NATA Clinical Symposia & AT Expo in 2019, a presentation hosted by the NATA Secondary School Athletic Trainers' Committee.
When it comes to preparation and prevention, athletic trainers are uniquely positioned to be present at the onset of mental health changes; they may be the first to recognize them and have the ability to communicate with at-risk students in an informal manner, Ritter said.
During an emergency, the physical part of preparation is crucial. For example, making tools available, such as Stop the Bleed medical kits, and designing them to be visible and easy-to-use impacts action by increasing the ability and number of people who can provide care, according to Driscoll. 
So, how can athletic trainers make sure they and their teams are prepared to respond with immediate medical care during a crisis? Take cues from Driscoll and Ritter to cover your bases and educate, empower and practice.
Educate
In addition to putting emergency action plans for crises, such as earthquakes, tornadoes and active shooters, in place, Driscoll recommends taking a Stop the Bleed course. Stop the Bleed hosts trainings at no cost across the country and provides emergency medical kits to equip your workspace with.
Every Stop the Bleed course teaches participants three techniques that can help save a life before a patient bleeds out: how to use your hands to apply pressure to a wound, how to pack a wound to control bleeding and how to correctly apply a tourniquet.
Excessive bleeding is the No. 1 cause of preventable death, and most common during crises. Knowing how to respond to a patient with an injury causing excessive bleeding is critical, and it's simple to train for. Driscoll recommends taking the course first as a participant, then completing training to become a Stop the Bleed course instructor to host course for your patient community.
To find a Stop the Bleed course near you, visit the Stop the Bleed course calendar.
Empower
For Ritter, athletic trainers have the opportunity and ability to empower at-risk students specifically when it comes to mental health. It is athletic trainers who can also empower their community to do the same.
Athletic trainers can recognize signs and symptoms in patients that could signal a mental health crisis. Ritter recommends posting and reviewing the NATA and ATs Care Mental Health Card infographic that categorizes symptoms into green for raised awareness, yellow for growing concern and red for take action categories. Athletic trainers should encourage their patient communities to review mental health symptoms so they too can feel responsible to take appropriate action should any "red" symptoms be apparent.
With these resources in mind, athletic trainers should work with their organization's staff to create mental health emergency action plans. NATA provides guidelines, sample questions, steps, procedures and directions for handling a mental health crisis in the secondary school, which could be applied to other settings as well. View the guidelines to work from and post a completed plan in clear sight.  
Athletic trainers are also the health care providers who can remove barriers to appropriate care and can refer patients appropriately to mental health professionals for further care.
Most often, athletic trainers create a safe space for vulnerable students in their athletic training facility. It is here, Ritter said, that ATs can empower their students to seek further care.
Getting the people outside the health care profession involved in emergency prep is also a way to increase empowerment and awareness. When the community is empowered, Driscoll said, it's likely they will be more willing to provide funding for programs like Stop the Bleed and emergency medical kits.
By adding the tools necessary in an emergency, athletic trainers and other citizens can feel more confident in their ability to provide care.
Practice
Just like with any emergency action plan, practice is a key part of activating a plan successfully during a real crisis or disaster. Driscoll recommends practicing spontaneously and often – he implemented Tourniquet Tuesdays, for example, in his classroom, during which every week students are met with a different scenario with excessive bleeding and must use their Stop the Bleed training to provide immediate care to victims.
Ritter recommends also reviewing and practicing mental health emergency action plans in addition to reviewing mental resources often. NATA provides extensive resources for review, as does the Board of Certification Inc., specifically their coverage of the role of athletic trainers and mental health illnesses in athletes.
When it comes to mental health, practice is continuous. As athletic trainers, Ritter said, you are working often with your gut instinct. Knowing when to feel and recognize a subconscious nudge in your gut to take action is something to always be aware of when working with patients.
A crisis can strike at any moment, but knowing you have equipped the community around you with the tools to help through education, empowerment and practice, you can feel prepared to take it on and save lives.
Continuing Education Opportunities
Log into the NATA Professional Development Center and search for the following courses that relate to domain three, Immediate and Emergency Care. You can also explore upcoming webinars to earn additional CEUs within the PDC.
Openly Teaching Closed Reductions of the Shoulder, Finger, and Patella
Sickle Cell Trait and Athletics