May 26, 2021 by
Claire Williams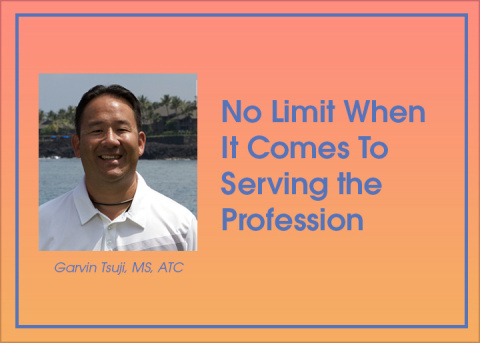 May is Asian/Pacific American Heritage Month. Throughout the month, the NATA Now blog will highlight some of NATA's Asian American and Pacific Islander committee members in a series that discusses the importance of service and giving back to the profession.
From a young age, Garvin Tsuji, MS, ATC, could be found giving back, whether that was as a 10-year-old refereeing soccer games or, today, as a seasoned district and committee representative with NATA, the Far West Athletic Trainers' Association and the Hawaii Athletic Trainers' Association. Giving back for Tsuji means respecting the community where you live, work and play.
His Japanese parents and subsequent upbringing instilled a strong sense of respect in him, which meshed well with the cultural significance of "ohana," or family, in Hawaii where Tsuji grew up and currently resides. Respect and community are two major parts of Tsuji's dedication to serving the athletic training profession.
"Giving back is the least that I can do," the athletic trainer at 'Iolani School in Hawaii said. "To give back to the profession that has given me my best friends, it's given me my livelihood, provided me the opportunity to enjoy what I love doing."
In July, Tsuji will assume the role of FWATA treasurer, joining the NATA District Secretaries and Treasurers Committee, but this is far from his first experience representing Hawaii's ATs at the national, district and state levels. With this appointment to treasurer, however, it will be the first time the FWATA district director, secretary and treasurer all hail from Hawaii.
Tsuji has also represented FWATA on the NATA Honors and Awards Committee, working on both the Specialty Awards and Most Distinguished Athletic Trainer Award subcommittees. Tsuji also completed his term as Hawaii's representative to FWATA in December 2020, and continues to serve on the FWATA Honors and Awards Committee.
The FWATA Honors and Awards Committee has been working together for 10 years, he said, and has developed into a group with a sense of family.
At the state level, the only positions he hasn't held within HATA over the past 20 or so years are secretary and president – every other role, Tsuji has tried it.
The influence of Japanese and Hawaiian cultures have pushed Tsuji to be involved because, he said, he has always been taught that without giving back, there can be no progress and no right to complain.
"We can't just sit back," he said. "If you're not willing to move things forward, you have no basis to complain or criticize. 
"Anything we can do, if we can be a voice, if we can do it together [and work toward a common goal]. That works a lot better than as individuals."
The sense of community and ohana in Hawaii parallels the collaborative culture of athletic training. Tsuji said he sees the similarities when he's on the island or visiting the mainland, and working together to move the profession forward is an important part of respecting it.
He encourages athletic trainers to get involved through volunteering, and to start small. Connecting with the state association is a great place to start.
"Don't be afraid to step out of your comfort zone," said Tsuji, adding that joining a committee with someone else you know can be a great driver to serve. "Before you know it, you'll find your place in the family."
Once involved, Tsuji said he keeps this saying in the back of his mind, shared with him from a mentor: "Do not set limits on what you can do with giving back to the profession."
"The [profession and the] association needs more people and more voices in order to progress," he said.
For more information about volunteering with NATA, visit Gather. Under the Participate tab, you can find information about the volunteer opportunities, including those with NATA's various committees. Learn more about all the committees at NATA to see if there is one that fits your interest.