November 10, 2020 by
Claire Williams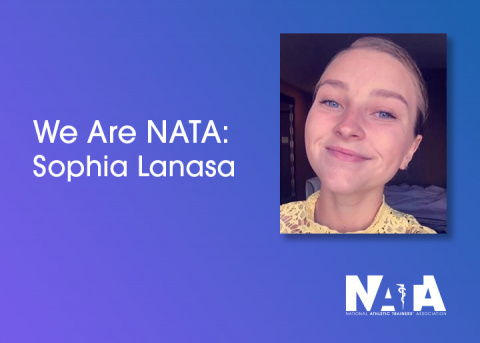 Home to athletic trainers throughout their careers, NATA provides its members access to professional growth, support, connection and advocacy. Through this semiweekly blog series, members will share what made them join NATA, the value of membership and how, together, we are NATA. Don't forget, the deadline to renew your 2021 NATA membership is Dec. 31. Renew or join today and learn more about the benefits of NATA membership.
NATA works to cultivate opportunities for professional growth, support, connection and advocacy for all members, who range from the most seasoned, Hall of Fame-inducted athletic trainers to the incoming class of athletic training students. To ensure all members are supported, no matter what level they're at in their careers, NATA offers a variety of educational content, resources and networking opportunities.
The NATA Student Leadership Committee, and other setting-specific committees, has become a place for athletic training students and members to hone their networking skills and be a part of leading the next generation of ATs.
NATA Student Leadership Committee Chair Sophia Lanasa, an athletic training student at Towson University, said she feels the support of NATA as a student member most through connection with a network that will continue to expand as she advances further as an AT and certified member.
Read on for more from Lanasa about what being an NATA student member means to her.
How has being a member of NATA helped you grow as a professional?
Being a member of NATA has created a huge networking opportunity for me; I have had the opportunity to connect and meet with athletic trainers from many different settings across the nation. This has expanded my knowledge on the many different paths I can take within the profession and people I can contact if I choose to pursue that path.
How does being a member of NATA influence your network and your ability to connect and build community with other ATs?
As a member of NATA, as well as chair of the NATA Student Leadership Committee, events such as the NATA Clinical Symposium & AT Expo or the Joint Committee Meeting were very important in developing a network with athletic trainers and athletic training students. At these events, you have professionals from across the country coming together to learn and connect with others who love athletic training as much as you do. 
How has being a member of NATA impacted your ability to advocate for yourself or the profession at large?
As a student, I think it is very important to advocate for the profession, especially as it expands and continues to grow. NATA shares opportunities for advocacy, including Capitol Hill Day and other events hosted by NATA Political Action Committee. Every year, the NATA Student Leadership Committee also holds a video contest for students in accredited programs to share their love for athletic training and advocate for the profession during National Athletic Training Month.
During your career, how have you felt supported by NATA?
My mentors and members of the Student Leadership Committee have been my biggest support within NATA throughout my time as a student. They have supported me professionally and personally. I know as I transition from student to certified athletic trainer, my support system will continue to grow, expanding beyond my committee to other professionals.
Why are you a member of NATA?
I have chosen to become a member of NATA and continue to renew membership each year to be closely connected with the athletic training community and have access to all the opportunities NATA has to offer. I am a member to advocate for the profession and help it grow. As a member, I have had the opportunity to become leader and represent the students in athletic training across the nation. I believe membership is important to be an active member of this profession.