November 3, 2020 by
Claire Williams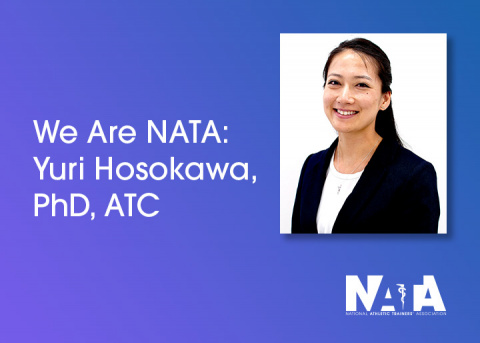 Home to athletic trainers throughout their careers, NATA provides its members access to professional growth, support, connection and advocacy. Through this semiweekly blog series, members will share what made them join NATA, the value of membership and how, together, we are NATA. Don't forget, the deadline to renew your 2021 NATA membership is Dec. 31. Renew or join today and learn more about the benefits of NATA membership.
The value of an NATA membership knows no boundaries – literally. NATA members are treating patients, teaching and researching all around the world, and they feel the support of the association when advocating for themselves and the profession in any setting. Yuri Hosokawa, PhD, ATC, an assistant professor of sport sciences at Waseda University in Japan, often uses NATA resources to support her role.
"Showing the data released from NATA that support the value of ATs to our local stakeholders is an invaluable way for us to advocate for our profession in Japan, where athletic training is still under-recognized," she said.
Hosokawa said she is also positively impacted by advocacy efforts from NATA through the NATA International Committee. NATA IC meets regularly with international liaisons, including the World Federation of Athletic Training & Therapy, and plays a vital role in leading the profession as the world's largest association for athletic training.
More traditionally, NATA's dedication to advocating for athletic training through government affairs, Hosokawa said, "is of huge value to the membership because these efforts make sure that we are recognized by the public and have a voice in sports medicine and public health communities.
"Without proper recognition, it becomes difficult to keep and advance our current positions in respective work settings."
As a researcher, Hosokawa said being an NATA member allows her to serve and access the athletic training network.
"It really provides me a motivation to conduct research that helps advance our profession as a whole," she said.
By providing the resources to advocate for the profession, Hosokawa sees the value in being an NATA member because of the power that comes with it.
"Becoming an NATA member really allows you to be part of the change, and being part of the change for the profession you love, I think, is a great power you could have as a member," she said.
NATA membership renewal for 2021 is now open. In order to maintain member status and retain all NATA member benefits, payment in full is due no later than Dec. 31. For more information and to renew your NATA membership, visit the NATA membership renewal webpage.