May 18, 2020 by
Claire Williams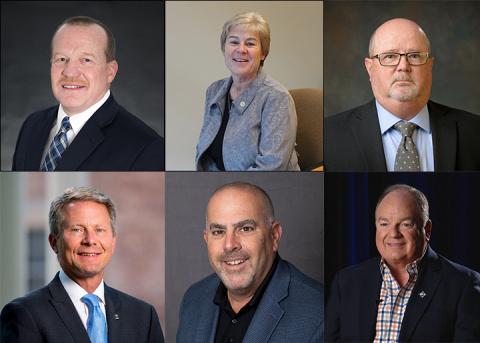 The May issue of NATA News features a special look at each of the six athletic trainers inducted into the NATA Hall of Fame this year. From their accomplishments and contributions to the profession to their own personal passions and influences, each one has a great story to tell. We are continuing the conversation on the NATA Now blog in May.
What is your hope for the future of the athletic training profession?
Glen "Larry" Cooper, MS, LAT, ATC
That the profession continues to gain strength and recognition as a healthcare profession and we are able to put an AT in every secondary school, public or private across the country.
Denise Fandel, MBA, CAE, AT Ret.
We are in an age of entrepreneurship, and I have always seen NATA as an incubator – a place where new ideas can be brought forward, discussed and perhaps launched. We need to help our fellow members and support our leaders when they take on new initiatives in a calculated manner even though the initiative has some risk. We also need to be understanding and accept that some failure is acceptable, in fact necessary, to grow. This is how we stay fresh and relevant.
Greg A. Gardner, EdD, ATC, LAT
My hope for the athletic training profession is that we move forward and continue to expand our skill set in ways that push us and make us more than a little bit uncomfortable. If where our skill set is going doesn't make us nervous, we're not pushing the edge hard enough!
Kevin M. Guskiewicz, PhD, ATC, FNATA
I hope the athletic training profession will remain curious, try to stay ahead of the curve and never be satisfied with the status quo. We will continue to evolve as a profession if we commit to bettering ourselves by following the latest research to guide our clinical practice. To do this, our athletic training curricula must incentivize students to get involved in research and, at the very least, prepare students to be astute consumers of the published athletic training and sports medicine literature.
Jeff Konin, PhD, ATC, PT, FACSM, FNATA
Athletic trainers have historically been creative, dedicated and hard-working individuals. It is long past time that everyone is taught the business of athletic training in an effort to raise the overall compensation of each and every job opportunity. Working odd hours, long hours, travelling, etc. may be a part of many of our jobs, and it would be much more meaningful if the earnings reflected value that we bring in every setting.
Mark A. Letendre, ATC
Now that we are becoming a "go-to" profession for patient care, my hope is that insurances recognize us for proper reimbursement. I hope school districts recognize athletic trainers are needed as much as assistant principals. And, we continue to advocate to be the health care provider of choice at all levels of society.