June 14, 2021 by
Claire Williams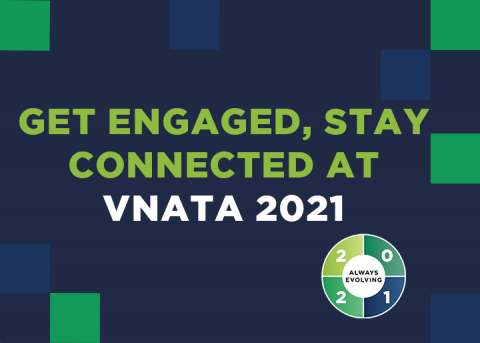 The 2021 NATA Virtual Clinical Symposia & AT Expo isn't only about educational sessions and earning CEUs – it's also the top networking event for ATs around the world. VNATA 2021 offers features to connect with peers, speakers and exhibitors during the live event June 22-24 as well as the on-demand period through Sept. 30.
The new and improved VNATA 2021 platform allows attendees to strengthen relationships and expand their networks 24/7 – and even earn prizes through the new Gamification feature.
Don't miss the following engagement opportunities on the schedule, and learn more about all of the networking features the VNATA 2021 platform has to offer. For more information about these and other ways to engage at VNATA 2021, visit the Engage webpage.
Live at VNATA 2021
Coffee Talks with NATA Hall of Fame Members
9:30 to 10 a.m. CDT June 22-24
Join distinguished NATA Hall of Fame members for a casual chat. Each Coffee Talk is limited to 25 participants, so arrive early to secure a spot. To join, go to the Networking section and click the Groups tab at the top of the page. Hall of Fame members Scott Sailor, EdD, ATC, Michael Goldenberg, MS, ATC, CES, MaryBeth Horodyski, EdD, LAT, ATC, Russ Richardson, EdD, LAT, ATC, Skip Vosler, AT Ret., Tim Neal, MS, ATC, CCISM, Ken Wright, DA, ATC, Pete Koehneke, MS, ATC, and Paula Turocy, EdD, LAT, ATC, will be ready to chat. 
15 for Fun, Fitness and Relaxation
Check the agenda June 22-24 for 15 for Fun, Fitness and Relaxation breaks throughout the day. These 15-minute breaks are a great way to refocus in between sessions. The 15 for Fitness breaks will be hosted by NATA member Emily Buckingham, MS, ATC.
Gamification
Earn points at VNATA 2021 by interacting with the platform, meeting with exhibitors, attending special events and looking out for special codes like this one: GAMEON! Codes can be entered during the live days of VNATA 2021, and attendees could win a $500, $250 or $100 gift card.
Quiz Bowl is Back
5 to 6 p.m. CDT June 22
Cheer on your district at the 2021 NATA Quiz Bowl. Using the Kahoot platform, each district will be represented by one student competing for a cash prize that will be awarded to their school's athletic training program or club. Attendees can watch the competition and cheer on their district's representative via Zoom.
Alumni Events
This year, select universities are using VNATA 2021 as a way to virtually connect with alumni.
Northern Illinois University, June 22: This event is for all NIU alumni and friends of the Program to get together and gather! All current or former undergraduate students, graduate students, clinical and education staff or friends of the NIU program are welcome. Learn more about our event by emailing Katie Scott or through the NIU AT Alumni Facebook Group.
Iowa State University, June 22: Iowa State Athletic Training is hosting theirs via WebEx live from the new AT Lab in the Forker Building. A WebEx link will be added to the Facebook event. Contact Tim Weesner or Mary Meier for more information.
University of Tennessee at Chattanooga, June 24: Join UT Chattanooga alums to reconnect, socialize and hear updates on the program. Contact Lynette Carlson for more information.
Ongoing Engagement at VNATA 2021
Starting June 22 and continuing through Sept. 30, the VNATA 2021 virtual platform will provide attendees with new features to connect anytime throughout the conference. The platform is available 24 hours a day, seven days a week, so networking can happen whenever is most convenient.
The following are some of the features available in the VNATA 2021 platform:
Matchmaking: Complete the Matchmaking survey in the Networking section to be connected with other attendees who have similar interests.
Presence Tracking: During VNATA 2021, see who is active in the VNATA 2021 platform at the same time as you. Look for the green halo around the profile pictures, send a request to connect and start chatting.
Networking

Attendee-to-attendee: Private messaging and live video chat
Groups: Groups, which can accommodate up to 25 attendees, are virtual social lounges allowing participants to join real-time video or audio chats to discuss topics of interest.
Public Lobby Chat: Say hello to peers and meet new attendees in the lobby chat.
Public Session Chats: Communicate with speakers during the live session and keep the conversation going during the educational programming on-demand period.
Register Today!
Early registration for VNATA 2021 – $179 for current professional members – is available through June 21. After that date, registration will increase to $229 for current professional members through
Sept. 30. Current professional members can save an additional $50 by prepaying their 2022 NATA membership dues. Retired and honorary members can register for VNATA 2021 for free.
For the entire pricing breakdown, more information and to register, visit the convention website.