May 20, 2020 by
Claire Williams
During the COVID-19 pandemic, athletic trainers have stepped up to help their local health care systems in multiple ways, including screening, telemedicine and infrastructure. NATA will share what athletic trainers everywhere are doing to care for their patients, communities and themselves during this time.
In the line of a northwest Alabama free drive-thru COVID-19 testing sites one day in April, the tune of "Happy Birthday" was being sung loudly from behind the masks, face guards and personal protective equipment of a testing crew, led by two local athletic trainers who noticed the date on this particular patient's intake form.
Brent Oliver, MS, LAT, ATC, and Ricky Bryant, MEd, ATC, two secondary school athletic trainers who were restationed to a local testing site by their hospital employer to assist with the Alabama Department of Public Health's efforts to slow the spread of the coronavirus, are making the best of these uncertain times.
"The positive thing I've gotten out of this is you're meeting the general public that you probably would never have met," Oliver said about his experience. "That's what we're on this earth for, touching people and making a positive difference."
Employed by the Helen Keller Hospital in Sheffield, Alabama, Oliver and Bryant were quick to shift their daily roles from providing sports medicine care to local secondary schools in the county to manning a local drive-thru COVID-19 testing site.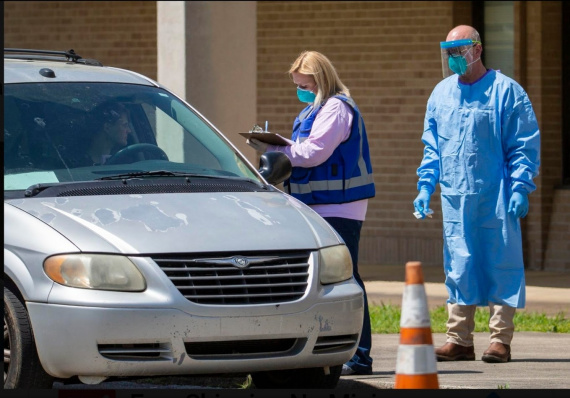 When the schools closed in early March due to the pandemic, Oliver said they were at risk of being furloughed or laid off. The hospital administration was approached by the Alabama Department of Public Health to assist, and the athletic trainers were first in line.
"As athletic trainers, we didn't hesitate to serve because that is what athletic trainers do," Oliver said.
Since then, Oliver and Bryant have been suiting up and administering COVID-19 tests every day, swabbing more than 800 noses in total so far.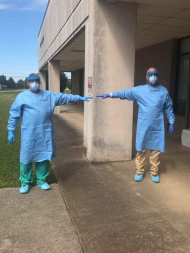 Although they are handling an undoubtedly important role in the pandemic, Oliver finds little ways to enjoy his time with Bryant and the Alabama Public Health Department employees working alongside him – at a safe distance and after sanitizing under a UVC lamp.
From singing "Happy Birthday" to one gentleman, who returned the next day with a jug of sweet tea and fried chicken to share, to creating mock album covers for their crew, dubbed "The Swabbers," Oliver said this time together has formed a family-like bond between the site team.
"It takes a unique person to be an athletic trainer," he said.
Finding the positive in such an uncertain time has been top of mind for Oliver, and he suspects many athletic trainers around the world are feeling the same types of new connections as their daily lives continue to change.
For more information about COVID-19 and to reference resources available through NATA and committees, visit the NATA COVID-19 resources webpage.