May 1, 2020 by
Claire Williams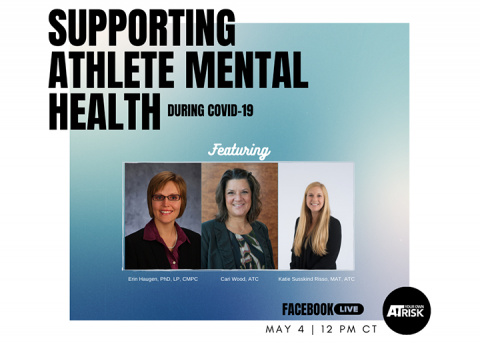 Editor's note: In honor of Mental Health Month, NATA is conducting a weekly mental health blog series throughout May to examine different facets of this topic and how they impact athletic trainers and their patients.
Uncertainty, change of schedules, distance learning, limited activity – the after-effects of the COVID-19 pandemic can put a strain on mental health, especially for student athletes who might now be at home without sports or in-person classes.
At Your Own Risk is bringing athletic trainers and mental health professionals together on Facebook Live to offer tips and answer questions about supporting athlete mental health during COVID-19. Tune in at noon CST May 4 for "Supporting Athlete Mental Health During COVID-19" on At Your Own Risk's Facebook page.
During the Facebook Live, former District Ten Director Cari Wood, ATC, Katie Susskind Risso, MA, ATC, will join by Erin Haugen, PhD, LP, CMPC, a licensed psychologist specializing in clinical and sport psychology, to discuss trends in mental health due to the pandemic, signs and symptoms, how to support mental health at home and other related topics.
Wood, Risso and Haugen will share resources for student athletes and their parents to access for additional support and will discuss how athletic trainers can collaborate with mental health professionals to support student athletes.
May is Mental Health Month, and this is a great way to start connecting with resources for athletic trainers to increase awareness of mental health. NATA will cover mental health throughout the month through a weekly blog series. Follow the NATA Now blog for updates on new content.
Tune into At Your Own Risk's Facebook Live May 4 for the "Supporting Athlete Mental Health During COVID-19" event. Also, follow At Your Own Risk on Twitter and Instagram for updates on future Facebook Live events, additional content and more.