June 11, 2020 by
Claire Williams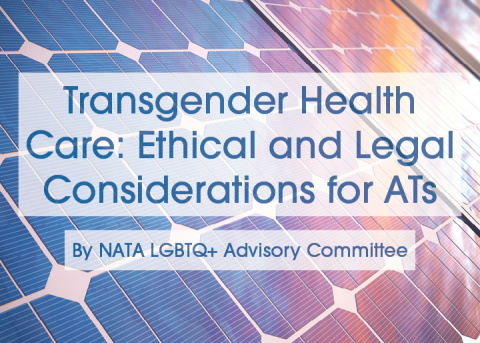 By Lorin Cartwright, MS, ATC, CAA, Sean Rogers, DAT, ATC, and Rebecca Lopez, PhD, ATC, CSCS
NATA LGBTQ+ Advisory Committee
Editor's note: Throughout June, NATA News will share content written by members of the NATA LGBTQ+ Advisory Committee related to different facets of LGBTQ+ health and patient care. For more information about transgender patient care and developing a transgender policy, read the latest Sports Medicine Legal Digest.
As health care providers, it is imperative for athletic trainers to be knowledgeable about the care and health care needs of the lesbian, gay, bisexual, transgender and queer (LGBTQ+) community. As a marginalized group, the LGBTQ+ community often faces stigmatization and discrimination that can result in detrimental health disparities.1,2 LGBTQ+ youth often experience school-related problems, substance abuse and suicide at a higher rate than their heterosexual and cisgender peers.3
Given the negative experiences some LGBTQ+ individuals have faced in school and health care settings, ATs should ensure they are educated on how to create an environment of inclusion, respect and appreciation in their respective settings. Most ATs have likely treated an LGBTQ+ patient, whether they were aware of it or not. Although ATs may have their own beliefs and opinions, it is unethical for those beliefs to negatively affect the care they provide to their patients.
Health Care Disparities
Individuals who identify as transgender, or those whose gender identity does not match their sex assigned at birth, carry a disproportionally large burden of health care disparities due to discrimination, marginalization and harassment.4 Current research outlines multiple self-reported barriers associated with access to quality health care services for transgender patients.6 These barriers include lack of sufficiently knowledgeable health care providers on transgender health, discrimination and lack of cultural competency from health care providers, socioeconomic status and larger systemic barriers.4, 5
The culmination of these barriers and associated health care disparities can lead to poor health-related quality of life and patient outcomes.5 In order to combat these disparities and better serve transgender patients under the care of ATs, clinicians should provide ethical care in line with the NATA Code of Ethics and Board of Certification Inc. (BOC) Standards of Professional Practice.
NATA Code of Ethics
In section 1.1, the NATA Code of Ethics states that "members shall render quality patient care regardless of the patient's race, religion, age, sex, ethnic or national origin, disability, health status, socioeconomic status sexual orientation or gender identity."6 Therefore, ATs should be aware of their own biases and continue to provide the highest standard of care to all of their patients, regardless of which group they may belong to. Some strategies to care for patients of diverse backgrounds can include focusing on each patient's individual attributes, interacting with other individuals (patients or colleagues) of diverse backgrounds and working to be more empathetic.7
From an ethical standpoint, these strategies for being a compassionate health care provider to all patients should go without saying. However, recent reports of transgender athletes being participating in sports as the gender they identify with has brought negative biases from ATs to the forefront. If ATs are outwardly displaying disrespectful and unethical opinions about transgender athletes in public forums, it would be difficult to imagine the quality of care they would provide should a transgender athlete become their patient. Violations of the NATA Code of Ethics can result in suspension of professional membership, public censure and/or private reprimand, as stated by NATA.
In addition to following the NATA Code of Ethics and practicing athletic training without bias toward groups of diverse populations, ATs are encouraged to advocate for patients in the LGBTQ+ community. If an AT witnesses another AT or other health care provider displaying conscious or unconscious bias while providing patient care, they are encouraged to advocate by pointing out any biases to educate their coworker on LGBTQ+ etiquette. 
Some strategies for pushing back against unethical conduct include pointing it out and talking openly to educate them on any misinformation they may have about transgender athletes.  Being a role model and using appropriate language and pronouns for transgender individuals can also set the tone for others to follow along with the appropriate behavior. The words we use matter, and it is extremely important for ATs and other health care providers to be culturally competent and use respectful and compassionate language.8
Another sometimes difficult, but effective, strategy to fight biases is to speak up and challenge others whom you may have witnessed either acting or speaking in an unethical manner.7 Often, prejudices and discrimination are a result of lack of education and interactions with diverse groups. By challenging others and opening up the lines of communication about inappropriate actions toward the transgender population, for example, there is a potential to educate and open minds toward being a compassionate and culturally competent health care provider. If these conversations are not effective, then allies and advocates for the LGBTQ+ community are encouraged to report unethical behavior by an AT or other health care provider.
BOC Standards of Professional Practice
In addition to the NATA Code of Ethics, ATs are beholden to the BOC Standards of Professional Practice. Within the standards of professional practice is the Code of Professional Responsibility, which outlines the tenants and responsibilities associated with practicing athletic training. The Standards of Professional Practice mandates in section 1.1 that the "AT or applicant [must] render quality patient care regardless of the patient's age, gender, race, religion, disability, sexual orientation, or any other characteristic protected by law."9 Furthermore, in section 1.2, it states it is also the responsibility of the AT to protect the patient from undue harm and act always in the patient's best interests while being an advocate for the patient's welfare.9
It is clear from the Code of Professional Responsibility that the AT's obligation is to adequately provide equitable care to each and every patient, regardless of any personal dogma that may persuade otherwise. This mandate also unequivocally includes equitable treatment of those who identify as lesbian, gay, bisexual, transgender or queer. Additionally, it can be interpreted through section 1.2 that it is the AT's responsibility to maintain a clinic or athletic training facility environment free of discrimination or systemic marginalization that can directly lead to undue psychological harm to the patient. The weight of this responsibility to maintain an ethical and professional practice is underscored by repercussions that may be administered by the BOC, including but not limited to the revocation of the AT's credentials.9
Legal Considerations
Outside of the ethical and professional standards of practice, ATs must also be aware of applicable federal, state and local laws, in addition to their state practice act, that outline non-discriminatory practices.
One of the most prominent federal laws to be aware of is Title IX, which prohibits discrimination on the basis of sex or gender in any federally funded education program. To further emphasize the law's applicability to LGBTQ+ individuals, in 2016 the Department of Education clarified that Title IX was based upon gender identity, not gender at the time of birth.10 Therefore, similar to their heterosexual and cisgender peers, LGBTQ+ students are entitled to an environment free from bullying, harassment and the right to extracurricular opportunities.11
Despite these Title IX protections, there is no federal law that specifically addresses the participation of transgender student athletes in high school sports. The lack of federal legislation or Department of Education policy regarding transgender individuals' participation in sports allows states the autonomy to regulate as they see fit.12 Currently, at the time of writing, 19 states and Washington, D.C., have legislation designed to protect students from discrimination based on gender identity.12
More recently, however, other states have passed bills that limit the rights of transgender individuals. In March, Idaho passed two anti-transgender bills, one that would not allow a transgender person to change their birth certificate and another that would not allow transgender girls and women to participate in women's sports.14
Given the significant variability in state laws and practice acts, from a clinician's perspective, it is beneficial to understand the laws that may affect the athletic trainer's patient population.
Collegiate Policies and Procedures
ATs must be also aware of the applicable policies and procedures created by national governing bodies for athletic organizations specific to their practice setting. The National Collegiate Athletic Association (NCAA) implemented policies and procedures outlining the inclusion of transgender individuals in sport in 2011. These policies outline the following:
A transgender male (female-to-male) student athlete who has received a medical exception for treatment with testosterone-one for diagnosed Gender Identity Disorder or gender dysphoria and/or Transsexualism, for purposes of NCAA competition, may compete on a men's team, but is no longer eligible to compete on a women's team without changing that team status to a mixed team.15
A transgender female (male-to-female) student athlete being treated with testosterone suppression medication for Gender Identity Disorder or gender dysphoria and/or Transsexualism, for the purposes of NCAA competition, may continue to compete on a men's team but may not compete on a women's team without changing it to a mixed team status until completing one calendar year of testosterone suppression treatment.15
Athletic trainers practicing in the collegiate setting should familiarize themselves with the NCAA transgender policies and procedures outlined through the Office of Inclusion. Additionally, ATs practicing in National Association of Intercollegiate Athletics and National Junior College Athletic Association institutions should familiarize themselves with their specific organization's policies and procedures. 
Secondary School Policies & Procedures
Unlike regulating bodies in the collegiate and Olympic settings, the National Federation of High Schools (NFHS) does not offer specific rules or regulations governing participation of transgender individuals in high school sports. Instead the NFHS recommends that each state association develop policies that are in accordance with applicable state laws, while following a set of national recommendations.
Olympic Policies and Procedures
The International Olympic Committee (IOC) is primarily responsible for the establishment and organization of the Olympic Games. Like the NCAA, the IOC also provides policies and procedures outlining transgender individuals' participation in Olympic-level competition that ATs should be aware of.
In conclusion, there are ethical and legal aspects to consider in terms of health care for the LGBTQ+ community, in particular with the transgender community. Athletic trainers should be knowledgeable of the various legal aspects in a given state and the policies set forth by athletics organizations. In terms of health care, clinicians should always abide by their state practice act and follow the NATA Code of Ethics, which states ATs should provide quality patient care regardless of sexual orientation and gender identity. It would behoove clinicians to develop their own transgender health care policies to ensure transgender patients are given quality treatment.  Part two of this series provides guidelines on how to create transgender policy for the secondary school setting. 
References
Mirza, S. A., & Rooney, C. (2018). Discrimination prevents LGBTQ people from accessing health care. Center for American Progress, 18.
Kates, J., Ranji, U., Beamesderfer, A., Salganicoff, A., & Dawson, L. (2015). Health and access to care and coverage for Lesbian, Gay, Bisexual and Transgender (LGBT) individuals in the US.
Lee, R. (2000). Topic in review: Health care problems of lesbian, gay, bisexual, and transgender patients. Western Journal of Medicine, 172(6), 403.
Safer, J. D., Coleman, E., Feldman, J., Garofalo, R., Hembree, W., Radix, A., & Sevelius, J. (2016). Barriers to health care for transgender individuals. Current opinion in endocrinology, diabetes, and obesity, 23(2), 168.
Bristol, S., Kostelec, T., & MacDonald, R. (2018). Improving emergency health care workers' knowledge, competency, and attitudes toward lesbian, gay, bisexual, and transgender patients through interdisciplinary cultural competency training. Journal of Emergency Nursing, 44(6), 632-639.
National Athletic Trainers' Association. (2005). NATA Code of Ethics. Dallas, TX: National Athletic Trainers' Association.
Nye, E., Nakajima, M. (2018). Understanding Implicit Bias in Healthcare. National Athletic Trainers' Association News and Publications.
Harriell, K. (2018) Why Words Matter: The Importance of Using Compassionate, Respectful Language as a Healthcare Provider. National Athletic Trainers' Association News and Publications.
Board of Certification, Inc. (2017). BOC Standards of Professional Practice Version 3.1.
Eisemann, V. H. (2000). Protecting the kids in the hall: Using Title IX to stop student-on-student anti-gay harassment. Berkeley Women's LJ, 15, 125.
National Coalition for Women and Girls in Education (NCWGE). Title IX at 45: Advancing Opportunity through Equity in Education. Washington, DC: NCWGE, 2017.
Weatherby, D. (2015). From Jack to Jill: Gender Expression as Protected Speech in the Modern Schoolhouse. NYU Rev. L. & Soc. Change, 39, 89.
Griffin, P. (2015). Developing policies for transgender students on high school teams. National Federation of State High School Associations.
Ridler, K. (2020, March 30). Idaho Governor Signs Into Law Anti-Transgender Bill. Retrieved April 4, 2020, from https://www.newsmax.com/newsfront/transgender-bills-idaho/2020/03/30/id/960643/
National Collegiate Athletic Association. (2015). NCAA inclusion of transgender athletes handbook.