April 6, 2020 by
Claire Williams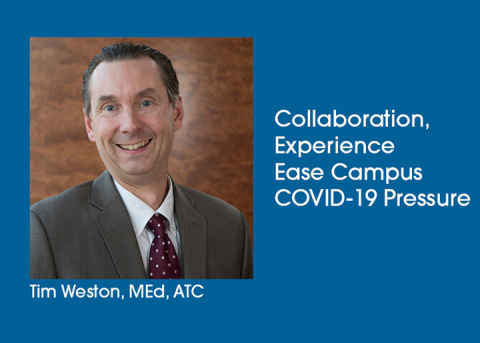 During the COVID-19 pandemic, athletic trainers have stepped up to help their communities and local health care systems in multiple ways, including screening, telemedicine and infrastructure. NATA will share what athletic trainers everywhere are doing to care for their patients, communities and themselves during this time.
"It was just like putting together an emergency action plan," said Tim Weston, MEd, ATC, head athletic trainer at Colby College. Except this time, it was for an entire campus, and the emergency was the COVID-19 pandemic. He also had only a couple days to make it happen.
Similar to many college and university campuses across the country, Colby College in Waterville, Maine, instructed students about three weeks ago to vacate their dorms and return home to complete the school year through remote learning. However, approximately 100 students were unable to leave due to personal circumstances, and the college was determined to ensure their safety and health while still living in campus housing. Additionally, the college employed essential staff who were still on campus daily, and their safety and health were also crucial during this time.
To address the pandemic and help protect students and staff, Colby formed an operations and logistics committee that includes Weston. His role is to coordinate a plan to transport and quarantine any remaining students if instructed by the college's Health Services.
The operations and logistics committee consists of eight to 10 members from across Colby's various departments. It's chaired by Colby's Vice President and Harold Alfond Director of Athletics Mike Wisecup and includes security; environmental, health, and safety; risk management; health services; legal counsel; facilities services and the Dean of Student's office.
According to Weston, this collaboration between key individuals from different departments on campus   has been a critical part of the college's ability to respond to the virus swiftly and without hesitation. Additionally, Weston's experience as an athletic trainer prepared him for crisis mode.
"We know how to move quickly and methodically," he said of athletic trainers.
Weston believes his already-established relationship with Colby's facilities, health and safety departments eased this process. He recommends all collegiate athletic trainers utilize those collaborative relationships effectively during emergencies. 
Coordinating transportation and ensuring all parties were aware of their plan was no different than coordinating a plan for any campus emergency, and Weston likened this process to creating a new EAP for other medical emergencies.
Collaboration and input from the legal counsel and risk management officer on campus also impacted planning, especially when state and national mandates were in place, as was the case during the COVID-19 pandemic.
The committee established protocols based on guidelines set by the Centers for Disease Control and Prevention and the Occupational Health and Safety Administration. Their protocols defined how to safely transport students if so designated by Health Services to a secure location on campus and how to properly wear and dispose of personal protective equipment.
The athletic trainers on the college's sports medicine staff also pitched in wherever necessary. When the dean of students put out a call for volunteers to help students vacate their dorms, Weston said the athletic trainers were first in line to help complete the task safely and efficiently.
Athletic trainers are trained and equipped to handle emergencies, and the coronavirus crisis has been no different. Weston's impact on campus planning comes down to his experience with and knowledge of the campus, and how to work together with those around him to ensure the safety of students and staff.
For the most up-to-date information and resources on the COVID-19 pandemic, and how it affects the athletic training profession, visit the NATA COVID-19 resource page that is being continuously updated as new information is available.