March 31, 2020 by
Claire Williams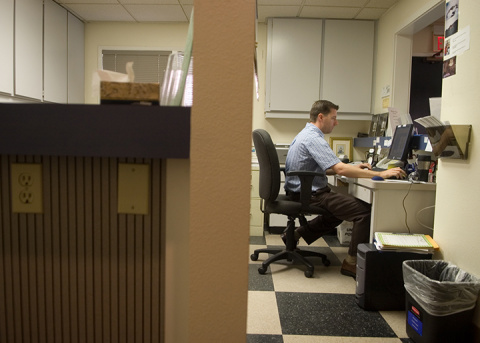 Finding even just a little bit of normalcy during these unpredictable times is the one thing many athletic trainers are striving for, and technology is helping make that happen. In hospitals, clinics, private practices and NASA's Kennedy Space Center, athletic trainers are utilizing telehealth technology to stay connected to patients and keep recovery and rehabilitation on track during the COVID-19 pandemic.
Nationally and statewide, insurers are also working to increase coverage or reimbursement for telehealth services. The Centers for Medicare and Medicaid Services (CMS) temporarily expanded access to telehealth services covered by Medicare so more beneficiaries can receive services from their doctors and other health care providers without having to travel to a health care facility.
Private insurers are also expanding coverage. As of March 24, Humana expanded the availability of telehealth services to reduce the spread of the coronavirus.
In a matter of days, athletic trainers have worked closely with their administrations to enable the use of Zoom, Microsoft Teams, SecureVideo, Doxy.Me, Healthy Roster and simple phone calls to connect with patients.
At Nationwide Children's Hospital in Columbus, Ohio, Sports Medicine and Developmental Behavioral Pediatrics Service Line Administrator Lisa Kluchurosky, MEd, ATC, was part of incorporating telehealth through Zoom into her two departments. In a two and a half week period, all outpatient service lines at Nationwide Children's will have telehealth video capability, limiting in-person visits as much as possible.
Nationwide Children's athletic trainers are utilizing Zoom or phone calls to stay connected with their patients and on track with care plans when patients need it the most, Kluchurosky said.
According to District Seven Director David Gallegos, MA, ATC, Cert. MDT, CEO of FYZICAL Therapy & Balance Centers in New Mexico and Texas, telehealth is a broad term, and its applications go beyond care for patients. Gallegos said telehealth "has been defined as using technology to address public health, health education and health service delivery."
"Using that definition, ATs, regardless of recognition by insurance, can bridge the distance gap between ATs working in similar situations allowing them to connect for mentoring, group education and policy making and patient consultation," he said.
Telehealth is also a way for athletic trainers to stay connected with one another, to keep each other motivated and find the good in a very uncertain and often scary time.
"Many times the stress of the current situation does not allow for written communication because tone can be misunderstood and the general perspectives of the receiver at the time they receive the message can affect the message," Gallegos said.
"Live face-to-face opportunities minimize these difficulties. The vision of keeping patient care going and the importance of your skill set are supported when social distancing does not stop our ability to care for patients."
Kluchurosky said keeping morale up at Nationwide Children's is a matter of ensuring the team knows they are still serving a very important purpose.
"We are taking it one day at a time," she said, adding that she's grateful for the good things that could come out of such a stressful time, and hoping that telehealth services will continue beyond the pandemic because it removes barriers to care for some patients.
Gallegos, who has been implementing telehealth services since 2000, recommends clear instructions, simple demonstrations and expectations and an engaging personality to find success in virtual visits.
He also recommends not limiting telehealth to only live visits. Telehealth can also provide opportunities to share recordings to watch at a later time and incorporating data from a FitBit or Apple Watch to monitor patients.
If your institution has not yet implemented telehealth options for patients, Gallegos recommends considering the following before doing so and to reassess current plans, if necessary.
Know what you want to achieve through telehealth: Determine if your goal is care, education, consultation, mentoring or another goal because it will impact how you proceed.
Know your state practice act: Understand the current laws or regulations affecting your state to safely and legally practice and provide care to patients.
Consider any temporary or permanent policy adjustments to state regulations for telehealth. See your state health agency for more information.
Update your institution's policy and procedures to include telehealth.
Find the platform that works for you and your team: Zoom, Microsoft Teams, Adobe Connect are secure, but do your research and find the one that will be simplest to implement.
Participate in recognized telehealth training.
Communication is key: Keep all parties clearly and continuously up to date, including your administration, supervising physician and patients.
Collaboration: Follow your educational domains and rely on other provider types for their specialties to ensure the highest quality of care for patients during an increasingly stressful time.
Document as you would if services were provided on-site.
For the most up-to-date information on the COVID-19 pandemic and for resources specific to telemedicine and how it affects the athletic training profession, visit the NATA COVID-19 resource page.