April 20, 2020 by
Claire Williams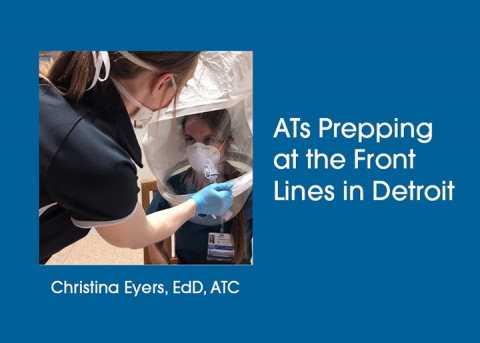 During the COVID-19 pandemic, athletic trainers have stepped up to help their communities and local health care systems in multiple ways, including screening, telemedicine and infrastructure. NATA will share what athletic trainers everywhere are doing to care for their patients, communities and themselves during this time.
COVID-19 has changed the way we work, and will work in the future, but athletic trainers are trained to keep the calm.
"I've talked to our team about being the calm in the storm," Director of Athletic Training and Community Outreach at Henry Ford Health System in Detroit Christina Eyers, EdD, ATC, said. "There is a lot of uncertainty right now, but I remind them every day that we will emerge from this as a stronger, better team and people."
Every day, Eyers' team of athletic trainers and sports medicine professionals is finding new ways to be the calm. For many, that has been ensuring the doctors and nurses on the frontlines in the health system are properly fitted with personal protective equipment.
They have also shifted to telemedicine and virtual visits with patients while Michigan is under a "Stay Home, Stay Safe" executive order. Since mid-March, Eyers said, the health system has shifted nearly 7,500 visits to virtual.
Eyers' experience during this unprecedented time is similar to all athletic trainers around the world. 
"We continue to utilize our expertise and skill set for the continuum of patient care," she said. "Whether it is a calming voice, empathy or ability to adapt to ever-changing environments, each athletic trainer has proven a tremendous asset to our community in order to combat the COVID-19 pandemic."
Read on for more about Eyers' experience in Detroit.
How are you staying in contact with your student athletes/patients?
Athletic trainers and physical therapists have set up home programs for patients and perform virtual check-ins every couple of weeks. Our athletic trainers also are communicating virtually with their student athletes at their respective schools. For our collegiate-level athletic trainers, many are reaching out to student athletes for follow up, check-ins and communication.
Are you volunteering or working in your community, whether with your local hospital/health care system or other organization, like a local shelter?
Our athletic trainers have focused efforts with an all-hands-on-deck approach to helping our front-line medical workers as part of our health system's overall response to this pandemic to combat COVID-19.
We have pivoted our staffing efforts to assist with patient-employee screenings; fitting employees for personal protective equipment, including N95 masks; rescheduling or assisting in patient phone calls and inquiries; communicating with pharmacy patients and our pharmacy mail order service; and providing administrative support with triage and intake.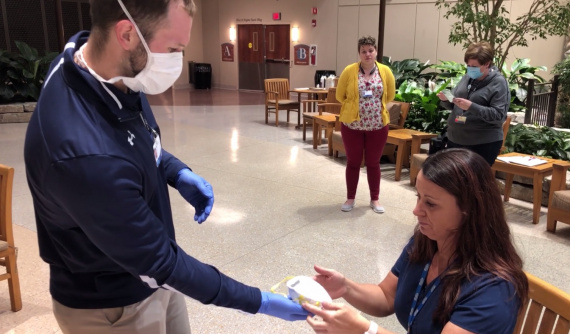 What are you doing to take care of yourself and stay connected with your local community, athletic training community, friends and family?
I'm in touch daily with our team. Outside of work, I take our family dogs for exercise and enjoy spending some quiet time with my daughters. One of the goals I set for myself in 2020 was to take something negative and focus on the positive aspect. Little did I know when I made this resolution how much it would be tested during this crisis. One of my daughters is closing out her senior year in high school, so I'm cherishing this time with her before she heads off to college in the fall.
What has been a positive part of this experience for you? Where do you find the bright spot in times like this?
I'm extremely proud of our team for their enthusiasm in taking on these roles to support their fellow health care workers. Our expertise and diverse skill set enable us to fill any need necessary for combating COVID-19.