April 9, 2020 by
Claire Williams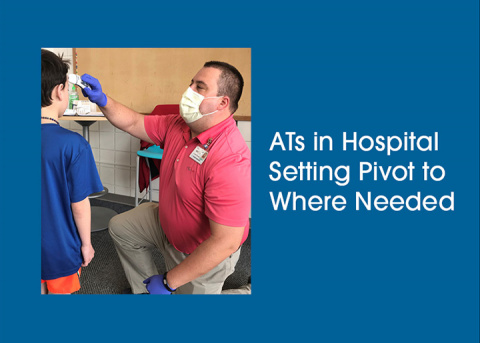 During the COVID-19 pandemic, athletic trainers have stepped up to help their communities and local health care systems in multiple ways, including screening, telemedicine and infrastructure. NATA will share what athletic trainers everywhere are doing to care for their patients, communities and themselves during this time.
COVID-19 moves fast, and it is forcing everyone to do the same. Athletic trainers have been no exception. As health care professionals with the experience to move swiftly and effectively, ATs can not only help wherever needed, but can provide solutions. Flexibility and adaptability are proving to be key characteristics that ensure athletic trainers are part of the solution.
At MaineGeneral Health in Augusta, Maine, where Chris Sementelli, MEd, ATC, is director of sports medicine, it took four days to pivot his team of 11 athletic trainers who are typically contracted with local secondary schools to screening for coronavirus symptoms. They're screening some of the most vulnerable – the 200 children of hospital staff at licensed daycare centers around their community.
"When you sign on to work with a medical center, you always know that, no matter what happens, you're going to be on the hook," he said. "They're going to need you whether it's a disaster, catastrophe, an illness – medical centers expect workers, including athletic trainers, to be available to do whatever needed to be done and we are happy to serve in such a meaningful way."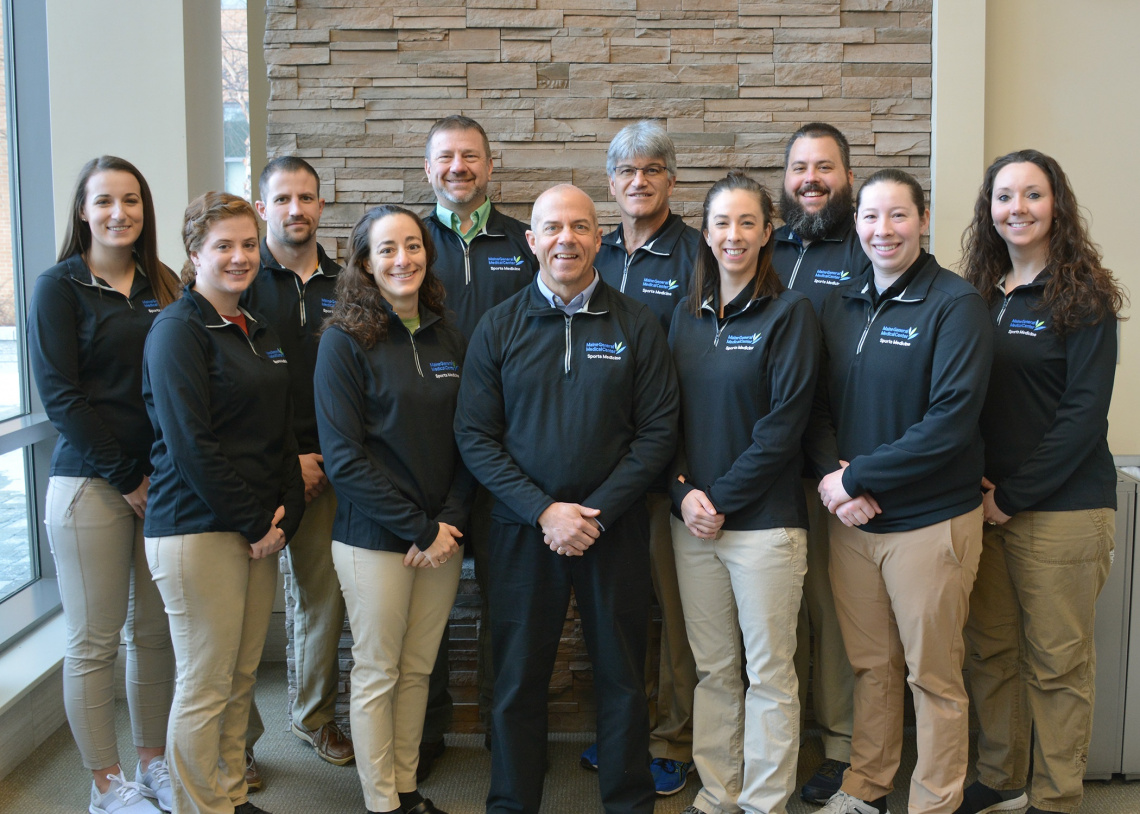 About three weeks ago, MaineGeneral saw a need for child care as its staff hours increased and certainty of what the next weeks would bring decreased. With schools closed indefinitely, many daycare centers also shut their doors to prevent the spread of coronavirus, leaving hospital staff with children without a solution.
MaineGeneral contracted three daycare centers, between local YMCAs and private daycare centers, to organize daily child care for their staff. That's where Sementelli came in.
His sports medicine team is divided among each site to screen children curbside for fevers and symptoms, in addition to the child care staff working in the centers, before they enter the building.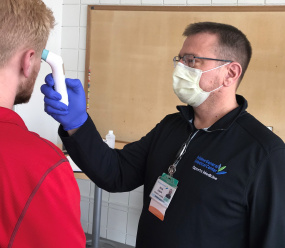 Before reporting for their new duties at 5 a.m. March 23, a Monday morning. Sementelli and his team worked through a weekend to complete online tutorials and watch videos of the equipment they would be using to take temperatures, and how to properly follow guidelines set by the Centers for Disease Control and Prevention to prevent spreading the virus.
"Everybody was so willing to help throughout the organization, from the team in the store room to the physicians and nurses," he said. "They knew what my need was; they pitched in. I was able to put supplies in place and my team together to roll up Monday morning."
Sementelli also worked to establish processes and protocols to minimize additional exposure to others around the ATs. The ATs conduct screenings from outside the child's car, or within the building's vestibule, and follow guidelines set by the Centers for Disease Control and Prevention. Additionally, the sports medicine team coordinated an interdisciplinary process to engage the child's primary care physician if symptoms appear.  
After three weeks of screenings, the sports medicine team is gearing up for another two. Sementelli said their area is most often issuing updates or new mandates at two-week intervals. At the time of publication, their county will continue current mandates and protocols until April 30, and Sementelli they are prepared to continue their care indefinitely.
Sementelli is working to ensure his staff continues to clock 40 hours per week, in an effort to maintain normalcy and a regular salary. He said they developed a staffing plan that is fair and equitable to staff the sites as well as keep up with our middle school and high school patients that are still under our care.
He has been impressed with them, too.  
"We are a very experienced team and as ATs we have always had to be able to adapt to change; this is quite a change, but we have all handled it very well," he said. "The moral has been great, and the team is proud to know that we are performing a necessary and critical service to our fellow medical center staff and the community as a whole."