March 11, 2020 by
Claire Williams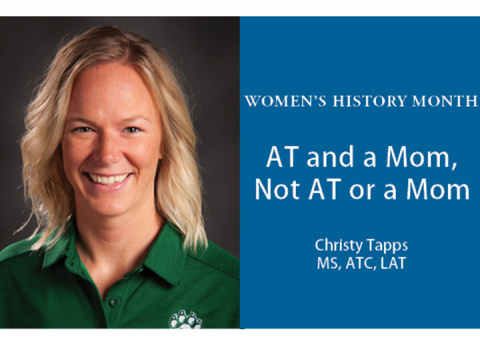 Editor's note: In honor of Women's History Month this March, NATA would like to celebrate all women athletic trainers making a difference in the profession and their patients' lives through a monthlong blog series. Christy Tapps, MS, ATC, LAT, was also featured in the March NATA News Women's History Month Q&A, Team Before Self.
Christy Tapps, MS, ATC, LAT, assistant athletic trainer at Northwest Missouri State University and mom of two boys, loves being a mom as well as an athletic trainer. There is no "but" or "or" about it. It's both.
After having her first son, Tapps tried different health care settings that weren't the right fit and during a four-month stint as a stay-at-home mom, there was a moment for Tapps when she realized she wasn't where she was meant to be as an athletic trainer. She was still thinking about the people she also knew needed caring for: her patients. She had to get back to the athletic training facility.
With that, though, came a wave of guilt that Tapps still works to overcome some days.
"I feel like this is [a barrier] that all working moms go through," she said. "To overcome that, the joy and fulfillment I get from this job [as an athletic trainer] overcomes that guilt. I am a much better mother and wife when I enjoy what I am doing outside of the home."
Finding the balance between going back to work and continuing to be a good mom was a barrier for Tapps to overcome, and likely a barrier for many working mothers who also split time between the workplace and home.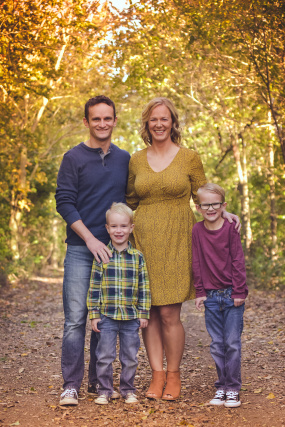 It didn't happen without hard work, but Tapps realized it doesn't have to be one or the other, especially when you do something so fulfilling. Tapps credits support from working together with her husband, finding flexibility with your job and coworkers, and accepting you're a better mom when you're doing what you love as the tools to get over that hump and back into the athletic training facility.  
Tapps said she has always had a passion for wanting to help people. She looked up to her sister who is a physical therapist, but knew early on she wanted to work with a more active population in a different setting. Tapps said she has always had an athletic training foundation in her.
She also had the urge to be a mom, but early on, Tapps thought those two weren't possible in the same lifetime. Although Tapps said she felt limited in job opportunities as a new mom of Landon and Carter (now 7 and 4, respectively), she was able to lean on her support system for encouragement to return to the field that she felt pulling her back in.
"I've had the foundation of being an athletic trainer in me that never went away, and I felt like I was called to do this," she said. "But I was hesitant because I knew it was going to be more time from my kids."
Support came from her husband, who although works in a different health care setting, understands Tapps' goals as an athletic trainer and supports her through communication and encouragement. Not to mention, he handles drop-offs and pick-ups more often now, too, Tapps said with a laugh.
"Of course he supported me 100 percent, and he still does," she said.
She also turned to her mentors, athletic trainers who have had her back since she was earning her degrees and certification. Former Director of Sports Medicine at Oklahoma State University, Rob Hunt, ATC, who she worked with as a graduate assistant AT told her, after she reached out about some of the stress she felt around returning to the collegiate setting at Northwest Missouri State, "It's just like riding a bike."
 "[He said] some days, it's going to be like you never got off that bike and it's going to be smooth, and other days are going to be a little bumpy – but you know what, it's going to be OK," Tapps said.
Now settled into her role at Northwest Missouri State, Tapps said she got lucky. Northwest Missouri State head athletic trainer Kelly Quinlin, ATC, LAT, CSCS, is also her mentor. She's also a mom.
"She has been a huge inspiration to me getting back into this setting – I've been able to learn from her … she has an amazing balance of both, so that helped me, too," Tapps said.
The flexibility the university provides and the support from Quinlin and her coworkers helps Tapps' mom guilt fade every day. Her coworkers, she said, allow her to take being a mom seriously, in addition to providing the best quality of health care to the student athletes they work with every day.
When Tapps is at work, she is there fully. Although she has always treated injuries, more recently, Tapps said she sees more than just an injury: She sees the whole patient.
"As I have gotten into the profession more, or maybe as I've gotten older, I'm seeing the big picture and being passionate about the whole picture of my patients," she said. "Not just their injury care, but their whole-being care."
When Tapps is at home, she is there fully. At home, she is much more intentional with her time with her children.
"I make the most of my 'off days' and my 'off season' to spend the most time I can with them," she said.
For other moms who are also athletic trainers, Tapps knows that barriers vary – but being a mom shouldn't be one. If more women in the athletic training profession can tell their story, whether a mom or not, that would be huge in setting an example for other women, she said.
She also encourages employers to be more accepting of flexible work schedules and moms and dads who seek to find work-life balance.
"Our profession is more heavily dominated by women, and we should continue that trend [by making] all settings appeal to women," she said. "If there's a way to make [a place of employment] more inclusive to moms, employers should."