June 25, 2019 by
Beth Sitzler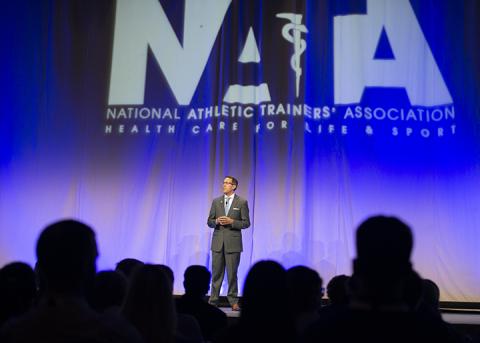 By Kim Diggs
General Session Day is one of the biggest gatherings of the year for NATA members, staff, family and friends to celebrate accomplishments and look onward toward the future. This year is no exception with a bevy of events taking place throughout the day in Shoreline.
Featured Presentation
11:45 a.m. – 1:45 p.m.
Kicking off General Session Day is the Featured Presentation "Evolving Concussion Prevention and Care Across the Profession." Three speakers will come together to discuss various topics encompassed concussion prevention and care. Joel Stitzel, PhD, will kick off the Featured Presentation with "Impacts and Outcomes: Lessons Learned from Youth and Adolescent Student Athletes." Johna Register-Mihalik, PhD, ATC, will follow at 12:15 p.m. with "Active Strategies for Improved Outcomes: Lessons Learned from Adolescent and Young Adult Student Athletes." The Featured Presentation will conclude with "Evaluating the Whole Person: Lessons Learned from Current and Retired Athletes of All Ages" presented by Kevin Carneiro, DO, at 12:45 p.m. This Featured Presentation is a Board of Certification EBP-approved program.
NATA Hall of Fame Induction Ceremony
2 – 3 p.m.
Seven decorated athletic trainers will grace the stage to join the ranks of legends in the profession dating back to 1962. During the Hall of Fame Induction Ceremony, Patricia A. Aronson, PhD, LAT, LPTA, ATC, David Csillan, MS, LAT, ATC, Christopher D. Ingersoll, PhD, AT, ATC, Timothy Neal, MS, AT, ATC, CCISM, Scott R. Sailor, EdD, ATC, Gretchen SChlabach, PhD, ATC, and Charles "Skip" Vosler, AT Ret., will be inducted into the class of 2019. You can read more about the Hall of Fame Class of 2019 in the May NATA News.
General Session and Annual Members Meeting
3:15 – 4:15 p.m.
The celebration continues: During the General Session, an array of awards will be presented, including the Athletic Trainer Service Award, Most Distinguished Athletic Trainer Award and the Eve Becker-Doyle Leadership Award. Association updates will be announced, including the financial report, new board seats and new developments within NATA, during the State of Association address, presented by NATA President Tory Lindley, MA, ATC.  
NATA Keynote Presentation
4:15 – 5:15 p.m.
After the NATA Hall of Fame Class of 2019 is inducted and Lindley provides the State of the Association address, NATA convention-goers will get the chance to hear a one-of-a-kind keynote presentation from magician and former NFL long snapper John Dorenbos.
Dorenbos was selected as the 2019 keynote because of his unique background, sense of humor and more than 10 years of motivational speaker experience. Come see firsthand how Dorenbos weaves magic, humor and inspiration together for an experience like no other during the NATA Keynote.