August 29, 2019 by
Beth Sitzler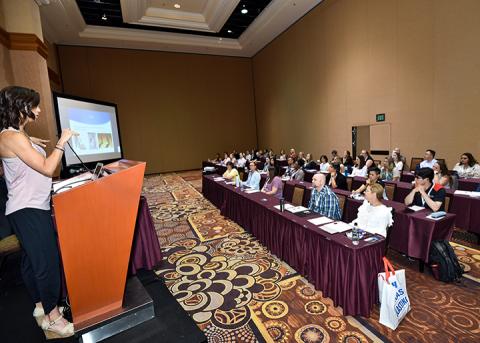 The Performing Arts Workshop took place June 25 at the Mandalay Bay Convention Center in Las Vegas prior to the 70th NATA Clinical Symposia & AT Expo. More than 40 athletic trainers attended the workshop, participating in dialogue and offering feedback along the way.
One of the speakers was Jackie Haas, MS, AT, supervisor of performing arts medicine for Mercy Health/ Cincinnati Ballet. She presented on the preretirement performer and how ATs can assist with the transition.  
Orthopedic surgeon Dr. Chad Hanson, MD, tapped into his experiences at Desert Orthopedic Clinic in Las Vegas to highlight the latest in hip surgery techniques, differential diagnosis and rehabilitation. Hanson's clinical practice specializes in orthopedic conditions of the athletes in the performing arts and sport, often treating members of the NHL's Golden Knights.
Issues related to voice and the singing performer were presented by CEO and Speech Pathologist of the Vegas Voice Institute, Linda Ganz, CCC-SLP. Her private practice specializes disorders of the voice in adults, vocal quality preservation of professional singers and speakers, head and neck cancer, dysphagia, neurogenic populations and transgender voice. Ganz presented various conditions commonly found in professional singing performers and guidelines for recognition of pathology by the AT.
Dance instructor Karen Tumbull illustrated the importance of connecting the body and mind in health awareness for the high school performer. Tumbull is employed at the Las Vegas Academy of the Performing Arts and works with performers ranging from 14 to 18 years old.
Injury patterns, treatment and rehabilitation techniques for the aerial performer were presented by Head of Health Services at Wynn Las Vegas, Steve McCauley MHS LAT, ATC CSCS. McCauley directs health care services for LE RÊVE - The Dream at Wynn Las Vegas, which has a cast of 90 performers ranging for synchronized swimmers to acrobats and aerialists.