June 26, 2019 by
Beth Sitzler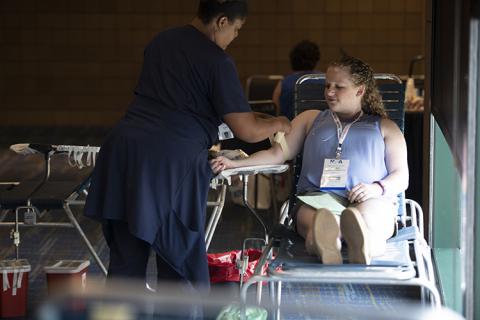 By Kim Diggs
Throughout the 70th NATA Clinical Symposia & AT Expo, attendees have participated in one or more of the charitable initiatives taking place on-site. Though it is the last day of NATA 2019, it is not too late to contribute to organizations aiming to change the lives of others. The National Basketball Athletic Trainers' Association Gary Vitti Blood Drive, Be the Match Marrow Registry Drive and Project 150 School Supply Drive are still going strong.
Find out how these initiatives have fared thus far and learn how you can contribute.
NBATA Gary Vitti Blood Drive
A fixture at the NATA convention for years, the NBATA Gary Vitti Blood Drive has returned, aiming to aid those in need of a blood transfusion. Vitalant, one of the nation's oldest blood transfusion treatment nonprofit organizations, has taken blood donations from 9 a.m. to 4 p.m. since Tuesday in Palm B.
So far, the blood drive has pulled in more than 60 donations.
Today, the blood drive will still be operating during the same hours in the same location: 9 a.m. to 4 p.m. in Palm B.
To schedule an appointment to give blood while at convention, visit bloodhero.com and enter the code "NATA" or call Vitalant at 877-258-4825.
Be the Match Marrow Registry Drive
Held in conjunction with the NBATA Gary Vitti Blood Drive, the Be the Match Marrow Registry Drive seeks to provide a cure to patients diagnosed with blood cancers such as lymphoma and leukemia, and treatment to people fighting blood diseases that currently have no cure. Be the Match conducted the first marrow transplant in 1987. More than 30 years later, the organization has helped thousands gain a new lease on life.
So far, the registry is on track to beat last year's record of 53 registrants.
Today, the marrow registry drive will continue from 9 a.m. to 4 p.m. outside of Palm B. Visit the booth for more details on how to add your name to the national registry.
Last night, the NATA Ethnic Diversity Advisory Committee (EDAC) also hosted a Be The Match campaign during the EDAC Town Hall in Lagoon I. During the town hall, Be the Match staff members added attendees to the registry on the spot.
EDAC Community Service Project
Prior to the official start of NATA 2019, EDAC held a service project at the Andre Agassi Boys' & Girls' Club. Approximately 40 volunteers helped introduce the athletic training profession to more than 70 children. Following a round-robin format, multiple stations were created that touched on important health and safety issues, such as CPR, taping and mental health.
Project 150 School Supply Drive
In an effort to give back to Nevada, NATA partnered with Project 150 to host a school supply drive. Project 150 is a local nonprofit organization that supplies displaced and disadvantaged high school students with food, hygiene products, clothes and school supplies. During the course of NATA 2019, attendees have been able to place their approved school supplies in the school supply bin behind the ribbon wall in NATA Connect.
If you have not already donated, there is still time. Take a look at the list of accepted supplies and donate before the end of NATA 2019.
NATA Tub Donation
To fight the risk of exertional heat stroke (EHS) among student athletes in Las Vegas, NATA is donating cold immersion to secondary schools with athletic trainers in Clark County while in town for NATA 2019. EHS is one of the leading causes of death in sport, according to the Journal of Athletic Training. Because Nevada's temperature is often in the triple digits, it is imperative that there is a plan in place to prevent heat-related deaths.