July 31, 2015 by
Beth Sitzler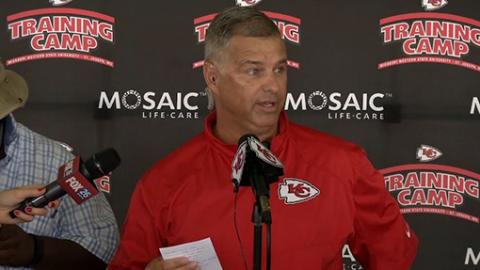 It was announced Wednesday, July 29, by Kansas City Chiefs Head Athletic Trainer Rick Burkholder, MS, ATC, and head coach Andy Reid that Eric Berry was cleared to resume football activities. The three-time Pro Bowl defensive back was diagnosed with Hodgkin's Lymphoma, cancer of the lymphatic system of the immune system, about eight months ago.
 
Nov. 24, 2014: Burkholder discloses to the media that a mass was found in Berry's chest.
After Nov. 24, 2014: Team physicians and Burkholder meet with Berry to discuss the cancer treatment options. He ended up doing his treatment in his hometown, Atlanta, where he has a strong family support system.
Nov. 26, 2014: Berry meets with Dr. Christopher Flowers, world-renowned oncologist with the Winship Cancer Institute of Emory University in Atlanta.
Dec. 10, 2014: Berry has his first round of chemotherapy.
Dec. 10, 2014 through May, 16, 2015: Berry undergoes six phases of chemotherapy, receiving treatment about every two weeks. Berry and his doctors choose an untraditional form of chemotherapy administration: Rather than using central line – a long tube that inserted in the arm that leads to a major vein in the heart – he has an IV placed each time he received treatment. "That was so he could work out, which is an interesting concept that most patients don't have," Burkholder said. "He came out of the chemo a pound heavier than when he went in, so that tells you what kind of genetic person he is and why he's a professional athlete."    
June 22, 2015: Waiting more than a month after his chemotherapy finished, Berry's doctors conduct a PET (positron emission tomography) scan, which shows that the athlete was cancer free.
After June 22, 2015: Berry goes to Florida, where he trains twice a day with Kansas City Chiefs tight end Travis Kelce.
July 23, 2015: Berry returns to Kansas City, where he met with the Chiefs' medical team, led by Dr. Michael Monaco. The team puts together four days of extensive testing to make sure Berry is safe to once again play football. This includes a physical, lab work, bone density test, cardiac workup, treadmill stress testing, orthopedic exam, football drills and strength testing. "He did 325 pounds with his squats five times and 275 pounds on the bench five times, just so we could tell if his strength was back," Burkholder said. "He sailed through every test that we gave him. Our doctors … were really pleasantly surprised with his numbers."
July 28. 2015: Reid, the medical staff and Burkholder sit down and examine all of Berry's test results, during he is fit to play.
 
Burkholder said Berry will have follow-ups with Flowers as well as the medical staff.
 
"But right now, we're all very optimistic," he said.
 
"He looked pretty good out here today," Reid said. "We'll keep a close eye on him. One of the things Eric and I talked about was on being honest with us on how he's feeling out here. Sometimes that's hard for a player to do, especially someone with his makeup. But he's been great with that up until this point so I think that will continue."
 
The Kansas City Chiefs play its first preseason game against the Arizona Cardinals at 8 (CDT)p.m. Saturday, Aug. 15, at the University of Phoenix Stadium. To see the announcement video, click here.

Posted by Beth Sitzler, NATA News Managing Editor (beths@nata.org)