February 28, 2022 by
Beth Sitzler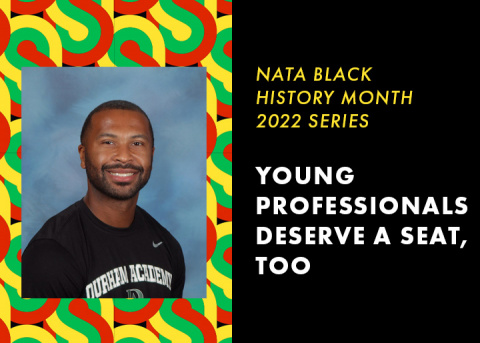 By Elizabeth Quinn
In honor of Black History Month, NATA will highlight some of our young professional leaders at the state, district and national levels and how they're advancing athletic training into the future. 
"I believe that my job is an athletic trainer, but my work is to impact, influence and inspire others, as my mentors have done for me," said Jay Dillon, MS, ATC, CSCS, co-chair of the North Carolina Athletic Trainers' Association (NCATA) Young Professional Committee (YPC) and NCATA YPC's District Three representative to the Mid-Atlantic Athletic Trainers' Association (MAATA).
Dillon, who is in his fourth year as an AT, became a sponge early in his career, learning from the experienced athletic trainers around him. In fact, he was inspired to pursue athletic training after experiencing the impact of the profession firsthand.
"I had an awesome athletic trainer in high school," Dillon said. "The health care that she provided me and my teammates inspired me to do what she does. I carried that with me when I was choosing what college to go to. Athletic training went from a novel profession in my eyes to a newfound dream. Luckily, Towson [University] afforded me the opportunity to pursue that dream."
Dillon attended the Maryland universities Towson and Salisbury for his bachelor's and master's degrees. During his undergraduate years at Towson, he held a multitude of roles, from teaching assistant and class representative to community service chair.
This early immersion into these roles not only showcased the student viewpoint of leadership, but the community aspect of athletic training left an impact on Dillon. He said his position as the community service chair was invaluable at times, and when he had the chance to step back and network with members of the public, he was able to see how just a couple of athletic training students impact the Towson community.
When the time came to move onto his professional career, Dillon found a calling to get involved at the state and district level.
Supporting State Strategies
Dillon's call to get involved with NCATA YPC and as the YPC representative to MAATA was inspired by the mentorships and support he gained through his collegian years. He said newly credentialed ATs need to feel supported as they're transitioning into their professional careers.  
And those ideals are exemplified through the NCATA YPC's new mission statement: "To support, promote and advocate the athletic training profession by identifying and addressing the concerns, interests and needs of new graduates as they transition to practice and established young professionals as they engage in professional and career development."
Young professionals have the drive, passion, knowledge and educated attitude to make changes, Dillon said. As a young professional himself, he said being an athletic trainer is the fun part; advocacy work is the challenging part. However, despite the challenges, Dillon knew he needed to be near the head of the table to put forth action and change for young professionals.
"Admittedly, I went in a little blind, not knowing what getting involved in a new state organization was going to hold for me," he said. "I just knew it was essential for me professionally to branch out and serve where I am able."
As for Dillon's "why," i.e., why young ATs should even want to be a part of leadership, it's simple.
"As a YP, it's very easy to put yourself in a silo," Dillon said. "As a health care provider, we have a professional responsibility to continue taking opportunities to provide the best health care to our patients. Getting involved provides invaluable opportunities to network and gain others' perspectives that have been in your position before. You get out of this community what you put into it. In my opinion, the more involvement we have, the more perspectives and experiences are shared will lead to better patient outcomes."
Advice to YPs
Leadership is a crafted skill that takes time to perfect. Everyone has a different understanding and meaning of leadership. It could mean to simply lead others to success for one person, but it could mean to achieve personal growth to another. Young professionals are at a prime starting place to embody and nurture their leadership skills.
Dillon's advice for young ATs looking to begin building their leadership comes from NATA Hall of Famer Pat Aronson, PhD, LAT, ATC: "Talk to somebody in a leadership role, raise your hand, and say, 'I'm your person.'"
Find what you're passionate about or interested in and have a conversation because no matter the role or committee, there's a seat at the table for you to do great work, Dillon said.
Throughout his leadership opportunities, Dillon's biggest lesson was patience.
"I think for me, I have learned to be patient," he said. "Patient with myself and others. I'm still learning, and that's OK. I know I don't have all the answers and appreciate the significance of others around me.
"As a leader, I think the most important skill to have is the ability to communicate efficiently with a team, where 40% is delivering information and 60% is effectively and actively receiving information. This allows you to continuously update your understanding of your team as new information is presented. This is why I believe in a servant-type leadership model. I think it demonstrates a certain level of humility and allows others to feel heard and understood."
Get Involved
NATA provides multiple opportunities for members to get involved and pursue leadership positions. With more than 28 committees, NATA has a committee to fit every setting and niche. View the list of committees on the NATA website.
To find which committees currently have openings, visit Gather and click the Participate tab.
Additionally, check out the volunteer page on the NATA website for a full break down of all the volunteering opportunities, such as liaisons, state/district positions and short-term opportunities.