February 7, 2022 by
Beth Sitzler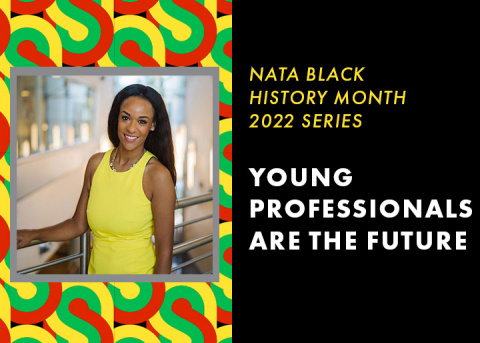 By Elizabeth Quinn
In honor of Black History Month, NATA will highlight some of our young professional leaders at the state, district and national levels and how they're advancing athletic training into the future. 
For Nikki Harris, DAT, LAT, ATC, CSCS, the path to athletic training wasn't linear, but once she was introduced to athletic training, she knew it was the right profession for her.
At the age of 10, Harris was diagnosed with Rheumatic fever, resulting in an extended hospital stay and hip surgery, she said. Following surgery, Harris was sent to a physical therapist, which piqued her curiosity about the health care field.
Thinking she wanted to be a physical therapist, Harris attended Wayne State University in Detroit, but felt the patient population wasn't as active as she preferred. That's when a physical therapist introduced the athletic training profession, and she quickly applied for the master's program at Florida International University in Miami.
Along her journey, Harris went from the secondary school setting, working with underprivileged patient populations, to now working as an assistant professor and director of student recruitment for the athletic training program at A.T. Still University in Mesa, Arizona.
"I have the opportunity to use my skills to assist in the recruitment and retention of students to ATSU, teach within our post-professional programs and engage in scholarship with some of our profession's leading researchers," Harris said. "To help facilitate my success in this role, I also decided to re-enroll in school this past fall to pursue a doctor of philosophy in teaching and learning with an emphasis in curriculum, cultural and social studies. I genuinely love learning and believe I will be a forever student in some capacity."
Beyond being an educational leader in her work environment, Harris has also held numerous titles throughout her career with the Athletic Trainers' Association of Florida, Southeast Athletic Trainers' Association, Commission on Accreditation of Athletic Training Education and NATA.
As a previous district representative and workgroup member, Harris' current role as the chair of the NATA Career Advancement Committee (CAC) has kept her busy and constantly growing her leadership skills – as has her roles as at-large member of the NATA Executive Council for Education Chair Search Committee, chair of the Education Subgroup on the NATA Athletic Training Compensation Task Force and liaison on the Board of Certification for the Athletic Trainer to the NATA Foundation Athletic Training Research Agenda Committee.
In March 2021, the NATA Board of Directors approved the separation of the NATA Young Professionals' Committee (YPC) into two committees – CAC and NATA Early Professionals' Committee and – in an effort to better serve the individual needs of young professionals.
CAC supports, engages and fosters continued growth and development as well as provides resources and strategies to ATs who have seven to 12 years of experience in the profession.
As a ninth year certified AT, Harris said she was heavily involved with advocating for and facilitating the committee separation, and when the opportunity for a chair in the new CAC, Harris stepped up.
"As I encounter my own challenges, make my own mistakes [and as the chair of CAC], I seek to gain wisdom and resources which can help early professionals and others from my demographic navigate this path with greater ease," she said.
Young Leaders Bring 'Swagger'
Young professionals are the future of the profession, Harris said, because they bring a new enthusiasm, optimism and swagger to drive meaningful change.
"They are the succession plan for trailblazers and more seasoned individuals in our profession," she said. "Leaders of the new generation are encountering the issues that will be most pressing to our profession moving forward. They have a pulse of the culture, especially in the age of technology and social media, that many more seasoned leaders often don't. This awareness to current ideas brings a necessary perspective to the table. Having a young leader at the table gives leadership an idea of what policies, procedures and solutions are realistic for the larger membership base."
For young professionals who are looking to get involved with leadership positions, Harris offers some advice:
Assess what's important to yourself, in addition to what part of the leadership's mission and vision resonates with you most.
Commit to being authentic, passionate and, sometimes, even emotionally invested in what you believe in.
Use your platforms to share your visions and demonstrate your willingness to engage in activities that live up to your values.
Be involved in your professional organization even when you have no title.
Devote the time and money to attend state, district and national conferences.
Submit for presentations, nominate peers for awards and make use of social events to network with individuals in current leaderships positions.
Make a name for yourself and share your vision for success with others virtually and face to face.
With the multitude of positions Harris has held, she shared her biggest lesson through it all.
"Despite how much you think you know going into a leadership position, I have learned the importance of talking less and listening more," she said. "Leadership is a position of service, and it's incredibly important to listen to the thoughts, feelings, concerns and needs of the membership base to truly service the people. Likewise, while leaders are 'in charge,' that doesn't make us specialists. It's critical to recognize that so that we can encourage, uplift and promote others as experts in our field."
Get Involved
NATA provides multiple opportunities for members to get involved and pursue leadership positions. With more than 28 committees, NATA has a committee to fit every setting and niche. View the list of committees on the NATA website.
To find which committees currently have openings, visit Gather and click the Participate tab.
Additionally, check out the volunteer page on the NATA website for a full break down of all the volunteering opportunities, such as liaisons, state/district positions and short-term opportunities.