February 7, 2022 by
Beth Sitzler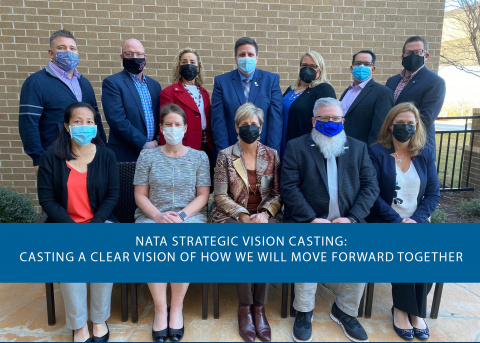 You may recall receiving a membership survey this past summer. This information – as well as other data points – have been analyzed by the NATA Board of Directors and staff, and was the foundation for a weekendlong strategic vision casting meeting. The board convened in person Jan. 28-30 in Dallas for the first time in two years to discuss and conduct a host of exercises designed to support the development of a new NATA Strategic Plan.
"While we've done a great deal of this work virtually, this weekend meeting was about having the necessary discussion to frame where we want to go and how we – as an organization – plan to get there," said NATA President Kathy Dieringer, EdD, LAT, ATC.
"Moving forward together requires a clear vision and united membership around key opportunities that will continue to advance the profession we all love, and considering the permanent imprint the COVID-19 pandemic has made on all aspects of our association – from how we deliver value to our members to the long-term effects of the pandemic on our members."
While there are several steps remaining, at the conclusion of this work, the NATA Board of Directors will refine its strategic vision of where the profession wants to be in 10 years as well as adopt strategic imperatives for the next three to five years that will advance the association toward its longer-term goals.
"Strategic planning is not a magic bullet to success," Dieringer said. "The real work is the discipline it will take to focus and stay the course as well as our collective commitment to infusing the plan throughout all levels of our organization – board, volunteer leadership and staff. It will also require a commitment of our most limited resources: time and money."
This initiative will allow leaders, members and staff to further invest in the organization's future by aligning around defined goals and establishing milestones to measure progress. The board and executive staff will continue to work through plan details and development this winter/spring with a tentative goal of launching the plan in the summer of 2022.
Stay tuned to NATA News – as well as other NATA communication channels – for more updates on the NATA Strategic Plan process and timeline.