September 12, 2016 by
Beth Sitzler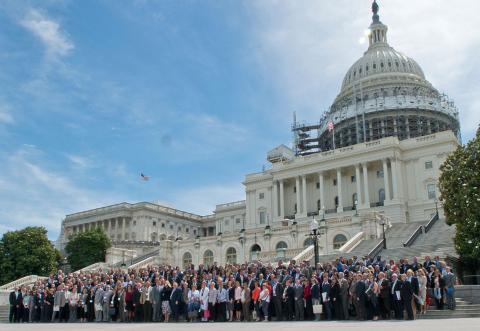 The Sports Medicine Licensure Clarity Act (H.R. 921), which was passed unanimously by the U.S. House Energy and Commerce Committee July 13, is going to be voted on by the full House of Representatives today, Monday, Sept. 12. This is a historic event for NATA and the athletic training profession as it is the first time a piece of NATA legislation has progressed to this step in the legislative process.
NATA is proud to have championed this legislation that will not only benefit more than 43,000 athletic trainers and the millions of patients they serve, but that will also support health care professionals all over the country, including our initial partners in this effort, the American Academy of Orthopaedic Surgeons (AAOS) and the American Medical Society for Sports Medicine (AMSSM).  
H.R. 921 clarifies medical liability rules for athletic trainers and other medical professionals to ensure they're properly covered by their liability insurance while traveling with athletic teams in another state. Under the bill, health care services provided by a covered athletic trainer or other sports medicine professional to an athlete, athletic team or a staff member in another state will be deemed to have satisfied any licensure requirements of the secondary state. In addition, the providers will be able to treat injured athletes across state lines without the fear of incurring great professional loss. This bill reinforces the sports medicine team collaborative approach to care among physicians, athletic trainers and others. It is also vital in light of playoffs, championship games and college bowl games where teams travel a great distance with little notification.
After several years of collaborative work with members of Congress, Reps. Brett Guthrie (R-KY) and Cedric Richmond (D-LA) introduced H.R. 921 last year. Since that time, the bill has garnered 188 cosponsors in the House of Representatives. The NATA membership helped add 17 additional cosponsors to the bill during this year's Capitol Hill Day June 22, during which more than 400 members from 48 states advocated for the legislation in Washington, D.C.
Over the past year, the bill has also gained support from other health care organizations as it will benefit not only athletic trainers, but a wide array of health care providers.
Voting will begin Monday evening. If approved by the House, the bill will move to the Senate for consideration. Once the bill receives a passing vote in the Senate, it will go to the president's desk for the final signature to make it a law.
Advancing to this step in the legislation process is no small feat. This great achievement is thanks to many people, including those NATA members who have lobbied their legislators to support the bill; the entire NATA Board of Directors; our team at the District Policy Group and Crossroads Strategies; and the NATA Government Affairs team, which has worked tirelessly on this effort.    
Read more about how H.R. 921 came to be on the NATA Now blog.