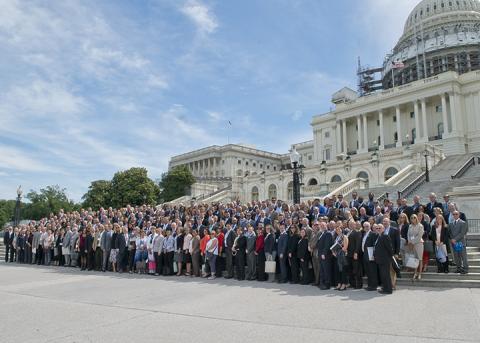 UPDATE: H.R. 921 was passed unanimously at the U.S. House Energy and Commerce Committee full committee markup at 3:40 p.m. CT on July 13. Another huge step for this important piece of legislation!
***
The U.S. House Energy and Commerce Committee will hold a hearing on Wednesday, July 13 at 2 p.m on the Sports Medicine Licensure Clarity Act (H.R. 921), which protects athletic trainers and other sports medicine professionals who travel to other states with an athletic team to provide care for that team. After years of working with members of Congress, NATA is excited that the committee has decided to take action on this important legislation. During our annual Capitol Hill Day last month, held in conjunction with NATA 2016 in Baltimore, more than 400 athletic trainers representing 48 states met with members of Congress and requested their support in the passage of the bill.
Introduced by Reps. Brett Guthrie (R-KY) and Cedric Richmond (D-LA), last year, H.R. 921 clarifies medical liability rules for athletic trainers and other medical professionals to ensure they are properly covered by their malpractice insurance while traveling with athletic teams in another state.
The bill aims to preserve athletes and athletic teams' access to sports medicine professionals who provide high-quality health care services. Under the legislation, health care services provided by a covered athletic trainer or other sports medicine professional to an athlete, athletic team or a staff member in another state will be deemed to have occurred in the professional's primary state of licensure. In addition, the providers will be able to treat injured athletes across state lines without the fear of incurring great professional loss. This bill reinforces the sports medicine team collaborative approach to care among physicians, athletic trainers and others. It is also vital in light of playoffs, championship games and college bowl games where teams travel a great distance with very little notification.
This is the first time a piece of NATA legislation has progressed to hearing for a full committee markup. So, how did we get to this important step?
NATA works with coalition members and members of Congress on draft language for Sports Medicine Licensure Clarity Act.
Bill is introduced Feb. 12, 2015 in the House by Rep. Brett Guthrie (KY) and Rep. Cedric Richmond (LA). Companion bill is introduced in the Senate as S. 689 by Sen. John Thune (SD) and Sen. Amy Klobuchar (MN) on March 10, 2015.
NATA staff and lobbying team spend countless hours meeting with Congress, collecting 179 cosponsors for the bill.
H.R. 921 has first hearing with the U.S. House Energy and Commerce subcommittee in December 2015.

HR 921 receives full markup in House Energy and Commerce health subcommittee on June 8, 2016.

NATA takes 400 athletic trainers to advocate for the bill during Capitol Hill Day on June 22, which leads to 14 new cosponsors to date.
Hearing scheduled with U.S. House Energy and Commerce Committee for a full markup on Wednesday, July 11. Committee will decide whether to approve the bill and send it to the full House of Representatives.
Now that we've gotten our legislation further than ever before, what's next? The remaining process is as follows: We need the committee to vote to approve the bill, which will send it to the House of Representatives for consideration. If the House approves H.R. 921, it would then go to the Senate for approval. Once the Senate signs off on the bill, it lands on the President's desk for the final signature to make it a law.
NATA members are encouraged to visit the Federal Legislative Alert Center for simple ways to support H.R. 921. This is a momentous occasion for the profession, and we will continue to keep you posted as the legislation progresses.
Photo: More than 400 athletic trainers joined forces to advocate for H.R. 921 on Wednesday, June 22, as part of a Capitol Hill Day event organized in conjunction with the NATA convention in Baltimore.
Photo by Renee Fernandes/NATA