June 28, 2018 by
Beth Sitzler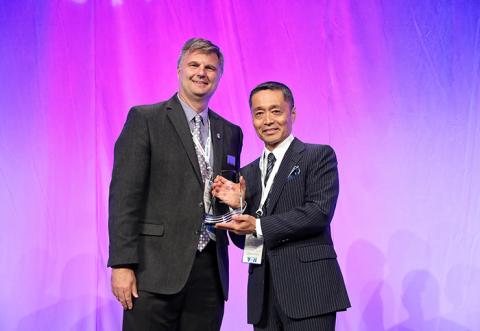 Photo Caption: NATA International Committee Chair Brian Zeller, PhD, ATC, presents Yoshizumi "Happy" Iwasaki, ATC, with the 2018 International Service Award Thursday, June 28.
Members from all over the world have made the journey to New Orleans to take part in the 69th NATA Clinical Symposia & AT Expo. For one athletic trainer in particular, that journey consisted of a 15-plus-hour flight – the same flight he's been making for the more than three decades.
NATA 2018 marked the 36th consecutive NATA convention for Yoshizumi "Happy" Iwasaki, ATC, of Kawasaki, Japan, the country's first full-time practicing athletic trainer. His passion for athletic training has led to the expansion of the profession in his country and the creation of the Japanese Athletic Trainers' Organization (JATO), a partner organization of NATA created in 1996.
As a competitive athlete, Happy played volleyball, even though he "was too short to be a hitter." To compensate, he had to jump. His jumping skills improved to the point where he became a long and triple jumper as well.
"I started to get injured all over my body," he said. "I tried to study myself and sports injuries. There were no athletic trainers in Japan yet, so I learned from English materials and found out about the profession here [in the United States]. I start coming to the States my college years, from 1978 to 1982."
While he had typically ventured to the West Coast during his trips to the U.S., he heard about the National Sports Festival held at Syracuse University in New York and decided to attend in 1981. He spoke very little English but his skills, personality and work ethic caught the eye of NATA Hall of Famer Don Lowe, AT Ret., the coordinator of sports medicine at Syracuse at that time.
"He was a hard worker and a nice person, and that meant a lot to me," Lowe said. At the end of the festival, Lowe gave Happy the latest athletic training textbook and asked him to come back as his graduate assistant. "GPA is important [when selecting a graduate assistant] but you have to have a good feeling about the person … I had a good feeling about Happy."
"He changed my life," Happy said of his mentor.
That graduate assistantship at Syracuse led to many athletic training experiences for Happy, including time with the Olympic Training Center in Denver and summer training camp with the Philadelphia Eagles under Otho Davis. When he went back to Japan in 1985, he began giving speeches about the athletic training profession, and in 1986 Happy was hired as the NEC Volleyball Club athletic trainer – the first position of its kind in the country.
Since then, Happy has helped grow the profession in Japan, especially through the creation of JATO, which has grown to 300 members. He has still made time, however, to keep up with NATA, the profession in the U.S. and his many American athletic training friends. Before the creation of JATO, the only way a Japanese athletic trainer could earn the educational requirements need to maintain their certification was by attending the NATA Clinical Symposia & AT Expo – a task Happy was willing to undertake. After the creation of JATO, though, Happy still ventured to the U.S. for the annual NATA convention.
"Every time I attend, I see my mentors, I see my friends," he said, adding that in addition to the friendships, the convention provides access to new products and ideas that he can bring back home.
Since that first NATA convention in 1983, Happy has seen the event evolve and change over the years, most notably in its size and scope.
"It's getting bigger and bigger, and the keynotes are getting more famous," Happy said with a laugh. 
Read more about Yoshizumi "Happy" Iwasaki, ATC, in the August/September NATA News.