October 31, 2016 by
Beth Sitzler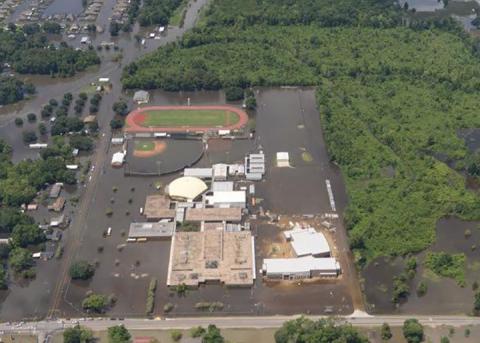 After more than 7 trillion gallons of rainwater covered Louisiana and Mississippi Aug. 8-15, the Baton Rouge-Lafayette area experienced historic flooding resulting in extensive damage to homes, schools and entire communities. In the November NATA News, "ATs Taking Care of ATs" (p. 25) details the work conducted by members of the Louisiana Athletic Trainers' Association and others in the AT community to support those affected by the flood.
"The efforts by so many to take care of the members who were personally affected are heartwarming," said LATA President Scott Arceneaux, LAT, ATC, whose school was significantly damaged to by the floodwaters. "The continued support to the affected schools and athletic trainers has been equally touching. Through this very adverse situation we saw so much good."
After the historic rainfall stopped, LATA Vice President Cary Berthelot, MA, LAT, ATC, care manager of the Athlete Care Program at Tulane, remembered the support she and her students received after Hurricane Katrina and wanted to do something to help those devastated by flooding.
"During [Hurricane Katrina], we had a couple athletic training programs in and outside of the state step up and do some wonderful things," she said. "When [the flooding] happened, a number of the ATs affected were former students or colleagues, and I just thought it was important to help them."
Initially, Berthelot used social media to obtain items to meet the immediate needs of the affected athletic trainers, such as food and diapers for those with small children. After those needs were met, she put out another call on social channels, this time asking for names of those impacted by the flood who could be helped. Through this call, LATA was able to identify about a dozen athletic trainers who experienced losses of their homes, personal belongings and/or schools.
"People brought in supplies and food," she said. "There were so many phone calls of, 'What can I do? How can I give? Where do I go?' And then on the other end, the people who we were helping, so many of them were like, 'We're going to be OK, make sure that you're helping someone else.' It was just really heartwarming and solidifies that we work in a great profession and that we have great people. We're just generally are people who like to help and like to take care of people."
Wanting to do his part in the relief efforts, Ronnie Harper, EdD, ATC, head AT at Dutchtown High School, began a Go Fund Me campaign for the impacted ATs.
"When [the flooding] first started happening, you're just checking on everyone to make sure they're alright," he said. "We discovered that quite a few  [ATs] were impacted, so that led me say, 'Ok, what can I do to help?'"
Having previously gone through Hurricanes Katrina, Rita and Gustav, Harper said he knew many in need couldn't wait for supplies to be shipped from different parts of the country.
"People need things this week versus next week," he said.
He relied on the connections he made through his involvement with NATA and the NATA Secondary School Athletic Trainers' Committee to help spread the word about the campaign. Thanks to their help, and that of social media, more than $20,000 was raised.
"It was neat to see [the campaign] take root in days when, with [Hurricane] Katrina, [collecting donations] was such a long and methodical process," he said. "I was just really encouraged that this actually met needs in real time.
"I set the [donation] limit five times. We reached our goal and I reset it five times. I thought $10,000 would be a good goal, and I'm pretty sure we were over $20,000 by the time we gave the funds out."
Returning to School, Fall Sports
While Berthelot, Harper and others focused on the ATs' personal needs, Mikki Collins, MS, ATC, LAT, with Louisiana State University, spearheaded LATA's collection of AT supplies from national vendors for the schools damaged in the floods. 
"I have been over there to gather everything from coolers to bandages, to splints and beyond," said Marcella Babcock, MA, ATC, LAT, whose school, Runnels School in Baton Rouge, was damaged in the flood.
Serving students from age 2 through 12th grade, Runnels School had to find alternative locations for the majority of its students because of damage to its facilities. Students in kindergarten through fourth grade were welcomed in by Brighton School, a neighboring school, while students fifth through 12th grade were housed in the Broadmoor United Methodist Church.
"I think we're very fortunate to have been offered the use of Broadmoor's facilities," said Babcock, who serves as an athletic trainer, teacher and assistant high school athletic director at the school. "They even have a small gym and grassy area for our athletes to be able to maintain some sense of normalcy as far as physical education goes." 
Having lost many of her supplies and all modalities, Babcock has relied on the AT community's generosity.
"The very first person who reached out to me was a person I had never met – Gina Giammanco [MS, ATC, LAT]," she said, adding that Giammanco is an alumna of the school and her mother used to be the band director and has a band room named after her. "[Gina] quickly recognized that it would be difficult to prioritize the supplies I might need, so she set up donations specifically for athletic training supplies."
Giammanco's friend, Catherine Lawrence, ATC, with Klein Oak High School in Texas, also wanted to help, and created a "Stronger Together" T-shirt campaign with her students, the proceeds of which went to athletic trainers affected by the flood.
"The emotional support that provided was really tremendous," Babcock said. "For me, dealing with this flood versus Hurricanes Katrina, Rita and Gustav is that in this situation, I was much more ready to immediately reach out and ask for help. And that support can't be discounted."
Harper is on the other end of the spectrum – his school opened its doors to St. Amant High School, the school at which Arceneaux serves as AT. The two schools split the school day, with Dutchtown attending from 6:50 to 11:30 a.m. and St. Amant attending from 12:30 to 5:10 p.m. The schedule allots 30 minutes for the 2,500 Dutchtown students and faculty to leave so the 2,300-plus St. Amant students and faculty can occupy the campus, Harper said. The schools will continue this routine until St. Amant can return to its campus, which school officials hope will happen Jan. 1, 2017.
"Your regular day is no longer a regular day. You have to share everything," he said, adding that Dutchtown and St. Amant are rivals. "It's weird because we're taping and getting ready for games in one room, and Scott and his team are getting ready in another room. … It's going to be interesting when we're playing each other and we're at the same school."
While schools sharing spaces or finding new locations within the community is unusual, it has helped the students feel a sense of normalcy.
"Students are fragile and they remain fragile for some time," Babcock said. "One of the decisions I'm most thankful our school made is not to overwhelm students and athletes when they returned, to adjust their workloads after they returned."
As Babcock tries to recover what was lost, she said she's had to rely on her partners in the community to make sure the needs of her student athletes are met – from off-site rehabilitation to replacing the paperwork lost in the flood.
"One hundred-plus physicals that we had done just washed away," she said.
To ensure the school's varsity swimmers, volleyball players and cross-country runners met the Louisiana High School Athletic Association participation guidelines, team physician Dr. Brian Harrell quickly repeated physicals for the athletes who weren't able to locate their copies of the originals before the start of practice. Also, Baton Rouge Physical Therapy replaced some of the school's exercise education sheets used in reconditioning and rehabilitation protocols, Babcock said.
Encouraging Hurricane Matthew Victims
As things continue to return to "normal" in Louisiana, communities on the East Coast are facing their own recovery process after Hurricane Matthew devastated the region.
"My heart goes out to the schools [on the East Coast] that are dealing with Hurricane Matthew," Babcock said. "As athletic trainers, we have to reach out to our athletes and we have to be the ones handling the stressful situations and handling the injuries. That's hard to do if we're not able to care for ourselves."
Berthelot encourages those affected by Hurricane Matthew to reach out to their support network, including fellow ATs and former athletes.
"Athletic trainers impact a lot of lives, so don't be afraid to let people know what you need and be willing to accept [their help] as well," she said. "For a lot of athletic trainers, we're the doers – we're the ones doing the helping. Sometimes you have to say, 'I need some help.'
"And for [other] athletic trainers, reach out to those folks who were your former colleagues, your former students who live in those areas and find out how they're doing and if they and their people are taken care of."
A recent NATA Now blog post details what help is needed for athletic trainers in North Carolina. For more information, contact Matt Ferrell, MS, ATC, LAT, at mferrell02@gmail.com.
From Louisiana: Thank You
Arceneaux said so many people went above and beyond to help those affected by the flooding, including Scotti Vermaelen, ATC, LAT, PTA, Damion Breaux, MS, ATC, Randy Aldret, EdD, ATC, LAT, Lennis Watson, ATC, Jordan Blough, ATC, Patrick Maloney, MS, ATC, LAT, Nathan Quebedeaux, ATC, Ameila Castell, ATC, LAT, CSCS, Caitlyn McKinley, ATC, BJ Duplantis, MEd, ATC, LAT, Lance Champagne, MEd, ATC, LAT, Chris Brister, MS, ATC, LAT, SEATA President Gerard White, MEd, LAT, ATC District Nine Director Marisa Brunett, MS, LAT, ATC, numerous corporate donors and others who gave in one way or another.
"The AT community has shown love, compassion, perseverance and resilience," he said. "I don't know how to convey so much heartbreak and triumph, but I am very proud of the job the ATs do. … This was a situation where ATs took care of ATs."
Berthelot said the athletic trainers LATA helped are incredibly appreciative of the generosity of the athletic training community.
"For the folks who donated gift cards, items or money to the Go Fund Me, their gift went directly to an athletic trainer who was impacted and had a loss in the flood, and it was sincerely appreciated by those folks," she said.
As a recipient of such kindness, Babcock said she feels overwhelmed with thanks and appreciation.
"Thank you to those who reached out to us," she said. "When people would sign their names on their donations, it really resonated with me that someone I had never met, from someplace I had never been, donated to us. It becomes very personal and that part matters."
Help is still needed as communities and athletic trainers in Louisiana continue to recover. To help LATA members affected by the flood, both individual and corporate donations can be mailed to: Louisiana Athletic Trainers' Association, 15476 Ryan Ave., Prairieville, LA 70769.