February 26, 2019 by
Beth Sitzler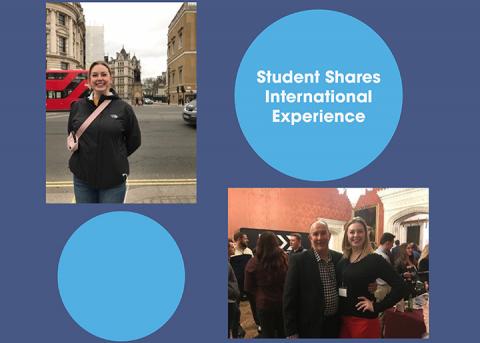 The International Sports Science Conference: Diagnosis, Management and Rehabilitation of Injuries in Elite Upper Extremity Athletes was held Jan. 17-19 in London. This international conference was presented by the Professional Baseball Athletic Trainers Society, St. Mary's University – Twickenham, NATA and the British Association of Sport Rehabilitators and Trainers. Among the attendees was Madelyne Barton, a University of Montana master's student and incoming chair of the NATA Student Leadership Committee. Below she discusses this once-in-a-lifetime experience.
I was so honored to participate in the NATA's first international conference. Working in Major League Baseball has been my dream since a very young age. My mom and I used to attend Seattle Mariners games as often as we could. I remember seeing the players, and knew I would help contribute to their success someday. Needless to say, attending an international conference featuring some of the best head athletic trainers in the MLB was a dream come true. To learn from professionals who have shaped the field I aim to work in was a very impactful experience.
Speakers were not limited to head ATs. They ranged from international speakers at the top of their fields to top orthopedic surgeons from the U.S., including Dr. Keith Meister. Meister spoke about surgical repair of rotator cuff and labral and biceps injuries. Hearing Meister's first-hand account of how Major League Baseball players are repaired was fascinating. My biggest take away from his presentation on surgical shoulder repairs was the importance and value he sees in the AT and the rehabilitation process, saying, "Greater than 90 percent of all injuries to the throwing shoulder can be treated non-operatively."
The icing on the cake, for me, was participating with Rick Griffin, MS, ATC, athletic trainer with the Seattle Mariners, my own personal hero. Griffin understands the importance of organizations sharing knowledge to better the whole.
Participants in the conference came from many varying fields as well, not only athletic training. Conference attendees came from across the world, and were part of many varying sports medicine professions. Seeing health care professionals from different walks of life come together to learn was incredible.