October 31, 2016 by
Beth Sitzler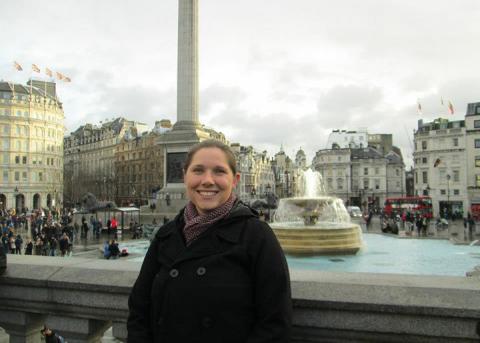 The November NATA News features a profile on Elizabeth Wolfe, CAGS, ATC, which examines her role as an injury prevention coordinator at Tufts Medical Center in Boston. The medical center had never considered an athletic trainer for the position, so Wolfe had to advocate for herself and prove that her knowledge and skillset could be applied to those outside of the athletic sector.
"I think because our job title has 'athletic' in it, there is a misconception sometimes about who we care for, but we have certain skillsets and people skills and knowledge about injuries that other health care providers don't have," she said. "We aren't limited to that one population."
Learn more about Wolfe by reading below.
1. Who has been a major influence on you and why?
One of my first mentors and professors in athletic training was Mark Laursen, MS, ATC, at Boston University. Mark has been a trustworthy source of wisdom, tough love and humility throughout my time as a student, graduate assistant and adult. Mark's background and upbringing was very similar to mine, and we share many common values and beliefs about our profession, community and life in general. His leadership, service and contributions with CAATE and NATA have made lasting impacts on our profession. I believe he is one of the greatest role models our profession has in regards to professional service.
2. Since becoming an athletic trainer, what accomplishment or achievement are you most proud of?
I have been blessed and honored to have had several professional accomplishments this past year, but one of the most memorable moments was when I became published in a peer-reviewed journal for the first time. Over the past three years, I have been the lead author on several projects, and despite countless rejections and obstacles, hard work and persistence does pay off. However, none of my accomplishments or milestones would have been possible without the support, mentorship and guidance from my peers and colleagues. Despite the fact that I'm a one-woman injury prevention program, I can't accomplish anything alone. I'm glad to have a support network to reach out to for co-authors, feedback and mentoring.
3. You currently serve on the NATA Young Professionals Committee. Why did you want to get involved in the committee?
Just like many young professionals and millennials, I became involved in the NATA YPC because I wanted to find a way to get involved in our profession so I could make a difference through service. As young professionals, we are the future of our profession, but more importantly we can make a different right here, right now. I feel that the YPC is the perfect mix of leadership development and service that can be difficult to find elsewhere in our profession.
4. You also volunteer with the Boston Marathon Sweep Team and Leadership Team. Why is volunteerism important to you?
Volunteerism and service have been a part of my life for as long as I can remember, and I have my parents to credit for that. I moved to Boston in 2010, and the Boston University Athletic Training Services, where I went to graduate school, mentioned that every year they volunteer for the Boston Marathon. This was one of the several ways they chose to give back to the greater Boston community. I volunteered with BU for the 2011 Boston Marathon and it was an absolutely fantastic experience! Having the opportunity to serve, care for and cheer on runners from around the world was priceless memory I will never forget. Although we volunteered to help those who may be ill or in need of help, we received more in return from the smiles, hugs and "thank you for being here" comments from the runners. Volunteering is a win-win situation: In the end you will help someone else, but the best reward is the priceless memories and random acts of kindness that you will witness in return.
5. Speaking of the Boston Marathon, what was it like to return to the marathon after the tragic bombing that took place in 2013?
The days and months after the bombings were very difficult for many in our athletic training community and our city as a whole. But on the one-year anniversary of the bombings, Mayor Marty Walsh declared that April 15 would be known as "One Boston Day," during which everyone is encouraged to perform random acts of kindness in remembrance of those hurt and lost from 2013 marathon and manhunt. With each passing year, the marathon is not just a race, but also a symbol of hope, love, perseverance, community, resilience and peace. Despite the heavy security and police presence since the 2013 bombings, the marathon spirit on Patriot's Day is stronger than ever. I look forward to One Boston Day and the marathon every year for two reasons: 1) to work side by side the best colleagues and peers in the world, and 2) to celebrate hope and peace with people from around the world.
6. You said that you used to play rugby. How has your experience as an athlete helped you care for your athletes and patients?
I played rugby at the University of South Carolina, and during my collegiate tenure I did suffer many injuries. My experience as an athlete and patient while being an athletic training student allowed me to see all of the rationales of thinking from both the medical and athlete perspective. I was fortunately enough to coordinate the care for Boston University Women's Rugby in graduate school, and my prior experience as a rugby player allowed me to build trust and credibility with my patients. Rugby is a rough sport, and having gone through different levels of soreness and pain made it easier to communicate and relate to my patients. This patient-to-health-care-provider relationship was essential in making return-to-play decisions, and if I told a patient they could not play, they knew I was making that decision in their best interest.
7. What goals do you have for the future?
I have many goals, but the two biggest goals stem from two different parts of my athletic training career. First, on a professional note, I hope to highlight and create a pathway for third-party reimbursement for athletic trainers in Massachusetts and on a national level. This is the preliminary topic and focus for my dissertation, and by the end of 2017 I will hopefully have at least one paper published on this topic. Second, on a personal level, my biggest and most daunting goal is to pay off my student loan debt. Student debt is a major issue for young professionals and millennials today, and I know I'm not the only young professional in athletic training who is coping and learning how to live with the debts of our education. Although my degrees are something to be proud of, there is no doubt in my mind that my most notable accomplishment in my career will be the day I make my last student loan payment. Not only will I have earned all of my degrees, but they will no longer own me: I will own them!