March 16, 2017 by
Beth Sitzler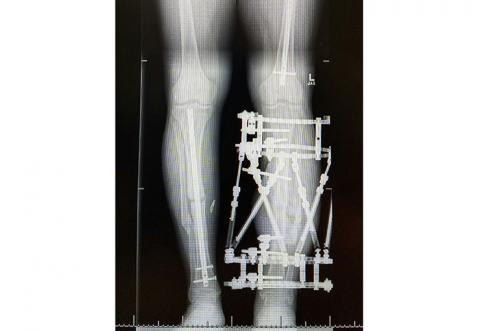 By Daniel Ruedeman, MA, ATC, LAT
When you think of the physician practice setting, what do you think about?
What is it?
Who works in this setting?
What are they doing in this setting?
Is this setting for me?
When I first started at the University of Colorado Hospital, athletic trainers were not utilized to their full potential. ATs were not operating as they should in the physician practice setting. Many of the physicians weren't interested in this avenue for the time being. I started working with the orthopedic trauma team, along with hand and adult reconstruction, to show how clinics would benefit from having ATs working at the top of their scope in their practice.
The physician practice setting is an ever-growing and unique setting for athletic trainers. The schedule in this setting is different than in the traditional physician practice setting. Currently, at the University of Colorado Hospital, we have ATs working in the following subspecialties: foot and ankle, hip preservation, adult recon, hand/plastics, shoulder and trauma/limb restoration.
I have the privilege of working with orthopedic trauma surgeons and an orthopedic oncologist. This is a much different subspecialty than the sports medicine surgeons are accustomed to. When I started, the orthopedic trauma team consisted of two orthopedic surgeons and one physician assistant (PA). Two years later, I work with three orthopedic surgeons with trauma/limb restoration, two PAs and one nurse practitioner. Everyone understands the role an athletic trainer plays in our clinics and the benefits we provide to our patients and team. This includes increasing patient satisfaction, provider satisfaction and job satisfaction.
With orthopedic trauma, the range of injuries that I'm able to work with on a daily basis include, but are not limited to: ankle fractures, pelvic fractures, humeral shaft fractures, elbow fractures, gunshot wounds, open tibia fractures, osteomyelitis, polytrauma, femur fractures and amputations.
Just like any other sport or setting, I work with a team. I have a dedicated medical assistant (who also is an orthopedic tech certified) and a nurse I work with in each clinic. Everyone understands their individual role. We work closely with our receptionists, radiology team and administration (practice manager and clinical nurse coordinator). Our administration – from the director of orthopedics to the practice manager – and our clinical operations lead all support athletic trainers. This is one of the most important aspects of our setting: administration support.
The limb restoration clinic focus is on complex reconstructive needs and limb lengthening, along with complex infections and mal/non-union of fractures. When a new patient calls, I work with them to take their history and report that information to the nurse practitioner. I gather their medical records and make sure I have any imaging related to their case prior to the patient being seen.
Patient satisfaction, provider satisfaction and job satisfaction are priorities in this setting. I have worked with my surgeons for two years now, and have developed a great relationship with each one. I'm aware of what each provider needs for their clinics to run smoothly. Communication is important. Understanding and developing a relationship with your providers is essential to clinic development and success.
Unlike most physician practice settings, I work four 10-hour days. I arrive at work at 7 a.m. and usually wrap up my day around 5:30 p.m. I have a floating day off, depending on clinical needs. This is a great way to have work life balance. It also allows me to tackle tasks that need to be completed, and frees up time for family on evenings and weekends. With this position, there are no weekend coverages or travel.
During my day, I'm prepping the clinics for the day, scrubbing the schedule for patients who are scheduled incorrectly, moving patients as necessary, allowing the team to be prepared for who is coming in that day. Our team is great at anticipating what the patient and providers will need. Planning this out in advance cuts down time for the provider and allows the provider to move onto another patient. Triaging phone messages is another task we, as a whole, complete on a daily bases to make sure all patients messages are answered before the day is over.
I fit durable medical equipment, and apply splinting and casting to our patients. I remove sutures, staples and dress wounds. I schedule patients, order physical therapy based at the request of the providers, develop home exercise programs and help organize the patient's visits. I try and coordinate as much as I can while the patient is here to help expedite their care. Establishing connections within the hospital will help complete necessary tasks while the patient is here, continuing to provide service.
Athletic trainers are a true asset to the physician practice setting.
Photo caption: A 31-year-old male involved in a MVA in the fall of 2014, which he sustained a left open tibia fracture. He underwent intramedullary nail with a locking plate to hold the reduction as well as a rotational gastroc flap. The patient also was shot in the hip and the bullet is still lodged in this location. The patient was dealing with chronic osteomyelitis, and went on to have non unions of his tibias and subsequently underwent external ring fixation on the left. This is one example of the patients we may work with as athletic trainers working in a trauma setting.