March 29, 2023 by
Beth Sitzler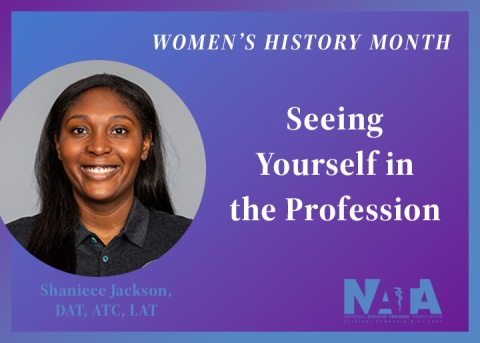 In honor of Women's History Month this March, NATA is highlighting women in the profession who are working to advance athletic training through recruitment, retention and leadership.
NATA Early Professionals' Committee District Two Rep. Shaniece Jackson, DAT, ATC, LAT, who is currently an assistant athletic trainer with the Philadelphia Eagles, has experienced firsthand the benefits of mentorship – benefits she is working to share with the next generation of athletic trainers.
With a focus on recruitment, mentorship and being a resource, Jackson said she wants to show others what is possible in athletic training, especially in the professional sports setting.
"I feel like that's very important, especially for minority women who want to pursue our profession, to see that there's somebody that looks like them in that setting, and that it's very possible to be here," Jackson said.
Although Jackson's days as a high school student athlete made her familiar with the athletic training profession, she gained a deeper understanding of the impact ATs make on their athletes' lives while playing women's basketball for Shippensburg University.
"It was there that I really got intrigued by a lot of my teammates' injuries," she said. "I wanted to know, 'OK, why are they doing these exercises to rehab? What's the anatomy behind it?'"
The athletic training staff took note of Jackson's interest and encouraged her to join their team through an internship her senior year and as a student worker her sophomore year.
"It was [during] my sophomore year that I decided I wanted to pursue the profession," she said. "It was after the one of the last games of the football season. I was like, 'Man, I really like football. I really like covering this sport. It's so fun. You're getting to help the athletes at the end of the day. I'm pretty sure this is what I want to do,' and that was the moment I knew I wanted to pursue athletic training."
After graduating from Shippensburg University, Jackson attended Florida International University (FIU), where she earned her master's and doctoral degrees.
"I wanted to do meaningful research that would be helpful to the athletic training community," she said. "I wanted to pursue research and develop my teaching skills and my mentorship skills."
While working as head athletic trainer at Doral Academy Preparatory School at the time, Jackson teamed up with FIU classmate Rebecca Borer, LAT, ATC, the head athletic trainer at Albany State University, for her doctoral capstone project.
Focusing on recruitment and educating high school students about the profession, Jackson received an NATA Ethnic Diversity Enhancement Grant to support their project, "Educate to Advocate for Diverse ATs." In April 2021, Jackson and Borer hosted virtual and in-person events for 25 interested students to expose them to the athletic training profession.
"I felt like it was important to help students who were looking to pursue different degrees and different professions in sports medicine learn a little bit more about athletic training," she said. "For the online portion, we had guest speakers who talked about athletic training, what it was and what kind of schooling you need to pursue it. Jana Austin, [MS, LAT, ATC, assistant athletic trainer for the New Orleans Pelicans] came in and talked about professionalism and tips and tricks for pursuing jobs in general, but specifically, athletic training."
During the in-person portion hosted by Borer at Albany State University, attendees participated in hands-on activities, including emergency simulations, to gain a better understanding of what an AT might encounter on a daily basis.
As Jackson and Borer look to host more educational events, Jackson is also lending a helping hand to the next generation through mentorship. Jackson is a mentor in the Minority Women in Sports Medicine Inc.'s mentorship program, and is currently mentoring a first-year student at the University of Arkansas. Jackson said she also does informal mentoring to people who reach out to her with questions about the profession.
"I'll have people who reach out to me via email, and I always try my best to get back to them and respond," she said. "If I'm able to chat with them for a few minutes, I try to explain to them what athletic training looks like, the realistic side, especially at the professional level, … and give them advice, whether it's about internships, how you apply for the internships, what teams would look for, what employers would look for and, even if they don't want to pursue the professional level, what they need to have in order to set themselves up for success to be hired."
Although a young professional herself, Jackson said she feels it important to support those who are coming up in the profession.
"It's important for them to know that they're not alone, that somebody went through the exact same thing they're going through right now," she said. "There might be a point in time where they're questioning their decision, if they truly want to go into this profession, and it's so worth it. It's a very rewarding profession overall. We don't do it because we like the attention and everything like that; we do it because we're passionate and we care about our patients.
"I felt like [mentorship] was important for me to do, especially in my role and so early in my career, because I have people like that in my corner and I felt like it was important to give back to the profession in that way."
Jackson said her mentors have played a large role in her career. While attending FIU, fellow classmate Brianna Jefferson, ATC, who is now an assistant athletic trainer with the Detroit Pistons, took Jackson under her wing, as did Michelle Odai, PhD, ATC, LAT, chair of the FIU Department of Athletic Training and the director of its MSAT program.
Another person who has influenced Jackson's career is Tom Hunkele, MPT, ATC, vice president of sports medicine and head athletic trainer for the Eagles. Jackson first met Hunkele as an intern with the Minnesota Vikings in 2017.
"He gave me the opportunity to go out there and learn from him and his staff there, and I didn't waste the second of it," she said. "I asked questions whenever it was appropriate. I always made sure I was engaged, and was doing my best to learn so I could take whatever I learned there back with me to Miami."
Having grown up watching football with her family, Jackson was interested in a career at the professional level – a goal that became reality in 2020 when she was hired by the Eagles as a seasonal assistant and then promoted to full-time staff in 2021.
This year, Jackson experienced a career-defining moment when she provided care to the Eagles during Super Bowl LVII Feb. 12.
"I was very lucky and blessed to be able to experience that so early on in my career," she said. "Obviously, it didn't end the way we wanted to, but it was very cool to be there, and we get to be among a very small group of people who can say that they and their team went to the Super Bowl. … Being on such a public stage, it was cool for a lot of athletic training students, especially minority students, to see Tiffany [Morton, MS, LAT, ATC, with the Kansas City Chiefs] and I be on either sideline of that game, providing medical care."
Wanting to give back to the profession that has provided her so many opportunities, Jackson said she joined the NATA Early Professionals' Committee with the goal to help other up-and-coming ATs navigate milestones in their careers.
"[Giving back to the profession and being a leader] was something I always wanted to do," she said. "Once I was comfortable in athletic training, I felt it was important to give back and help others so that we continue to have athletic trainers in the future."
From hosting webinars and creating resources on various topics of interest to collaborating with the NATA Career Advancement Committee on a survey examining the impact of the COVID-19 pandemic on young ATs, Jackson said the committee is hard at work doing what it can to address the needs of the early professional population. (Learn more about the committee in the Early Professionals section of the NATA website.)
Whether through recruiting or mentoring to the next generation of athletic trainers, all ATs can help advance the profession.
"I think you might surprise yourself," Jackson said. "I think if you embrace that role, you'll see that it's very rewarding at the end of the day."