April 4, 2023 by
Beth Sitzler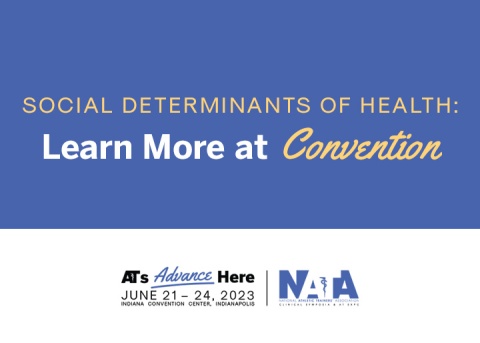 The April NATA News features the article, "Talking Social Determinants of Health," which outlines what ATs need to know in order to become more comfortable discussing them with their patients and athletes.
Social determinants of health (SDOH) are the conditions in which a person lives, learns, works, plays and grows. They play a large role on health and well-being, which is why ATs need to understand what they are and their impact on patient care.
ATs can learn more about SDOH, as well as cultural competency, the focus of the April NATA News, during the 74th NATA Clinical Symposia & AT Expo, June 21-24 in Indianapolis. Below is a sampling of the NATA 2023 sessions and Free Communications presentations that will cover these topics. Learn more about all of the NATA 2023 educational offerings and register for the NATA convention today.
NATA 2023 Sessions
"Strategies To Promote Health Literacy in Athletic Training Practice" presented by Meredith Madden, EdD, LAT ATC
"Active Learning Strategies: What Does the Data Shows and How Are Educators Implementing To Improve Student Outcomes" presented by David Berry, PhD, MHA, ATC
"Clinical Considerations for Transgender and Gender-Diverse Patients in the Secondary School Setting: The AT's Perspective" presented by Kevin Schroeder, DAT, LAT, ATC, and Jennifer Sturtevant, MBA, LAT, ATC
"Examining Ethnic Diversity in AT: A Critical Look & Conversation" presented by Estefania Zavala, DAT, LAT, ATC
"Cultural Competence: Treatment of Non-native English Speakers" presented by Matthew Rivera, DAT, LAT, ATC
"International Mobility: Tips for Working Abroad as an AT" presented by Matt Kutz, PhD, ATC, CSCS
"Working With Deaf and Hard of Hearing Athletes: What You Need to Know" presented by Joshua Woodall, MEd, LAT, ATC, and Jennifer Warren, MEd
"Facilitating Race Dialogue With Preceptors Working With Student Athletes and Athletic Training Students" presented by Tamaria Hibbler, MS, LAT, ATC
Free Communications Program
"Differences in Attitudes Toward Injury Prevention Program Participation Based on Races" presented by Emily Gabriel, PhD, ATC
"Differences in Perceived Barriers Among Professional Master's Athletic Training Students With Different Ethnic Backgrounds" presented by Tiffany Franklin, EdD, LAT, ATC
"Graduate Professional Athletic Training Students' Levels of Comfort, Competence and Perception of LGBTQIA+ Curriculums" presented by Emily Dudley
"Examining Athletic Training Students' Knowledge of the Social Determinants of Health and Their Perceptions of the Influence of the Social Determinants of Health on Patient Cases" presented by Bailey Jones, PhD, ATC
"Mitigating Social Determinants of Health in Athletic Healthcare: Athletic Trainers are Taking Action" presented Kelsey Picha, PhD, ATC
"Athletic Trainers' Observation of Social Determinants of Health at the Point of Care in the College/University Setting" presented by Cassidy Evans Windsor, DAT, ATC
"Transition to Practice for Diverse Early Professional Athletic Trainers" presented by Alyssa Smith
"Initial Symptom Burden Across Demographic Characteristics For Pediatric Patients Seen For Concussion In a Multidisciplinary Concussion Group" presented by Rachel Johnson, PhD, ATC
"Associations Between Gender, Race/Ethnicity and Health Care Access and Utilization in Division I Collegiate Student Athletes" presented by Marc Norcross, PhD, ATC