June 28, 2022 by
Beth Sitzler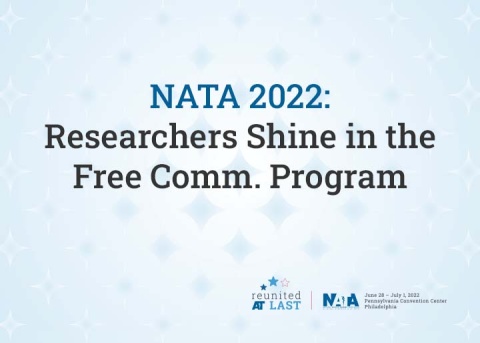 Attendees of the 73rd NATA Clinical Symposia & AT Expo will have the opportunity to see the latest research in athletic training thanks to the NATA Research & Education Foundation Free Communications Program, sponsored by SEATA, which will feature both in-person and virtual offerings.
Often the first opportunity for an athletic trainer to present their research and clinical case studies, the Free Communications Program has featured more than 8,000 oral and poster presentations since its inception. This year, those in person at NATA 2022 can attend oral presentations as well as converse with the poster presenters throughout the live dates in Philadelphia. All of the Free Communications posters are in the NATA 2022 virtual portal and NATA 2022 On-Demand virtual portal. 
"I hope attendees enjoy our first in-person Free Communications Program since 2019 and participate and enjoy the lively discussions that each presentation sparks," said Free Communications Committee Chair Jeffrey Driban, PhD, ATC, CSCS. "The Free Communications Program is a unique venue to see the latest evidence emerging from research that may inform clinical practice and future research. We encourage each presenter to offer take-home messages to help attendees focus on the most relevant information that may help inform their clinical practice and future research."
Driban said this year's Free Communications Program features 16 oral sessions, totaling 135 abstracts, and 23 virtual poster sessions, totaling 156 abstracts. New this year, the Meet the Poster Presenter sessions will allow attendees to sit down and discuss the latest evidence presented in the virtual poster sessions (see schedule below).
"It will be great to engage with presenters face-to-face for the first time since the 2019 Free Communications Program and to see the great discussions that can be fostered by in-person engagement," he said.
"For individuals who are attending virtually, I hope they take advantage of the amazing virtual poster sessions and keep an eye on social media for key take-home messages that are paired with the hashtag #FreeComm2022. Each session also has a unique hashtag to help people find the latest information from specific sessions. This is a great way for in-person and virtual attendees to engage with the Free Communications Program and specific presenters."
This year's Free Communications Award recipients will also be honored during the NATA Foundation Distinguished Scholars Presentation from 1:40 to 3:40 p.m. June 30 in room 201BC of the Pennsylvania Convention Center. Honorees include:
Pre-Professional/Professional Student: Kenta Mizumoto
Post-Professional Advanced Clinical Track Student: Katie Rosenthal, MS, AT, ATC
Post-Professional Terminal Degree Student: HoWon Kim, MS, ATC
Early Career: Danielle Torp, PhD, ATC
Established Career: Daniel Clifton, PhD, ATC
Meet the Poster Presenter Schedule
Room 203A, Pennsylvania Convention Center
Wednesday, June 29
11:05 a.m. to noon
Middle School Children
Injury Epidemiology and Risk Assessment
Training Loads and Health Outcomes
5:20 to 6:15 p.m.
Concussions
Education
Professional Development
Checking In, How Are You (the Athletic Trainer) Doing?
Thursday, June 30
10:20 to 11:15 a.m.
Lead by Example: Lower Extremity Case Studies
Lead by Example: Upper Extremity Case Studies
4:30 to 5:25 p.m.
Diversity, Equity, Inclusion and Access
Health Care Administration
Telemedicine, Mobile Health and Wearable Devices
Therapeutic Interventions
Friday, July 1
2:35 to 3:30 p.m.
Mental Health and Wellbeing
Treating the Whole Patient After an ACL Injury
General Medicine
Heat, Hydration, Environmental Physiology
4 to 4:55 p.m.
Neuromuscular Control
Outcomes & Assessments
Running
Patellofemoral Pain
Chronic Ankle Instability