October 19, 2016 by
Beth Sitzler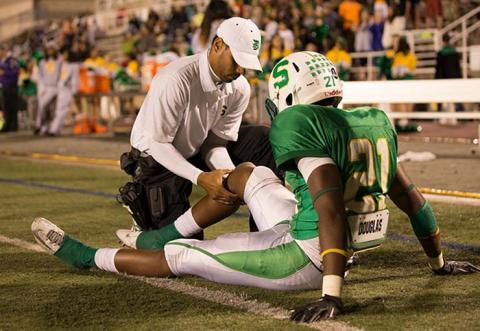 We are excited to announce the official launch of the AT Grant Program, the latest collaboration between NATA and the NFL Foundation! This new pilot program was created to provide funding to public high schools with football programs that have limited or no access to an athletic trainer. Gatorade, the Professional Football Athletic Trainers Society and the Korey String Institute have also partnered with the NFL Foundation on this important initiative.
"As part of our recently announced Play Smart. Play Safe. initiative, the NFL is committed to enhancing the safety of football at all levels," NFL Commission Roger Goodell said. "We are proud of the work that athletic trainers do on the sidelines and training facilities nationwide. We look forward to testing this pilot program as part of our effort to improve sports safety for many more young athletes nationwide."
We know the important role ATs play in the prevention, diagnosis, treatment and rehabilitation of injuries and illnesses. We also know, however, that nearly two-thirds of high schools across the country lack a full-time athletic trainer and almost 30 percent of high schools don't have an athletic trainer at all. This program builds on efforts between NATA and the NFL Foundation to provide athletic trainers to schools and communities without appropriate medical care and continues to test ways in which to address this issue.
The AT Grant Program, which aims to improve the health and safety of student athletes at up to 150 public high schools beginning next fall, is available to eligible public high schools with interscholastic football programs in Arizona, Illinois, Oklahoma and Oregon. These states were selected based on geographical diversity and the current rate of access of athletic trainers at public high schools in those state.
Schools meeting the grant requirements can apply for a three-year grant award totaling $35,000. As a pilot program, any future plans for this grant will be determined following an assessment of this year's program.
To learn more about eligibility requirements or to apply, visit the AT Grant Program website. The deadline to submit an application is Dec. 16.