June 22, 2016 by
Beth Sitzler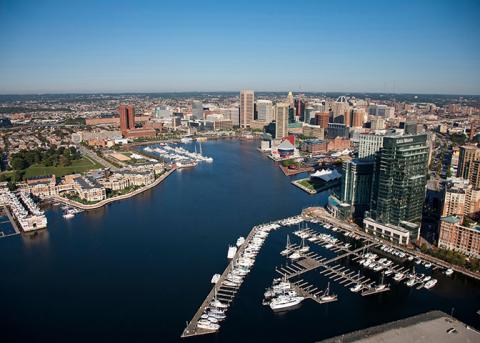 As you walk toward the Baltimore Convention Center, you'll notice a familiar shade of blue along the way. From the banners hanging from the light posts to the NATA decals placed on the sidewalk, NATA 2016 has left its mark on the Charmed City.
With more than 7,900 confirmed attendees, 1,209 exhibitor personnel and 1,910 guests registered, more than 11,100 participants will convene in Baltimore for the 67th NATA Clinical Symposia & AT Expo held through Saturday, June 25.
"Baltimore has always been a popular destination for the convention. This year is no exception," said NATA Director of Meeting Management Lori Marker. "NATA 2016 is on track to be the second largest convention to date, second only to NATA 2013 in Las Vegas."
It takes a lot to bring together all the details of the four-day convention, which features more than 700 speakers. In addition to the countless hours conducted by NATA staff, more than 200 volunteers are giving their time to make sure the 342 convention events run smoothly.
There will be no shortage of signage this year, as 11,500 square feet of banners, posters and the sort decorate NATA 2016 event locations. A fun, interactive component added this year is the oversized map of the United States located across from registration in the Baltimore Convention Center. Convention-goers are encouraged to mark where they traveled from using one of the provided pushpins. With 8,800 pushpins available, the map will show just how far the NATA membership has traveled to prove "We're Better Together" – the theme of NATA 2016.
The AT Expo, which opens at 10 a.m. today, is also a sight to see. This year, 311 companies will exhibit in 600-plus booths, totaling more than 62,000 square feet of occupied space on the first level of the Baltimore Convention Center.
"The AT Expo brings more athletic trainers under one roof than any other event anywhere on the planet," said Chad Cranford, NATA corporate sales and exhibit manager. "It's the world's premier exhibition in athletic training with more than 300 exhibitors showcasing tens of thousands of products and services! The AT Expo will span more than five full exhibit halls in Baltimore." 
While the Baltimore Convention Center is the hub of this year's convention, related events and activities will be held at locations throughout the city. One such outing is the NATA Foundation 5K Fueled by Gatorade, held at 6 a.m. Saturday, June 25, at Druid Hill Park, located about four miles from the convention center. This year, more than 400 participants are expected to walk, jog and run the course. This year's 5K is particularly special since this is the NATA Research & Education Foundation's 25th anniversary.
NATA's presence has extended beyond Baltimore – the association held its annual Capitol Hill Day Wednesday, June 22, in Washington, D.C. More than 400 NATA members hit the hill to ask legislators to support H.R. 921, which allows athletic trainers and other sports medicine professionals to travel with their teams across state lines.
"It's been great to be able to talk to talk to individuals about what we're passionate about and that's safety for athletes at all levels," said District Two Director AJ Duffy III, MS, AT, PT. "If [H.R. 921] goes through the house like it's supposed to, and it goes through the Senate, we'll achieve something we haven't achieve before in our profession."
H.R. 921, which has no cost associated with it, has received bi-partisan support and ensures that athletes receive high-quality health care services even while traveling to another state.
There is something for everyone at NATA 2016. We hope you enjoy your time in Baltimore and return home feeling refreshed and reenergized, with a renewed passion for your profession. We're better together!