April 22, 2020 by
Beth Sitzler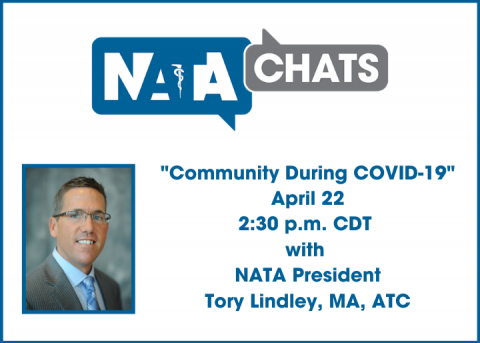 NATA President Tory Lindley, MA, ATC, will discuss the importance of community, especially during times of crisis, such as the COVID-19 pandemic, during an NATA Chats segment at 2:30 p.m. April 22 on Facebook Live.
The NATA Chats series debuted during the 69th NATA Clinical Symposia & AT Expo in New Orleans in 2018 as a way to get to know some of the profession's well-known figures more personally. Because of social distancing guidelines and shelter-in-place orders requiring people to stay home to help combat the spread of the coronavirus, NATA Chats has been expanded to Facebook Live to include need-to-know information important to the profession and NATA membership.
Telemedicine was the focus of the April 16 NATA Chats segment. During the Facebook Live, NATA Government Affairs Director Amy Callender and NATA District Seven Director David Gallegos, MA, ATC, Cert. MDT, provided recommendations for health care professionals preparing to incorporate telemedicine and virtual care into their practice.  
During today's NATA Chats, Lindley will discuss how ATs can stay connect during the COVID-19 pandemic through avenues including Gather, NATA's online platform for members, and the AT EducATionalist Community. The AT EducATionalist Community was created to be the principal source for professional communication, expression, deliberation, advocacy and leadership for athletic training education and educationalists. The community is open to all NATA members in good standing at no additional cost. Read more about the community in a blog post written by AT EducATionalist Community Cabinet Chair Paul Geisler, EdD, ATC.
Next week, NATA Chats will feature a Q&A with NATA presidential candidates Kathy Dieringer, EdD, LAT, ATC, and Katie Walsh Flanagan, EdD, LAT, ATC, at 3 p.m. CDT April 29 on NATA's Facebook page. If you have a question you'd like to ask the presidential candidates, submit it to marketing@nata.org.