April 14, 2020 by
Beth Sitzler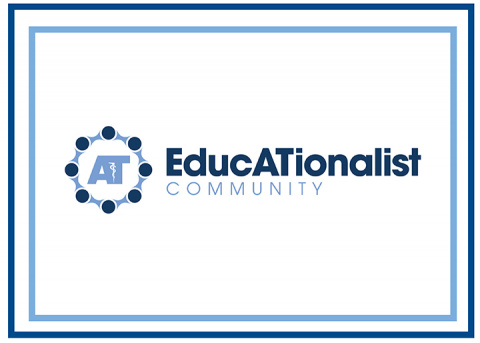 By Paul Geisler, EdD, ATC, AT EducATionalist Community Cabinet Chair
As we deal with the impacts of COVID-19, there is no better time to be involved with the AT EducATionalist Community, and to talk with your fellow educators about the issues impacting you. There are two steps to being involved in the community: join and act.
To join: Log in to the NATA website. Once logged in, go to "My Account" and click "Edit My Profile." Scroll down and enter the data shown under the "AT EducATionalist Demographic Data" block, and click "Save." This will officially enter you into the community.
To act: After you joined, log in to Gather, enter the AT EducATionalist Community and join in the discussion threads or start a discussion.
In 2019, the NATA Board of Directors approved the formation of the association's first community for all NATA members who have professional interests or responsibilities in athletic training education. This is not a committee; it is a community. All athletic training professionals involved or interested in the many facets of educating the athletic trainers of today and tomorrow are welcome. No matter the setting or the credential, all who check one or more of the education boxes are considered an educationalist, and thus are welcome into our new community. The AT EducATionalist Community is a free member service of NATA and is open to any NATA member in good standing who considers themselves to be an educationalist as well as to any educationalist interested in taking part in or generating larger conversations surrounding the many complex aspects of at education and to any educationalist with relevant concerns or ideas.
The NATA Executive Council for Education conceived and constructed the AT EducATionalist Community, implementing an inaugural volunteer leadership cabinet to build the community concept from the ground up, conceive guiding mission and vision statements and construct guiding principles and core values to guide the group's short- and long-term planning and operations. Quite simply, the AT EducATionalist Community is intended to be the principal source for professional communication, expression, deliberation, advocacy and leadership for athletic training education and its educationalists. It is the formal space and place for you to express concerns and interests on AT educational issues, policy and practice, proposal and movement. It is the medium for you to have a voice, and to be heard. It is also the place for members to communicate, collaborate and engage with like-minded and focused professionals in the membership on potential research projects, best practices in AT education and other creative or problematic initiatives impacting the work of AT educationalists.
All you need to do to get involved and help the group thrive is join and act! The AT EducATionalist Community will have a pronounced social media and regular professional presence in numerous NATA platforms and outlets; all designed to promote the group and start delivering on the group's mission and vision. You can follow the community on Twitter.
For more information, contact Sidney Fuller in the NATA Knowledge Initiatives Department; reach out to Community Cabinet Chair Paul Geisler, EdD, ATC, on Gather; or check out the AT EducATionalist Community infographic handout.