March 16, 2017 by
Beth Sitzler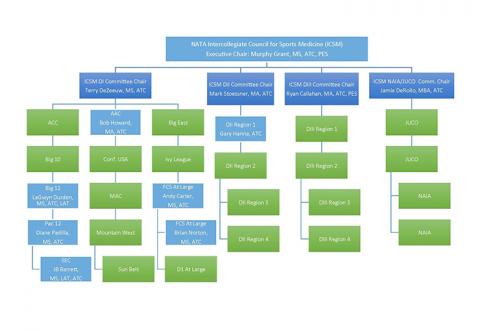 In January, the NATA Board of Directors approved a proposal to restructure and expand the NATA College/University Athletic Trainers' Committee (CUATC) into the Intercollegiate Council for Sports Medicine (ICSM) to address the varying needs of athletic trainers working in this diverse setting.
The collegiate setting includes a wide variety of levels and governing bodies, so ATs working different divisions, conferences and regions experience unique challenges. Though athletic training is athletic training no matter what the job setting, the daily reality of an athletic trainer in the junior college setting can be in stark contrast to the day-to-day work of an AT at a large Division I institution. ICSM will bridge the gap between the different groups within collegiate athletics, forming a broad, ongoing conversation in which ATs from all backgrounds have a voice.
ICSM's unique composition was specifically designed to encourage collaboration between all levels and conferences within collegiate sports. It starts with an executive council of representatives for NCAA Divisions I, II and III, and NJCAA/NAIA. Each of those representatives will chair a committee dedicated to its specific level. The group will serve as a resource for the NCAA and other governing bodies who establish best practices for the health care of collegiate student athletes based on the clinical practice of the athletic trainers who work with student athletes and coaches on a daily basis.
Murphy Grant, MS, ATC, PES, associate athletic director for sports medicine at the University of Kansas, will serve as the first executive chair of ICSM. "I want to be an advocate for my colleagues who work at the college and university level," Grant said. "I believe athletic trainers are in the trenches every single day. From a time demand standpoint, we are involved pretty much 24/7. So if there is a way we can make things better for both the collegiate athletic trainer and the student athlete, I believe sports could be safer and our jobs could be better."
Grant said ICSM looks forward to collaborating with the NCAA and other liaison organizations to address the health and welfare of student athletes across the board. "Not every representative who serves on ICSM will work at an NCAA school, but a lot of the best practices and consensus statements pushed through by the NCAA affect us all," Grant said. "If we can work together to try to make things better, that's key."
ICSM begins its work during NATA 2017 in June and is seeking volunteers to fill the remaining positions on the council. Open positions are indicated in green on the above chart.
If you are interested in serving on ICSM, submit your résumé and letter of interest to Patrick Buffum (patrickb@nata.org) by April 22. For more details about ICSM, contact NATA's Association Executive Director Rachael Oats, CAE, at rachaelo@nata.org.