June 26, 2018 by
Beth Sitzler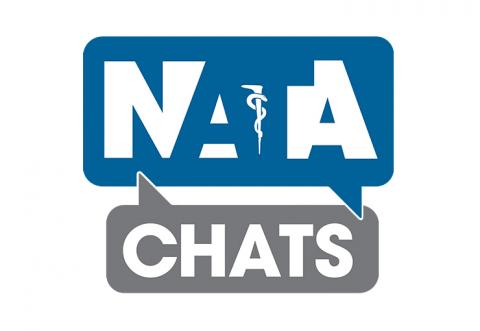 There are several legends in the athletic training profession, individuals whose impact and contributions are renowned. But what about the person behind the achievements? Have you ever wondered what gets them out of bed in the morning or what makes them tick?
To showcase the personal side of the profession's well-known figures, NATA Chats will debut during the 69th NATA Clinical Symposia & AT Expo. Inspired by "Watch What Happens Live with Andy Cohen" and Vogue's "73 Questions" series, NATA Chats will consist of informal conversations with high-profile athletic trainers led by NATA Marketing & Communications staff.
Located in the NATA Connect, Hall B of the Morial Convention Center (directly behind the Hot Product Pavilion), convention-goers can stop by the living room-like setting and learn about Bill Chambers' favorite vacation spot or if Pat Aronson speaks multiple languages. Topics such as career path and advice for up-and-coming athletic trainers will also be discussed, with aspects of work-life balance highlighted. After all, these athletic training legends aren't just celebrities of the profession; they're also mothers, fathers, teachers, friends and so much more.
NATA Chats will take place Wednesday through Friday, June 27-29, during breaks in convention programming. Each chat is scheduled for 20 minutes and attendees are invited to stop by any time. Incoming NATA President Tory Lindley, MA, ATC, will be the first NATA Chats guest. Other guests include Karen Lew, Diana Settles and Kathryn LaLonde. See the schedule below for times. NATA Chats will also be broadcasted on Facebook Live for those who are unable to attend convention.
NATA Chats Schedule
Wednesday, June 27
9:15 to 9:35 a.m.: Tory Lindley, MA, ATC, incoming NATA President
12 to 12:20 p.m.: Diana Settles, ATC, manager of Physical Readiness and Injury Prevention with the Navy and Marine Corps Public Health Center
12:25 to 12:45 p.m.: Pat Aronson, PhD, LAT, ATC, chair of NATA's LGBTQ+ Advisory Committee
Thursday, June 28
11:15 to 11:35 a.m.: Karen Lew, DHSc, ATC, USA Cheer Director of Safety
Friday, June 29
9 to 9:20 a.m.: Bill Chambers, BS, AT Ret., 3rd NATA President, NATA Hall of Fame Class of 1986
12:30 to 12:50p.m.: Kathryn LaLonde, ATC, NATA Athletic Trainer in Residence
*Interviews subject to change