June 26, 2018 by
Beth Sitzler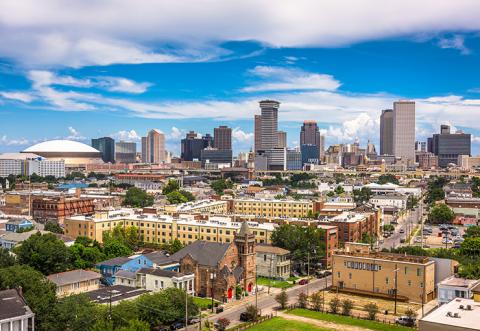 While the 69th NATA Clinical Symposia & AT Expo officially begins today, members received a warm welcome from the Big Easy Tuesday, June 26, during a memorable visit to Mardi Gras World – the location of the NATA 2018 Welcome Reception sponsored by Cramer.
Convention attendees celebrated Cramer's 100th anniversary among the glitz, sparkles and tissue paper of some of the most remarkable floats that have graced the Mardi Gras parades throughout the years. As awe-inspiring as this one-of-a-kind Welcome Reception was, it's just the beginning of what will surely be a memorable four days as NATA takes over the New Orleans Morial Convention Center June 26-29.
"There are a lot of exciting things taking place this year," said NATA Director of Meeting Management Lori Marker. "Not only can attendees look forward to excellent education and networking opportunities, but we have an awesome keynote speaker this year in New Orleans Saints quarterback Drew Brees. As always, you can expect a couple surprises along the way."
Explore the Convention Themes
This year, 289 speakers will present on everything from youth sports safety to lower extremity injuries. While an array of topics will be discussed and examined during NATA 2018, the Convention Programming Committee has identified educational themes for some of the programming.
"The Convention Program Committee selected the themes for this program based on the currency and relevance of the subject matter to the profession, along with consideration and attention to the interests from the breadth of the membership," said NATA Convention Program Committee Chair Kavin Tsang, PhD, ATC. "The goal of the CPC is to develop and offer programming that is impactful to the clinical practice of athletic training and aspirational to the research and education facets of our profession."
These trending topics attendees can expect to learn more about during NATA 2018 are:
GlobalizATion
Psychosocial/Mental Health
Emerging Skills/Knowledge
Treatment and Clinical Application
On the NATA Convention app, you can sort through the hundreds of sessions by theme, date, speaker, topic, level, learning format and more. If you haven't done so already, you find the 2018 convention app in the App Store or Google Play by searching for "NATA Events," or at https://app.core-apps.com/nata2018.  
"The annual NATA Clinical Symposia is the largest and most comprehensive education program offered to our members," Tsang said. "We hope each attendee experiences moments of 'confirmation' – reinforcement and affirmation of current knowledge and practice; 'inquiry' – consideration of new and different ideas; or 'motivation' – instill intentionality to their efforts and practice. … Enjoy New Orleans!"
Add the Sold-Out AT Expo to Your Agenda
This year, the AT Expo is sold out with 325 exhibitors filling Hall B of the Morial Convention Center with the latest products and services available in sports medicine.
"Once again, the 2018 AT Expo cements its claim as the largest show for the athletic training profession," said  NATA Corporate Sales and Exhibits Manager Chad Cranford. "Every aspect of the athletic training profession will be on showcase here. From the products ATs use on a daily basis to specialized products and services that would enhance any athletic training facility." 
The AT Expo opens to all certified athletic trainers, certified athletic training students and association member attendees with a bang at 10 a.m. Wednesday, June 27. It will be open to all attendees from 10 a.m. to 5 p.m. Thursday, June 28, and 10 a.m. to 1 p.m. Friday, June 29. Stop by to pick up some samples, see a demo or two and take advantage of hands-on opportunities, which can result in more informed purchasing decision-making.
Thank You, Volunteers
Each year, NATA relies on the hard work and dedication of its many volunteers to help bring the NATA Clinical Symposia & AT Expo to life. This year, more than 120 volunteers have offered their time and talents to ensure every important NATA convention detail is covered – from delivering award programs to putting together registration bags. Thank you for all your efforts to make NATA 2018 a memorable one for everyone.